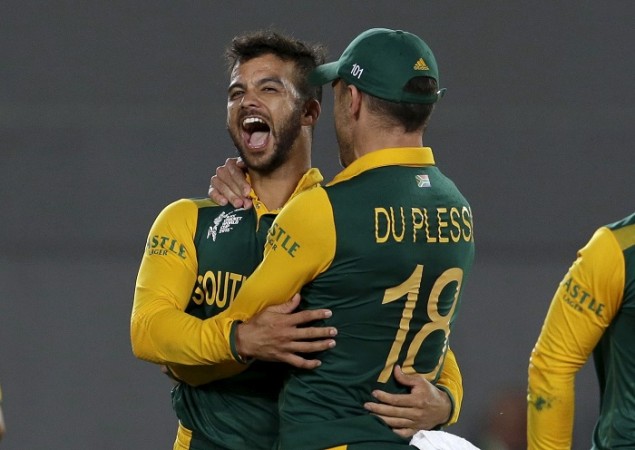 Pitches in India are known to assist spinners as a result of which the South African team possess as many as three regular spinners in their squad for the tour of India. With South Africa set to face India in the first T20 match in Dharamsala on Friday, they are primarily going to depend on Imran Tahir, who has been a huge success for the Proteas in coloured clothing.
South Africa, who have been known for their pace attack in the past, are gradually changing their game strategies as well with standout performances from Tahir in the middle overs of the game, which was primarily the role of the pacers earlier.
Skipper Faf du Plessis was full on praise for the leggie and even stated the Proteas owe a lot of ODI and T20 victories to Tahir.
"Imran has proven it right across the world that he is capable of changing games, especially in the white-ball format. His performance over the last two years has really altered the way we South Africans play our cricket. He's got us wickets in the middle overs, where we've always relied on pace to strike for us. Our success as an ODI and a T20 team owes a lot to him," said Faf du Plessis.
Apart from Tahir, South Africa are also going to depend on the all round performance of JP Duminy, who can be more than handful with his mighty off-breaks. Du Plessis added that Duminy has always been amongst the wickets in the shortest format of the game despite being a part-timer.
Duminy, who could pose as another major threat to the Indian batsmen, knows the Indian conditions well as he was one of the most successful spinners in the IPL 2015.
"JP [Duminy] is seen as someone who's a part time bowler but he too has recently had a lot success, particularly in T20 cricket where he gets wickets all the time," du Plessis added.
Tahir and Duminy with their IPL experience may have an upper hand, but South Africa's Eddie Lee, who is anther spinner in the team, could use this series as a perfect platform to learn to bowl undr such conditions.
"We've got a young spinner in Eddie Leie, which is a great opportunity for him to come here and learn. I feel very confident in our spinning options this tour; with the Test team, we're bringing a few guys extra which will also be great for them to get better."
With the T20 World Cup in India next year, these spinners will be eager to come up with a perfect show in this series and inspire to do even better when they fight it out for the World T20 title next year.