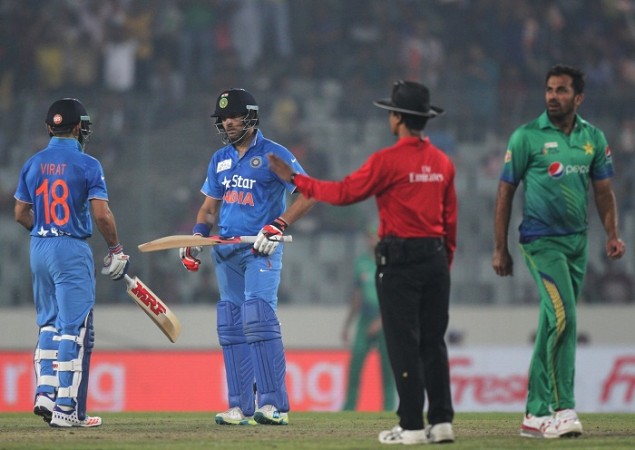 The India vs Pakistan clash at Eden Gardens in Kolkata, Saturday is of utmost importance to MS Dhoni and his team after losing the first match to New Zealand. India must defeat Pakistan to keep their hopes alive of winning the World T20. Pakistan coach, Waqar Younis believes India are under more pressure to win.
India were touted as top favourites to clinch the World T20 title even before a single ball was bowled in the competition. Their loss to New Zealand might be a perfect wake up call for the hosts. Indian batsmen played below par, and could not even chase 126 runs against New Zealand.
Indian batsmen, Rohit Sharma, who has an incredible record at Eden Gardens, Virat Kohli and Yuvraj Singh, will be determined to deliver in the must-win game for Men in Blue. They had faltered in their last game against the Kiwis.
Pakistan, on the other hand, played some brilliant cricket to emerge victorious against Bangladesh. They are a confident unit, despite their unimpressive record against India in World Cups. They have some brilliant bowlers such as Mohammad Amir, Wahab Riaz and Mohammad Irfan, who can trouble the India batsmen.
"No doubt history does not favour us but it's not that it cannot be changed. History also changes. This time we are a bit more confident. One bad game and they (Indians) can go out of the tournament. Pressure is on India. It's a plus for us. There's a lot of things going in our favour," the Press Trust of India quoted Younis as saying.
Though Pakistan might have never defeated India in World Cup events, this World T20 match at Eden Gardens presents them with a brilliant chance to hand India their first defeat.
Pakistan have not lost a single game at the Eden Gardens against India, defeating the Men in Blue in their last four ODIs. Apart from their incredible record at Eden Gardens, they are also loved in the City of Joy as was witnessed against Bangladesh.
"Kolkata has always been kind to us. Not only on the field but off the field. History also suggests we are a better side here," Younis said.
However when it comes to such India vs Pakistan clashes, such records can be thrown out of the window as there will be pressure on both the team to deliver in the mother of all matches.