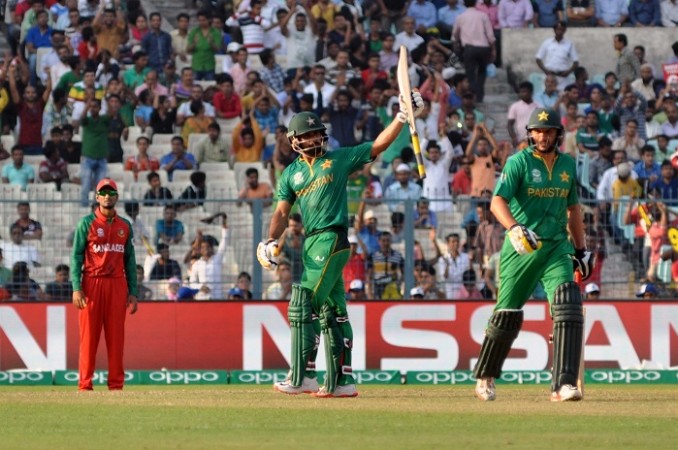 A crushing opening loss for India and a fabulously-impressive victory for Pakistan – that "mauka" does not get any better for Shahid Afridi's men heading into the biggest match of them all at the Eden Gardens Saturday. India were duly warned by their archrivals, after Pakistan put up a brilliant show with the bat, before their bowlers did what we all know they can do, in the World T20 match against Bangladesh in Kolkata.
MS Dhoni, after seeing his side go down tamely to New Zealand in the WT20 opener in Nagpur Tuesday, would have looked at the Pakistan match, next up, and thought, "alright, we can win this one. Pakistan aren't playing great T20 cricket, and if we play well, we should win."
Not anymore. Pakistan are playing outstanding cricket at the moment, following up a momentum-building warmup win over Sri Lanka with the thumping of Bangladesh, a team they lost to in the Asia Cup not too long ago.
It is amazing how easily momentum switches camps. A couple of days ago, everything was going India's way, with wins and titles under their belts and everyone waxing lyrical over their chances of winning the World T20 title on home soil.
However, just like that, with a loss and a win in two days, everything has changed. Pakistan will now go into Saturday's match with momentum on their side, while India will be the tentative ones, afraid to make one single mistake, as it could mean an early end to their WT20 title dreams.
The problem with such a heavy defeat to New Zealand is that India's net run rate is so bad at the moment, that if they lose, even a close one, to Pakistan, it might leave Dhoni's men with just too much to do in the remaining two Super 10 games.
So, realistically, only one result will do for India, and it is not going to be easy against a Pakistan side, so upbeat that the willow of theirs is working as well.
You always expect Pakistan to bowl well -- after all, they made a game of it against India in the Asia Cup T20, even when they were defending a score below 90 – but with the batsmen firing, this team goes up another level.
If the likes of Mohammad Hafeez, Ahmed Shehzad, Shahid Afridi, Sharjeel Khan, Umar Akmal, Shoaib Malik and Sarfraz Ahmed find form with the bat against India, and post that big score – assuming they end up batting first, like they prefer to do -- the home team will be in trouble.
India need to find their own bating groove and hope their bowlers throw Pakistan out of theirs; or else that "mauka, mauka" advertisement run will come to an end.