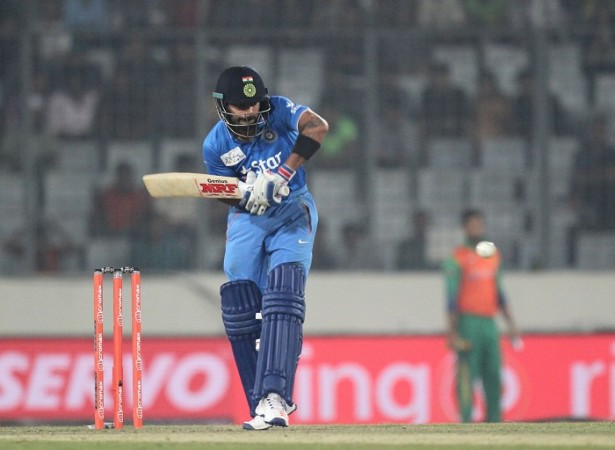 Virat Kohli batted like he was on a flat pitch in Bengaluru, when all around him looked at sea, hopping and jumping around like they were on a pitch in Manchester and Perth combined. In the end, Kohli was the difference between an embarrassing defeat for India and a professional, comprehensive and impressive victory.
You know you are watching greatness when a batsman plays cover drives and flicks and pull shots and glides with utmost ease as every single batsman around him and before struggle to score a single run.
Kohli was majestic, with the greatest of compliments coming perhaps in the fact that even Mohammed Amir seemed to show a bit of respect to the right-hander. When the left-armer was swinging the ball prodigiously to every other batsman in a spell to remember, to Kohli, he seemed a little in doubt.
Those inswingers did not come quite as naturally, the length changed a little and so did the line and Kohli was the only batsman who barely looked troubled by the ridiculously-gifted Amir. As the India vice-captain said at the presentation ceremony, it was great fun to battle it out against a bowler in such form.
Kohli won that particular battle and after that there was no looking back, as the right-hander just dissected the Pakistan bowling, pouncing on every single loose delivery.
Great credit must also go to Yuvraj Singh, who battled it out in the middle amidst some testing bowling from Mohammad Irfan and Amir. It would have been easy for Yuvraj to play a false stroke like the one Suresh Raina did, but the experienced left-hander gutsed it out, knowing that he needed to stay there to give Kohli company.
While Yuvraj, a great batsman in his own right, struggled to negotiate some of those Pakistan deliveries, Kohli was batting on another planet, with some of his cover drives good enough even for some of the aliens to travel many light years and watch.
The ease with which he played those shots on the difficult wicket was to be admired again and again, with the 27-year-old showing, yet again, he lives for the big moments.
They don't make them much bigger than India vs Pakistan and in the biggest match of them all, India's best batsman stood head and shoulders above the rest to drive India to a handsome victory by playing, probably, his best T20 innings to date.