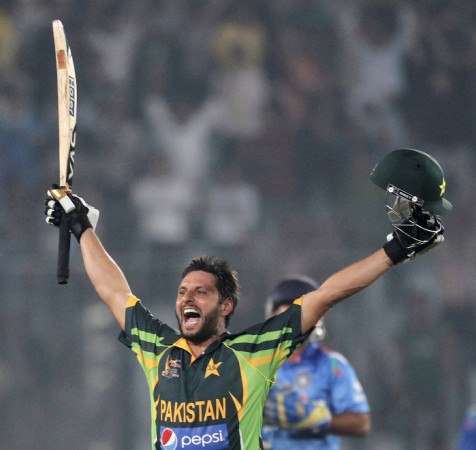 It seems that the much-anticipated India vs Pakistan bilateral series will be hosted by Sri Lanka in the month of December and the fans will have a reason to rejoice. Although the future of the much-talked about series is yet to be decided, the expectations of the cricket fans from both the nations are on the rise. The announcement is likely to be made on Friday, 27 November.
Pakistan T20 skipper Shahid Afridi is backing the resumption of bilateral series between the two neighbouring countries. The destructive Pakistani all-rounder wants to play cricket with India 'any time, any where.'
"I think cricket should go on between Pakistan and India because it creates good contacts. Wherever or whenever, cricket should go on. Cricket should go on, it develops good relations and public from both sides want to watch the game. It should be separate from politics, both teams should always be ready," Afridi told the reporters on the eve of the three-match T20 series against England in the United Arab Emirates.
Both Board of Control for Cricket in India (BCCI) and Pakistan Cricket Board (PCB) had signed a Memorandum of Understanding (MOU), which said that the two neighbouring nations will be playing six series between 2015-2023 and the first of which was scheduled for December and January.
Top officials from both the Boards met in Dubai to discuss about the future of this much-awaited series and they have agreed to play a limited over series before India heads to Australia in the second week of January. BCCI and PCB are seeking the official green signals from their respective governments after which the series can be staged in Sri Lanka in December.
Cricketing ties between India and Pakistan stopped after the Mumbai terror attack in 2008. The Pakistan T20 skipper feels that the sudden hault is making the cricket fans from both the countires suffer. There are a number of cricket crazy people in both the countries who want this series to happen.
"It will be a matter of great happiness if India comes to Pakistan in this difficult time, support Pakistan and play there. We have gone to India under worse situations," Afridi added.
"It depends on who takes that pressure but we never felt any pressure going there and playing in India because we get a lot of love and affection there and they want us to play. When the board gives us security, the government gives us security then we can go for the World Twenty20."