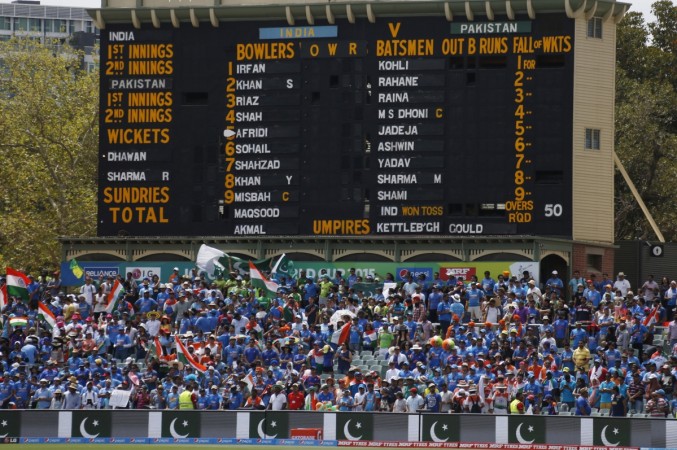 The much-talked-about and highly-anticipated India vs Pakistan series' fate lies in the hands of the India government after the Pakistan Cricket Board (PCB) received a go-ahead from their Prime Minister Nawaz Sharif for the series last week. The Board of Control for Cricket in India (BCCI) are still awaiting the government's decision, which is expected to come in the next few days.
The India-Pakistan series, which was initially scheduled to be played in December in the UAE, was not agreed upon by the BCCI, but the cash-rich cricket board has agreed to play Pakistan in Sri Lanka — possibly three ODIs and two T20Is — from 15 December till the first week of January 2016, which could be an entertaining series in coloured clothing.
With India set to travel to Australia in January, reports suggest the Test series could take place in 2016 in England. However, nothing has been confirmed so far.
The final decision regarding the series has been delayed as External Affairs Minister Sushma Swaraj is not present in India.
"We have already applied with the Ministry of External Affairs. But since (External Affairs Minister) Sushma Swaraj ji is in Malta to attend the Commonwealth Summit, we are waiting for her to come back. The moment she comes back, she will decide about it," Indian Premier League (IPL) chairman Rajeev Shukla told a news channel.
"The two boards (the PCB and the BCCI) have already taken the decision. Now it is up to the Indian government to decide. We are waiting for the government's nod," he added.
Cricket fans from both sides will want the India government to give the green signal and resume cricketing ties between the two nations. Apart from India and Pakistani cricket lovers, fans in general watch the matches between the two sides with utmost interest as theirs is one of the greatest cricket rivalries in international cricket.
The PCB had been pushing the BCCI, who were not too eager to play Pakistan due to deteriorating diplomatic relations between the two countries, to fulfil the Memorandum of Understanding (MoU) signed between the two cricket boards in the presence of ICC representatives. The BCCI had then agreed that India would play Pakistan six times in eight years, including the December series.