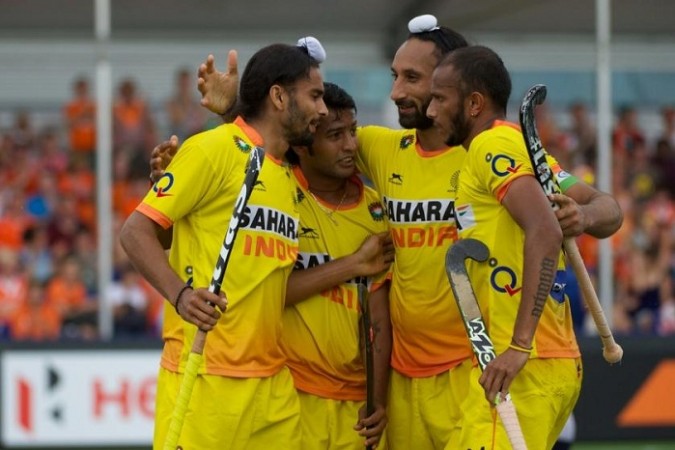 Hockey fans around the world would have circled 26 June, 2015 on their calendar as soon as the Hockey World League semifinals schedule was released, as India and Pakistan were set to lock horns against one another at Antwerp, Belgium.
The anticipation has already built up for this mega match, with advertisers promoting the game on the tele screens since the advent of the competition. So, even those who failed to circle the date, these promos would have acted as a reminder of the India vs Pakistan match, which is expected to garner huge audiences around the world.
It is the mother of all battles in world hockey. Big clashes like Australia-New Zealand and Netherlands-Belgium are nothing when compared to the magnitude of an India vs Pakistan clash.
Coming to the game, it is an important match for Pakistan as the Hockey World League semifinal is their one last opportunity to grab a spot for the 2016 Rio Olympics.
After suffering an big 6-1 loss to Australia on Wednesday, Pakistan have no option but to go all out against their neighbours India, who have been performing well in the last 12 months or so.
India have started the competition on the right note with two victories against France and Poland.
If Pakistan fail to qualify via this tournament, they are going to rue their loss to India during the final of the 2014 Incheon Asian Games, which they lost in a breathtaking penalty shootout.
So, Pakistan might be eying revenge for their gold medal defeat as well, which robbed them of the elusive Rio Olympics berth. Though Pakistan might have taken revenge via the 2014 Champions Trophy, where they knocked out India in the semifinals of the competition, they will be eager to hand yet another defeat to India.
Pakistan will be under immense pressure to defeat India and the men in blue are going to play pressure-free hockey as neither do they need to worry about qualifying for the Rio Olympics nor the Hockey World League Final, where they are the hosts. Such situation could get the best out of the India players.
Make no mistake, Pakistan have always been one of the strongest teams in world hockey and have always been an unpredictable side. Their unpredictability was also witnessed in the 2014 Champions trophy, where the finished runners-up to Germany.
Having said that India-Pakistan matches, irrespective of the sport, always bring an added pressure, for there are certain expectations from fans of both sides. As far as the ranking goes there is not much to choose between the two teams, with India ranked 9 and Pakistan 10.
Schedule – India vs Pakistan
Get the Live Blog and Updates of the Match HERE
Get the Live Streaming information for the big match HERE
Time – 4pm local time ( 7:30pm IST, 7 pm PKT, 3 pm BST, 10 am ET)
Date – Friday, 26 June 2015
Location – Antwerp, Belgium