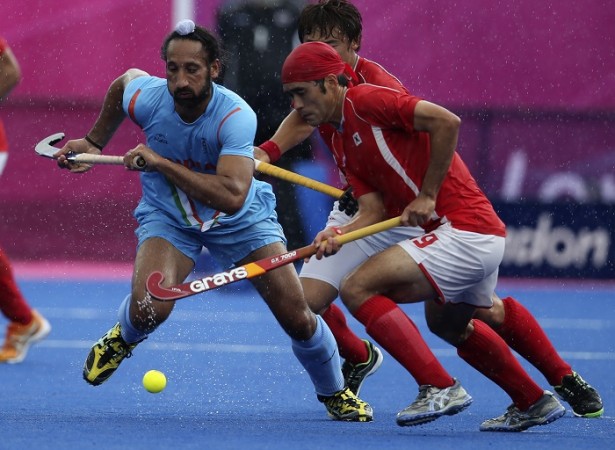 9.10 pm: Two goals from Ramandeep for India, two goals from Imran and that is all she wrote. Good game in patches, and no winner. A fair result perhaps with neither team doing enough to warrant a win.
It might have been different, though, had India played with 11 players more often. At one point they only had nine men on the field, but, to their credit, they didn't let Pakistan run away with the match during that phase.
That's it from me and IBTimes India. Hope you enjoyed the coverage, do stick here for more.
9.09 pm: Sardar Singh: "It is always an exciting game, and I think both teams played a good match. There were lots of Indians here and I hope they enjoyed this match. We have actually taking it match to match, I think we played a good game today. Next game is against Australia, and I hope we will do well."
9.07 pm: Imran: "I am very happy. We played well, and we should have been the winner, but in the end I am happy with the performance of my team."
9.07 pm: "I am very happy," says Imran. "We played well, and we should have been the winner, but in the end I am happy with the performance of my team."
9.04 pm: Match over, it ends India 2-2 Pakistan.
9.03 pm: Nearly a hat-trick for Ramandeep as he makes a tremendous solo run, gets a little lucky with a ricochet, but Butt comes in and snuffs out the chance.
9.02 pm: Two minutes to go for the final hooter.
9.01 pm: The ball goes into goal, but there is no touch as Akashdeep hits it from outside the circle.
8.59 pm: Sreejesh's turn to make a save as he stops Waqas from scoring after some good work from Ali Shan. Brilliant skill from Waqas who takes the shot blind. Five minutes to go.
8.57 pm: Yuvraj's turn now to nearly deflect it to goal, but the ball whistles wide.
8.56 pm: Imran Butt makes another interception, getting in ahead of Nikkin Thimmaiah.
8.54 pm: No holding back here asboth teams look for the winner with ten minutes remaining.
8.53 pm: An injury for a Pakistan player, as he holds his ankle. Toseeq Arshad it is. He walks off the field.
8.50 pm: Imran Butt keeps Pakistan in the match with a couple of outstanding saves, one off Akashdeep which looked destined for goal.
8.49 pm: No goal as Imran miscontrols it.
8.47 pm: The final quarter begins. And it begins with a penalty corner for Pakistan. Muhammad Imran again to score?
8.45 pm: Third quarter over, score is 2-2.
8.44 pm: At the other end, Akashdeep tries a reverse, but it is blocked away.
8.44 pm: Pakistan nearly score as Sreejesh is forced to make a diving save to his left.
8.43 pm: Oh dear what a waste. Manpreet can't trap the ball and the chance is gone.
8.42 pm: Penalty corner for India.
8.39 pm: Devindar Walmiki shows some outstanding skill to find Ramandeep while falling down, and Ramandeep shows even more skill to lift the ball over Imran Butt to level the scores India 2-2 Pakistan. Indiain trouble though again as Devindar is shown a yellow card. Oh dear. India playing with nine men.
8.38 pm: Six minutes to go in the third quarter. India need to find their attacking groove and as I say that, Goal India. Ramandeep Singh again!
8.36 pm: Goal Pakistan. Brilliant drag-flick from Imran and no chance for Sreejesh. Pakistan lead 2-1.
8.35 pm: Penalty corner for Pakistan as the ball hits Sardar's leg inside the circle. Pakistan are back to 11 players now.
8.34 pm: Ali Shan had the chance toturn the ball in on goal, but misses. Big chance for Pakistan goes begging.
8.33 pm: A card for Umar Bhutta, so it is levelled off for now.
8.32 pm: Pakistanlooking to take advantage of the extra man, but India are defending well so far.
8.28 pm: Match is underway.
8.20 pm: Interesting first half. There have been a few flashpoints, and Pakistan will now feel they can score the winning goal with the opportunity to play with an extra man to start the second half.
India 1-1 Pakistan at halftime.
8.18 pm: Penalty corner for India. But Satbir gets a yellow card for a lifted stick. And now there is no penalty corner owing to the foul, and India will start the second half a man down for the next ten minutes. Pakistan have the advantage.
8.17 pm: A Pakistan player goes down this time as Satbir clatters into Rashid. Much ado about nothing really and the match resumes, with Pakistan on the attack. A minute to go.
8.16 pm: India have been poor in penalty corners without Rupinder and Manpreet cannot beat the goalkeeper. It remains 1-1.
8.14 pm: Plenty of turnovers for both sides, neither team able to put on a smooth attacking display. The nerves have shown in this half, even if there has been quality, much like Sardar, whose piece of magic gives India a penalty corner. Satbir's cross hits Irfan's foot and it is an opportunity to score for India.
8.13 pm: Three minutes remaining to halftime. Can one of the teams get the go-ahead goal?
8.12 pm: The youngster Lalit Kumar has been really impressive, making a couple of special runs. Needs to make more of it, however.
8.11 pm: Five minutes to go in the second quarter. India have a man advantage for a couple of minutes. But not able to make Pakistan pay.
8.08 pm: Pakistan score and it is 1-1. A third chance and Muhammad Imran does not miss this time as he gets a penalty stroke and the scores are level.
8.07 pm: India lose their referral and Pakistan have another penalty corner. Saved on the line and it is another penalty corner as the umpire says it was off the foot.
8.06 pm: India defend the penalty corner well, or have they, nope another penalty corner for Pakistan as the umpire calls obstruction. India make an appeal.
8.04 pm: Penalty corner Pakistan as Lakra is adjudged to have shovelled the ball to the byline on purpose.
8.02 pm: Five minutes of the second quarter are up, ten minutes to go to halftime.
8.01 pm: The Pakistan defenders are pressing really well, not giving any of the India players any time on the ball. Most importantly, Sardar has been kept quiet.
7.59 pm: A big chance for Pakistan as Sreejesh is called into action again. Dilber makes a wonderful run into the circle, but Sreejesh thwarts the Pakistan man's attempt. Another chance for Pakistan follows, as the men in green crank up the pressure in search of the equaliser. Really good start from them.
7.57 pm: The break is over, the second quarter gets underway.
7.55 pm: First quarter is over, India lead 1-0. A very cagey first quarter, but India will not care, they have the lead and a nice goal it was as well.
7.54 pm: Pakistan look for an immediate reply and Sreejesh is called into action, kicking the ball away as a cross comes in.
7.52 pm: Goal India. Ramandeep Singh scores. A wonderful diving tap-in by Ramandeep to deflect a really nice low cross into the circle by Gurmail from the India left.
7.51 pm: India careless with the ball on a few occasions, and Pakistan are taking advantage, tearing forward in a hurry. No chances created, though, by either sides so far. Still sizing each other up are the two heavyweights.
7.49 pm: Less than five minutes remaining in the first quarter.
7.48 pm: Oh dear this is nasty. Mohammad Rizwan slams, and I mean absolutely smashes, his stick into Yuvraj Walmiki's shins. Can't really blame the Pakistan player, because he was looking to pummel the ball into the circle. Yuvraj is writhing in pain, but he looks alright now.
Signs of a brawl, before Sardar Singh, what a man he is, calms things down.
7.46 pm: Pakistan feeling their way into the game. Looking more dangerous with the ball than India.
7.45 pm: Eight minutes to go in the first quarter.
7.44 pm: Ooh Pakistan come close as a shot from outside the semi-circle hits the post. There was no touch, though, so no harm done. But still, Pakistan showed just how they can attack in the blink of an eye.
7.43 pm: A stat is thrown out by Star Sports, saying India win 90% of their games if they score two goals in the first half. Well, so you know what they need to do to beat Pakistan now.
7.41 pm: India with plenty of possession, but there is no way as of now past the green wall that Pakistan have built. Good defending from them.
7.39 pm: India on the attack immediately, nearly get into the circle, but Pakistan stop the attack. Lakra then nearly gets in as well, but it is only a long corner.
7.38 pm: The match is underway
7.36 pm: The national anthems are done, and it is match time.
7.34 pm: Players are walking out, and lining up for the prematch national anthems, starting with the one of Pakistan.
7.32 pm: We're almost at start time. The players are getting ready.
7.29 pm: Apparently some chance of Rupinder Pal Singh playing it seems. The deadly drag-flicker could come to the fore in this massive game.
7.28 pm: The players are warming up in the field, which is being nicely watered. Ah, hopefully it will be a fast-paced game with plenty of circle penetrations from both sides. I have a feeling it could be the goalkeepers that could decide the outcome of this match, and India certainly have a brilliant one in Sreejesh (there I have jinxed him, haven't I).
7.25 pm: "It is like a time bomb, raring to go," says former India coach Cedric D'Souza. So nobody I getting too excited it seems.
7.24 pm: Someonecalled Sarah Thomas is interviewing the fans, and a big bloke says he is "very excited." "Dharamvir Singh is my best player, I like him too much," he says.
7.21 pm: Ireland have just put up a really good performance, beating China 6-0. That match is over, it is over to the big one now. Almost there folks.
7.17 pm: Here we go again guys, another India vs Pakistan match. Yes, the context isn't quite as big as the ones from the last few matches, but hey, who are we kidding, it is an India vs Pakistan match – it is always important.
Hello and welcome to IBTimes India's coverage of this Hockey World League semifinal pool match.
India come into this game on the back of a couple of wins – against France and Poland – while Pakistan haven't had it that good, with Australia thumping them in the last match, even if they did pick up an opening win against Poland.
The team in blue have very little to lose – well, apart from that pride thingy when you always play Pakistan – in this tournament, having already sealed a place in the Rio Olympics – courtesy a win over Pakistan – and also booked their place in the Hockey World League finals, owing to being the hosts.
Pakistan's boat definitely isn't the same, and they need to do well in this tournament to book their own tickets to the Olympics.
India, in many ways is playing with a bit of an experimental squad, while also getting used to the new coach Paul Van Ass' tactics. There is definitely visible signs of more defensive stolidity in this India side, and the better India defend, they better their chances of doing well in big tournaments.
A derby game, though, always means form is out of the window – so expect India to leak the goals, with plenty, hopefully, going in the other goals as well.
So here is to a high-scoring cracker-jacker of a match (umm, this is when you lift your glasses, otherwise I will just look stupid).
If you fancy watching the match on TV or live online (don't know why you would when the live blogging here is so spectacular!) all the information you need is right HERE