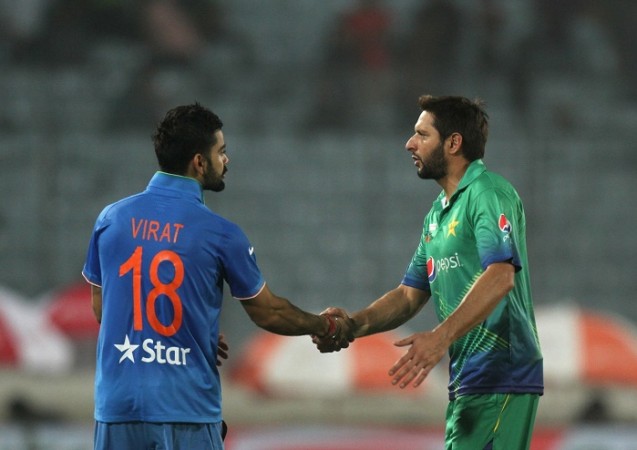 We usually do not get to see much amazing battles between a batsman and a bowler in modern times, but we were treated to one during the India vs Pakistan encounter in the Asia Cup T20 2016 on Saturday.
The battle was Virat Kohli vs Mohammad Amir. The left-arm seamer had run through the Indian top-order to put India under pressure, but Kohli stood tall, to guide his team to victory.
This bat and ball battle was reminiscent of another India vs Pakistan battle of a few years ago -- Sachin Tendulkar vs Shoaib Akhtar.
Such was the intensity and quality of the battle between the two players, that Kohli walked up to Amir and said, "you are a champ."
This battle also impressed the former Pakistan speed machine Shoaib Akhtar, who was reminded of his duel against Sachin Tendulkar.
"It used to be a challenge bowling to Sachin and I think the future battles between Virat and Amir will be as exciting as our on-field rivalry. The two are world-class performers and when they are pitted against each other, it can't get better than that," Akhtar was quoted as saying by PTI.
"Virat is India's best batsman and Amir's inclusion has made Pakistan's attack far superior. Whenever these two will be up against each other, mazaa aane wala hain (it's going to be fun).
"Virat Kohli is certainly the best batsman of his era. His match-finishing skills are exemplary. If you ask me whether he could be compared to Javed Miandad, who was also an exceptional finisher, I would say that two eras should not be compared."
The Rawalpindi Express, as Akhtar is popularly known as, was also happy for Amir, who bowled an oustanding spell against India, picking up three wickets in his first two overs, to announce his comeback in style after the spot-fixing ban.
"Let bygones be bygones. It feels good that the world's best fast bowler is back where he belongs. It fills my heart with joy to see Amir run in and bowl those brilliant deliveries," Akhtar added.