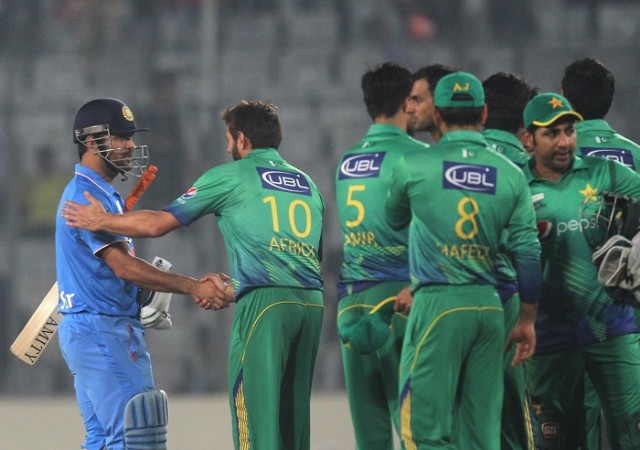 Former Pakistan cricketer Imran Khan was involved in a number of India vs Pakistan matches during his career, and the legendary all-rounder, who knows the importance of the rivalry, is keen to see the two countries resume bilateral ties. India and Pakistan have not been involved in a bilateral series since an ODI series in Dec. 2012 - Jan. 2013 in India.
However, India and Pakistan played against each other twice recently, in the Asia Cup (Feb.27), and ongoing World T20 (March 19). One of the biggest rivalries in cricket has been limited to ICC events for the past three years.
Khan was one of the dignitaries during the World T20 match at the Eden Gardens in Kolkata, and he was pleased with the hospitality meted out to the Pakistan team.
"I was happy to see the hospitality extended to us and our team in Kolkata and I think it is time the two countries resumed regular bilateral matches," PTI quoted Khan as saying.
As per the Memorandum of Understanding signed by the Board of Control for Cricket in India (BCCI) and Pakistan Cricket Board (PCB), India and Pakistan were to play six bilateral series from 2015 to 2023. But, the proposed first series, which was set to be hosted by Pakistan last year, did not materialise.
The India-Pakistan series is also a huge money churner for both cricket boards, but the BCCI, which is the richest cricket board in the world, were reluctant to OK the series withou consent from the Indian government.
"I think if the two boards and governments can agree to resumption of bilateral series it will prove beneficial for both countries and the players. It will also bring financial benefits for both boards," Khan said.
"If bilateral cricket can resume, it will mean money for the board and this can than be invested into our domestic and club cricket which needs to be reorganised in the country."
Pakistan have always produced talented cricketers, but their performances have not been consistent, which has been a major problem. Khan wants to use the money generated from India-Pakistan matches to improve their domestic structure as well.
"We are not short of talent in cricket but we need to inject money into the sport at the grassroots level and boost the condition of domestic players and improve our domestic system," he added.