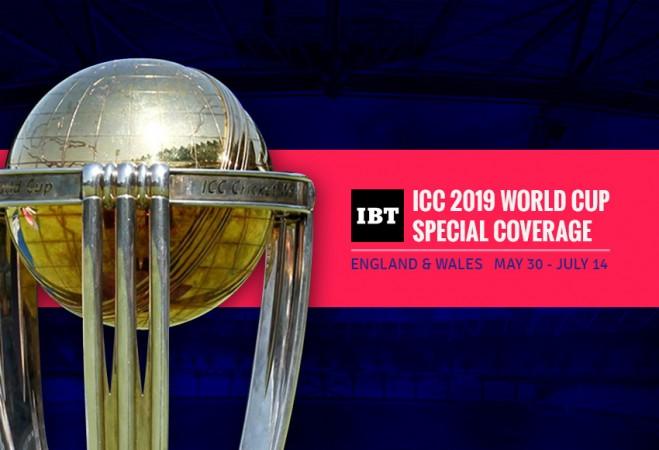 One of the biggest and most anticipated matches of the ICC 2019 World Cup is all set to begin and for the time being, the rain clouds seem to be keeping away. India are on a roll having defeated both South Africa and Australia in their first two matches. However their third match against New Zealand was washed out.
Pakistan, on the other hand, have been their mercurial self, having been blasted out by West Indies in their first match but coming back to defeat England. But having lost to Australia in their last game, they need to put their game back on track
With a 6-0 record in the World Cup in favour of them against Pakistan, this match has a lot riding on him. Either India would make it 7-0 or Pakistan would finally break the streak.
Live Updates
2019-06-1700:15 (IST)
India make it 7-0 in World Cups
The formalities of the India vs Pakistan match were completed after play resumed and despite some lofty blows by Imad Wasim, India ended up winning the match by a margin of 89 runs. Wasim scored unbeaten 46 runs off 39 balls and is likely to remain in the team but the rest of the line-up needs to pull their socks up.
On the other hand, India are getting better and better but they have a major issue with the injury to Bhuvneshwar. If he doesn't get fit, India may have a serious problem but Kohli sounded optimistic.
2019-06-1623:34 (IST)
India vs Pakistan game reduced to 40 over contest
After a long interruption by rains, the India vs Pakistan match will resume but the Pakistan innings would be limited to 40 overs and their target is 296 and they have only 5 more overs to get there. With six wickets down, it seems unlikely that they will get to the target.
2019-06-1622:45 (IST)
Rain halts the game with India in complete command
With India all set to record another World Cup victory over Pakistan, the rain clouds have opened up and forced another break in the game. The Pakistani side is way behind the duckworth/lewis system and are nearly out of the game even without it. The score is 166/6 in 35 overs.
2019-06-1622:42 (IST)
Sarfaraz's wicket puts another nail in Pakistan's coffin
India took another step towards victory when Vijay Shankar got the second wicket of the match by dismissing Pakistan captain Sarfaraz Ahmed. With the required run-rate having climed to over 10/over, big hits were required and in attempting one of those, Sarfaraz got an inside edge and lost his wicket. The importance of this wicket was that Sarfaraz is now certain to be mercilessly attacked and criticised. It also ensures that Vijay Shankar is likely to remain in the playing XI.
2019-06-1622:07 (IST)
Pakistan collapse as Pandya removes Hafeez and Shoaib
Things are looking increasingly bleak for Pakistan as they lost the wicket of Mohammad Hafeez and Shoaib Malik, their senior batsmen in consecutive balls of the 27th over. What is most galling for Pakistan fans is the nature of Hafeez's dismissal. Having gone after Chahal in the 25th over, Hafeez managed to force a change from Virat Kohli who replaced the leggi with Hardik Pandya. A poor delivery from Pandya, a half-volley on leg stump was clipped straight into the hands of the deep square leg fielder by Hafeez.
Shoaib Malik then got an inside edge off his very first delivery that hit the stumps. Pakistan are now reduced to 130/5 in 27.3 overs and are well behind on the D/L method as well. With clouds getting more and more threatening, end could be nigh for the green army.
2019-06-1621:58 (IST)
Kuldeep Yadav spinning India to victory
After getting the wicket of Babar to provide India a crucial breakthrough, Kuldeep got another very important scalp of Fakhar Zaman in his very next over. Due to his potential for scoring fast and the fact that he was well set, Fakhar was a dangerous batsman and his wicket considerably reduces the chances Pakistan have of winning the match. After Mohammad Hafeez slog swept Yuzvendra Chahal for a six, Fakhar tried to play a similar shot against Kuldeep but only managed a top-edge which carried easily into the hands of the short fine leg fielder. Fakhar was out for 62 and Pakistan are 126/3 in 26 overs.
2019-06-1621:51 (IST)
Kuldeep Yadav provides India much needed breakthrough
Just when the partnership between Babar Azam and Fakhar Zaman was starting to assume threatening proportions, India's chinaman bowler Kuldeep Yadav got rid of Babar to provide a very crucial breakthrough. The means of getting this wicket was a beautiful classical left-arm leg-break which was tossed up and bowled slowly and beat Babar in the flight. It then gripped off the surface and went through the gate to rattle the stumps. Babar was dismissed for 48 and Pakistan were 117/2 in the 24th overs.
2019-06-1620:35 (IST)
Vijay Shankar dismisses Imam on his first ball of the World Cup
In what was a stunning turn of events, Vijay Shankar picked up the prized wicket of Imam-ul-Haq on his very first ball of the World Cup, that too in an over that was started by Bhuvneshwar Kumar. After bowling four balls of the fifth over, Kumar had to leave the field due to a niggle and Vijay Shankar was brought on. He ended up bowling a delivery which, at medium pace, just straightened back in to him after pitching around leg stump. Imam, who was facing a barrage of testing deliveries that were moving away from him or were angled across him. This delivery, which came back a little and was at a different pace, got the better of the left-handed batsman and trapped him plumb leg before wicket.
2019-06-1620:28 (IST)
Bhuvneshwar Kumar off the field with niggle; Is he out of the match?
In what could be a major blow to India, Bhuvenshwar Kumar may have sustained an injury during the match against Pakistan. In the fifth over of the game, Bhuvi was forced to leave the field after feeling uncomfortable due to a possible hamstring or knee problem. Luckily for India, they have two men to fill the fifth bowler spot. And after he walked off the ground, Vijay Shankar was brought on to complete his over.
2019-06-1619:32 (IST)
India score 336/5 in their 50 overs
India have set a target of 337 to win for Pakistan in their ICC 2019 World Cup match at Old Trafford, Manchester. The star of India's innings was Rohit Sharma who top scored with 140 while both Virat Kohli and KL Rahul scored half-centuries. While Kohli chipped in with 77, Rahul managed 57.
For Pakistan, their best bowler was Mohammad Amir who managed very impressive figures of 3/47 in his full quota of 10 overs, despite getting no help from the conditions and the pitch. All-rounder Imad Wasim, brought into the team for this match, also played a key role for his team with great figures of 0/49 in his 10 overs.
2019-06-1619:23 (IST)
Virat Kohli gave himself out without hitting the ball
Virat Kohli decided to walk when he went for a hook shot against Amir and the bowler appealed. However, the snickometer and slow-motion replays have shown that he completely missed the ball. So, Kohli gave himself out without actually being out, something that Sourav Ganguly attributes to a possible sound emanating from the handle being loose, something that was confirmed by Kohli shaking his bat in the dressing room to check for precisely that.
2019-06-1619:16 (IST)
Kohli out for 77, India's aim of getting 350 under threat
India's biggest hope for getting to 350 was a late attack from Virat Kohli but he was picked up by Mohammad Amir for a personal score of 77. India are 314/5 after 47.5 overs.
2019-06-1619:03 (IST)
Play to resume without deduction of overs
Indian team will resume their innings after the rain break and no overs have been deducted from the match. The time will be made up by cutting down the period of mid-innings break. India are at 305/4 in 46.4 overs.
2019-06-1618:23 (IST)
Rain halts play as India seek to reach 350
The rains that everyone feared would disrupt the game between India and Pakistan finally arrived in the 47th over with the score at 305/4. Virat Kohli is at the crease, batting on 71 off 62 deliveries while Vijay Shankar is at the other end trying to get some big hits in. The problem for India is that both Hardik Pandya and MS Dhoni have been dismissed leaving the responsibility of getting the big shots on Kohli. Whether the rains juice up the wicket and make it more helpful for the bowlers is something we will have to wait and see.
2019-06-1617:48 (IST)
With 10 overs to go, India have Pandya and Kohli at the crease with Dhoni to come
India are 248/2 at the end of 40 overs. The chance of them getting to 350 still looks good considering that they have Hardik Pandya and Virat Kohli at the crease and MS Dhoni still to come. But a lot depends on whether Pakistan can improve their performance in the last 10 overs, as they did in the game against Australia. Mohammad Amir has four overs left and Wahab has three. These two are most likely to pick up wickets and also get reverse swing, if it is available. Hasan Ali also has overs and due to his greater accuracy compared to Wahab, may get to bowl as well.
2019-06-1617:39 (IST)
Rohit Sharma misses double hundred, out for 140
Just when a double hundred, number fourth of his career, looked certain, Rohit Sharma ended up throwing his wicket away. Against Hasan Ali, he played a poor shot and gave an easy catch to be dismissed for 140. The reaction of Rohit was one of anger and frustration. He decided to play the ramp and clear the short fine leg but failed to accomplish it. However, with Pandya and Dhoni all set to take over, India are still on the way to a massive score.
2019-06-1617:16 (IST)
Is Pakistan starting to fight back, can India be restricted to a less than 350
After the wicket of KL Rahul, it seems like Pakistani bowlers are starting to make things happen a little bit more. Wahab Riaz, who is known for his aggresive style of bowling, is bowling round the wicket due to a warning from the umpire, is showing good hostility and got one ball to rear up dangerously to Kohli. Even Mohammad Amir bowled a good over to Kohli over the wicket. Perhaps, the ball is starting reverse swing. If that is the case, then Pakistan may have a chance of restricting India, just as they did against Australia.
2019-06-1617:06 (IST)
Rohit completes a sublime hundred
Rohit Sharma once again showed his class by recording a magnificent hundred against Pakistan. His ton came off just 85 balls with 9 fours and three sixes. Except for an inside-edge that went for four right at the start of his innings, Rohit looked in full control and dominated both the faster bowlers as well as the spinners. To be fair, Pakistan did give him a lot of short deliveries but Rohit, who is hard to stop once he settles had no troubles dealing with all Pakistan bowlers. India are 181/1 after 31 overs.
2019-06-1616:54 (IST)
Tweets coming in from various quarters
2019-06-1616:37 (IST)
Rahul out just when he looked on his way to a big score
KL Rahul, who started diffidently at the start of the innings, looked like he was on way to a big score and becoming more fluent when he gave an easy catch to extra cover and gave Pakistan a much-needed wicket. Rahul got to a hundred with a pull shot for six and then hit a beautiful lofted on drive for another maximum. But Wahab's delivery got the better of him.
2019-06-1616:20 (IST)
Rahul finding it hard to get going while Rohit prospers
KL Rahul, the man opening the innings in absence of Shikhar Dhawan, has struggled to gain fluency in his innings while his partner Rohit Sharma has gone from strength to strength. Rahul decided to see off the new ball without taking much risk and left many of the deliveries angled away from him by Amir.
But while Rohit was soon able to start playing his shots and punishing bad deliveries, Rahul remained diffident and wasn't able to expand his play. It seems like the pressure is getting to Rahul as he attempted a reverse sweep off the last ball of 20th over from Shadab Khan. India 105/0 in 20 overs.
2019-06-1615:59 (IST)
Double hundred for Rohit Sharma today?
Rohit Sharma may look a bit tentative and vulnerable at the start of his innings but once he gets settled, he hardly falls short of a hundred. The same pattern seems to be repeating itself in the ongoing match against Pakistan. After taking his time, he is now starting to expand his play and playing those big shots which are ominous signs for the opposition. Having reached his fifty, a hundred looks certain. But with the pitch looking flat, ball not moving or spinning, there may be no stopping him from getting something even bigger - a fourth double hundred in ODIs.
2019-06-1615:54 (IST)
Rampant Rohit on full charge against Pakistan
Rohit Sharma's first boundary may have come through an inside-edge but since then, he has been at his best. Putting away any weak deliveries, Sharma is now starting to open his arms and go into full aggresive mode. His ruthless assault on Shadab Khan in the leg-spinner's first over took him to his fifty, scored in just 34 balls. India 79/0 after 12 overs.
2019-06-1615:45 (IST)
Pakistan running out of options
After realising that there is no swing or seam movement for them, Pakistani bowlers decided to try out short-pitch bowling. But even that proved ineffective against a good player like Rohit Sharma. The Mumbai batsman pulled a delivery for six over mid-wicket. Now, Pakistan have decided to use Imad Wasim but he is unlikely to cause any trouble as there is no spin available and he is also not the biggest turner of the ball at the best of times. So, Sarfaraz must be scratching his head over what to do to stop the Indian batting line.
2019-06-1615:25 (IST)
Second warning for Amir for encroaching on danger zone, may not be allowed to bowl
Pakistan are in a bit of trouble early on in their innings. Not only is the ball not swinging and the Indian batsmen starting to look comfortable, their ace bowler Mohammad Amir has already recieved two warnings from the umpire for encroaching on the danger zone of the pitch. If he does this again, he won't be allowed to bowl again in the innings. This has happened only in the third over of the bowler. Things are not looking good for the green army.
2019-06-1615:16 (IST)
Blunder by Pakistan! No swing for Pakistan bowlers; India set to get 350?
Sarfaraz may have chosen to bowl first in the hope that his bowlers will perform well in overcast conditions but the way the two Pakistani new ball bowlers have operated, suggests it is a flat batting wicket where the ball isn't moving and India are all set to get one of the high scores its batting line up is famed for. A score of over 300, even 350+ is very probable.
2019-06-1615:08 (IST)
Hasan Ali creates trouble for Rohit Sharma
Hasan Ali, opening the bowling at the other end for Pakistan, got the ball to deviate a little bit to Rohit Sharma, something Amir couldn't do, and one of the deliveries took the inside-edge of the bat and went past the stumps for four. However, he then bowled couple of short-length balls which proved innocuous.
2019-06-1615:05 (IST)
No swing for Amir in first over
Mohammad Amir's first over saw the left-armer getting no swing. This makes one wonder whether Pakistan have made a blunder by choosing to bowl first. If Amir, most capable of moving the ball in the air can't get it to deviate, who would?
2019-06-1614:55 (IST)
Overcast conditions at Old Trafford, will Amir repeat his heroics from CT final
The decision to bowl first from Pakistan captain Sarfaraz Ahmed had a lot to do with overhang of clouds in Manchester. As a result of this, expectations would be high from in-form Mohammad Amir whose exploits almost exactly two years ago in the Champions Trophy final saw his team sealing the victory.
Amir picked up five wickets against Australia in a brilliant spell of bowling. His efficiency in swinging the ball would make him a very potent weapon.
2019-06-1614:49 (IST)
Pakistan bring in all-rounder Imad Wasim to provide an extra spin option
Another change made by Pakistan is the entry of all-rounder Imad Wasim in their playing XI. Wasim is a useful left-arm spinner who can also play a useful innings in the lower order. He replaces Asif Ali who hasn't been able to produce the kind of explosive knocks expected of him. Wasim had also captained Pakistan against Australia in a couple of matches before the World Cup during the bilateral series in UAE.
2019-06-1614:40 (IST)
Pakistan win the toss and chose to field, Vijay Shankar, Shadab Khan in
Pakistan captain Sarfaraz Ahmed won the toss and decided to field first. Indian captain Virat Kohli said he would have done the same thing. Due to the injury to Shikhar Dhawan, India have brought in Vijay Shankar to bat at no. 4 while Pakistan have brought in leg-spinner Shadab Khan.