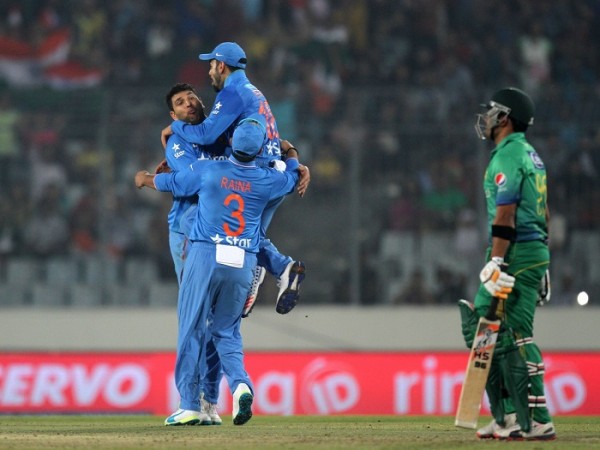 The India bowlers did their jobs in the first innings, and then Virat Kohli did his in the second to help India to a comprehensive five-wicket victory over their biggest rivals Pakistan in an Asia Cup 2016 match in Mirpur.
MS Dhoni put Pakistan into bat after winning the toss, and what followed was absolute carnage as one Pakistan batsman after another fell with barely a fight. With Hardik Pandya helping himself to figures of 3-3-0-8-3, India bowled Pakistan out for 83 in 17.3 overs.
In reply, Mohammad Amir looked like making a game of it, picking up three Indian wickets in his first two overs, before Kohli showed just why he is one of the best in the business with a ridiculously-good 49 (51b, 7x4) to help his team cross the line with five wickets and nearly five overs to spare.
This match was really won in the first innings, as Pakistan capitulated under the big-match pressure. Mohammad Hafeez fell in the fourth ball of the innings to Ashish Nehra, before Jasprit Bumrah had Sharjeel Khan walking back.
Then Shoaib Malik ran Khurram Manzoor out, Kohli applying a brilliant direct hit, before Mr. Sania Mirza himself fell, falling to the wide ball trap from Pandya.
Umar Akmal did not last long either, as Yuvraj Singh trapped the dangerous batsman in front of the wicket, with Shahid Afridi then going for a suicidal run, challenging the unchallengeable arm of Ravindra Jadeja.
Only Sarfraz Ahmed showed some kind of mettle in the middle, scoring 25 (24b, 3x4), but once Jadeja castled the right-hander with a quicker one that came in from the side-arm angle, it was curtains for Pakistan.
However, the bowlers did not give up the fight, with Amir bowling one of the great opening overs of T20 international cricket. He nearly had Rohit Sharma out first ball with an inswinging yorker, but after that was given not out, the left-arm speedster trapped the India opener with a peach of an inswinging delivery next ball. Ajinkya Rahane, in for the injured Shikhar Dhawan, fell in the same manner as well, before Suresh Raina inexplicably played across the line and gave a leading edge to mid-on.
At 8/3, anything as possible, but Kohli showed his true class, batting like he was on another wicket to take the game away from Pakistan in the company of Yuvraj Singh, who despite his struggles, did not throw away his wicket. The two put on 68 runs together, and when you are chasing just 84, that was all she wrote for Pakistan.
Get the highlights of the India vs Pakistan match HERE