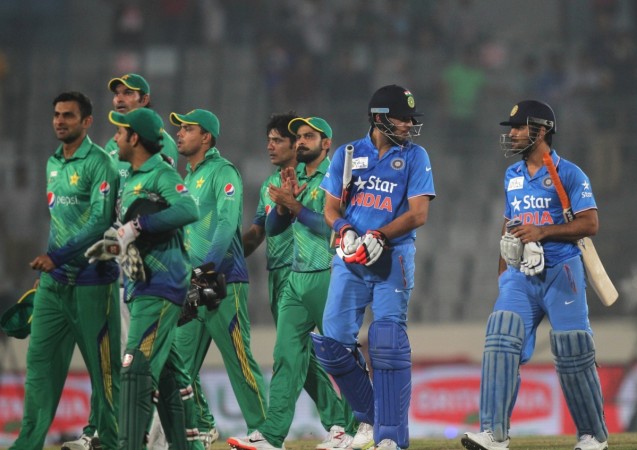 The BCCI has assured Pakistan of fool-proof security presence during their cricket team's much-anticipated clash against India at Dharamsala on March 19. A lengthy discussion was held between the Indian cricket board and the MHA (Ministry of Home Affairs) officials on Tuesday.
The ICC World T20 2016 tournament director MV Sridhar, who is also the general manager of cricket operations in the BCCI, said after the special meeting that the Ind-Pak match will go on as scheduled and the three-member Pakistan security delegation in India has also been provided an insight on the security arrangements.
Sridhar, along with a few other BCCI officials, was present in the meeting besides IPL anti-corruption and security unit head Neeraj Kumar as well as representatives from the Himachal Pradesh government.
"The match [between India and Pakistan] is on," Sridhar was quoted as saying by the Press Trust of India. "The state and central governments are on board and all security arrangements have been made."
Not everything was discussed in the meeting as Sridhar added that there were rooms for further discussions between the BCCI and the home ministry officials over various issues.
"The state government officials were also there during the meeting, while the home affairs ministry have also given their inputs," Sridhar told Times Now. "But we still need to have further discussions. The State government has assured us from day one that they will provide security for all matches during the ICC World T20."
"The Pak security team have met the district magistrate as well as the Inspector General of Police and they have committed to providing security for all the matches. They have also seen the ground conditions."
Just a day back, ICC Chief Executive Dave Richardson remained positive about the match taking place in Dharamsala as scheduled and he added that the BCCI, along with the PCB and the ICC are doing everything to ensure proper security during the match.
"Pakistan won't pull out of World T20. We are confident that the matches will proceed in respective venues," Richardson was quoted as saying by Cricbuzz. "The Indian government has shown a commitment to make sure that adequate security measures are in place at all the venues for all the teams."
"I can assure you that the BCCI and PCB are communicating, as is the ICC with both parties. We will make sure we do everything were can to make sure the event takes place at a safe and secure environment," he added.