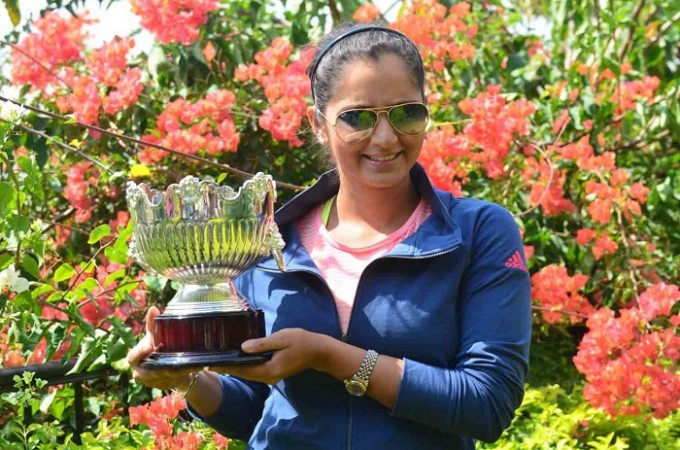 Cricket rules the roost in India, and irrespective of whether you love the sport or not, you cannot ignore it, especially when that cricket match is India vs Pakistan. Cricket fans across the border want their respective nation to emerge triumphant, but who will you support if you are an Indian, but married to a Pakistan cricketer?
Yes, Sania Mirza is the one, who has that tough choice to make every time India play Pakistan, with the lates one coming in the Asia Cup, which takes shape at the Shere Bangla National Stadium in Mirpur, Dhaka, Saturday. Sania is an Indian, married to a Pakistan cricketer in Shoaib Malik, who is a part of the Asia Cup squad.
Sania does not want to be on the losing side either way. Malik said Sania will support India for a win, but wants him to perform for Pakistan.
"We maintain the same status; she supports Team India and wants her husband to do well, perform well in the middle if he is playing." Zee News quoted Malik as saying in an Aaj Tak interview.
Though Sania might want to have her cake and eat it too, Malik will have only one thing in his mind while playing for Pakistan – defeat India at any cost.
India, it has to be said, are the favourites for the mega contest, especially with the form they have shown in 2016. They have defeated Australia and Sri Lanka in their last two series, while Pakistan have lost their last two tournaments. Much of India's success is owed to batsmen Virat Kohli, Rohit Sharma and Shikhar Dhawan. These three have been in superb from for India.
However, Malik is quite confident that Pakistan have the quality bowlers in their lineup to outshine India. The match may primarily come down to the Indian batsmen vs Pakistan bowlers. Mohammad Irfan and Wahab Riaz are the biggest threats for the India batsmen.
"Indian batsmen are very consistent, but we have a good bowling attack. This is going to be a great game. This is going to be a big opportunity for players of both the teams, India-Pakistan matches always are," Malik said.