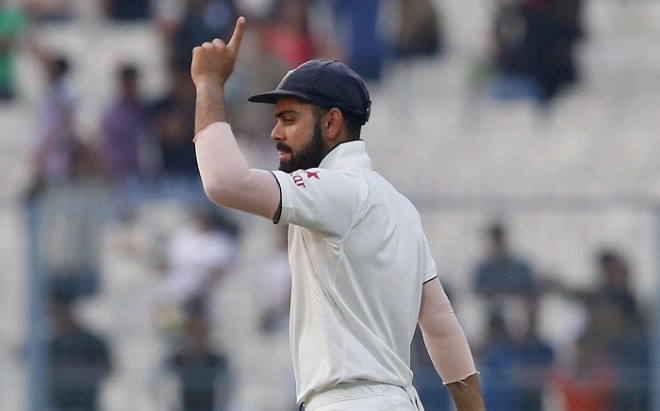 Virat Kohli was smiling like a Cheshire cat at the end of the second Test match in Kolkata and understandably too, considering India sealed the series against New Zealand at the Eden Gardens with another brilliant all-round performance and also regained their No.1 ranking in Test cricket.
Playing on a nice Test match wicket, one India player after another stepped up when it was required to help the team complete a 178-run victory over the gallant never-give-up Kiwis.
"Lovely Test match, it was a brilliant Test match wicket," Kohli said at the presentation ceremony. "Apart from the variable bounce here and there, when the wicket settles down, it will be a wanted venue for Test cricket in India, because the wicket was beautiful.
"I think it was a complete all-round performance from the team. The bowlers stuck it out in the first innings, those extra runs with Saha batting there, with (Mohammed) Shami and Bhuvi (Bhuvneshwar Kumar) contributing, it was very important to get those extra runs.
"I think we ticked all the boxes. We were put under pressure, but we expect that from a team like New Zealand, but it took character to bounce back every time and that is exactly what the boys did."
While Kohli was happy to see Wriddhiman Saha, the man of the match for his two unbeaten half-centuries, contribute with the bat, the captain also reserved special praise for Rohit Sharma, who justified his place in the team by scoring a crucial 82 in the second innings.
"The second innings I thought the New Zealand bowlers really bowled well, put us under pressure," Kohli added. "We were three down for not many, then Rohit comes in, we had a bit of a partnership, and then he carried on with Saha, played some really positive cricket.
"Really happy for Rohit as well. I think he stuck it out really well, showed good intent, played positive cricket and you know his love affair with Eden. I wasn't surprised, I was expecting him to score at least once in these two innings."
India have two reasons to celebrate this Test match victory – they not only won the series against New Zealand, but they also displaced Pakistan, going back to the top of the rankings in Test match cricket. That is something that Kohli, naturally, fells proud of.
"Our objective is to keep playing consistent cricket, having rankings and getting to number one and dropping is something that can get out of your hand, but right now, with the coming home season, we do have control of that situation.
"It all depends on how good a side we are and how we play out cricket going ahead in the season.
"The start has been wonderful, since West Indies, we've really played some good cricket over the past one and a half years. We just want to continue and keep showing the same character whenever we are put under pressure."