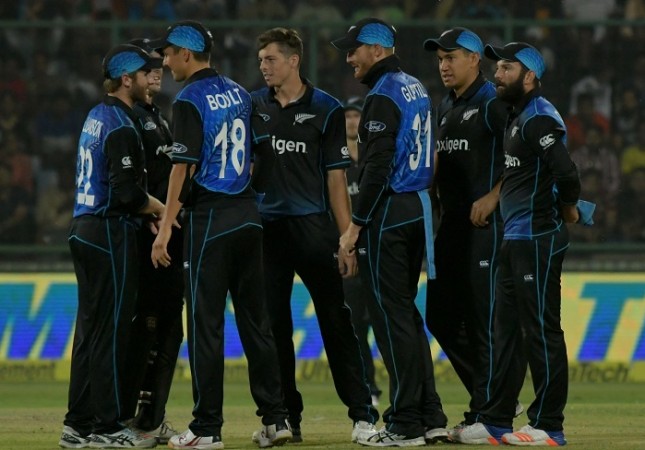 This second ODI match at the Feroz Shah Kotla was a proper contest. A contest where Kane Williamson finally showed his class on this tour; a contest where India bucked the trend of losing their way with the ball in the final overs; a contest where Virat Kohli did not score big runs in a chase; a contest where MS Dhoni could not take the chase to the final over, even if Hardik Pandya nearly did; and finally a contest which saw New Zealand pick up their first win of this tour.
In the first innings, Kane Williamson struck a wonderful 118 (128b, 14x4, 1x6) for New Zealand, but once the captain was dismissed, the Kiwis lost their way completely, eventually only managing 242 for nine in their 50 overs, when a score near 300, at one point, looked likely.
India would have fancied their chances of chasing down that score, but after the top order went missing and Dhoni failed to take the game deep, New Zealand stopped the home team at 236 all out in 49.3 overs, despite heroics from Pandya and Umesh Yadav.
The India chase began in very circumspect fashion, with Rohit Sharma and Ajinkya Rahane completely cutting out the risky shots and deciding that wickets in hand was the need of the hour, considering the total was a modest one. That plan works when you end up putting a decent opening partnership, but seems a little not-bright, when you end up losing wickets.
Rohit was picked up by Trent Boult in the eighth over, then Kohli strangled one down the legside off Mitchell Santner, before Ajinkya Rahane, off a debatable catch, and Manish Pandey, off an unnecessary run out, fell in quick succession to leave India four down inside 20 overs.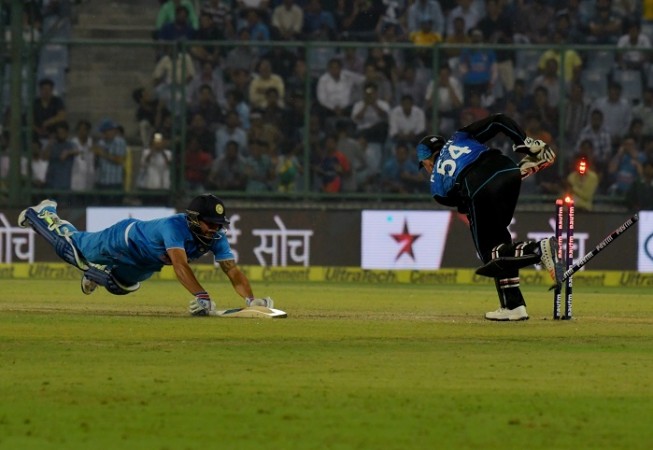 The chase was crying out for a partnership and that alliance came via Dhoni, calm as always, and Kedar Jadhav. Dhoni's MO nowadays is to just hold one end up and see the game till the end while allowing the batsman at the other end to take on the bowling.
Jadhav did that pretty well, pummelling a couple of sixes and helping himself to a well made 41 (37b, 2x4, 2x6). The right-hander fell at an inopportune time, though, edging a full delivery from Matt Henry in the 32nd over to leave India needing a further 104 from 18.5 overs, with only Dhoni and a couple of all-rounders left.
The India captain continued his let's-take-it-nice-and-easy approach while Axar Patel, sent in ahead of Hardik Pandya probably to get the right and left-hand partnership going, also took some time to find his batting range. That meant the equation quickly jumped well over six an over to 82 from 72 balls.
That pressure started to tell and the nerves in the crowd changed to worries and frowns when a slower ball from Tim Southee saw Dhoni (39, 65b, 3x4) walk back, after the bowler took a splendid return catch.
With 71 still required from just over 10 overs, it was down to the two youngsters Axar and Hardik Pandya to rescue India, but those hopes extinguished quickly when Axar holed out to part-timer Martin Guptill, who also picked up Amit Mishra for good measure. With just two wickets in hand, it looked like game over for India, but the fact that the required run rate was, well under six, was quite makeable, worked in their favour.
Pandya and Umesh Yadav put up quite a solid partnership for the ninth wicket, taking the game where Dhoni likes to go – deep. The equation was brought down to 22 from 18 balls, then 16 from 12 and then 11 from nine balls as Pandya struck a four over mid-off. Then came a dot ball, followed by a short delivery from Boult, plain and simply outstanding, which Pandya (36, 32b, 3x4) could only flat bat to deep cover, which left India needing 11 from seven balls with just a wicket in hand.
A single from Umesh (18 n.o., 23b, 1x4) off the last ball of the 49th over meant India needed 10 from the last Tim Southee over. A two and a single followed, but off the third ball, Southee delivered the perfect yorker to knock off Jasprit Bumrah's stumps and hand New Zealand a thrilling win.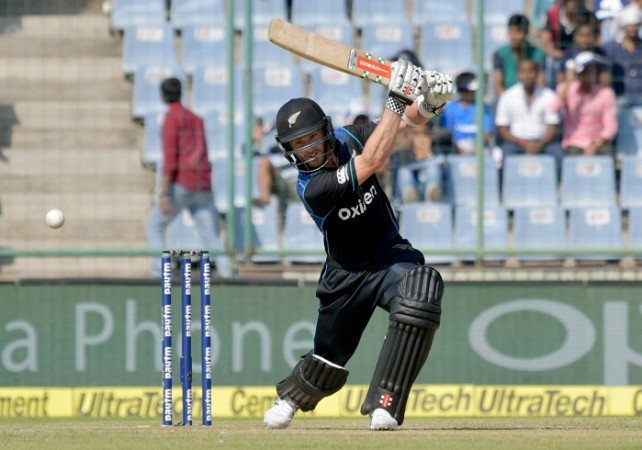 Earlier, the innings did not begin that well for New Zealand, with Umesh Yadav producing the dream delivery, the one that came in and just moved away to clip the off-stump, to dismiss Martin Guptill in the second ball of the match.
However, Williamson, determined this time to make a score of note, and Tom Latham, New Zealand's best batsman on this tour, added 120 runs together for the second wicket to set the game up for the rest of the batsmen. The two players batted intelligently, making sure they put away every single bad ball that came their way, while stroking a few wonderful drives to the boundary as well.
Kedar Jadhav, the part-time off-spinner, was the one who broke the partnership, trapping Latham (46, 46b, 6x4, 1x6) in front, but with Williamson still at the crease, New Zealand had their eye firmly locked on a big score.
Most of Williamson's runs in this innings came on the onside and while it was quite well compiled, India will look at a couple of dropped catches that let the Kiwi skipper off the hook. Williamson was dropped by Hardik Pandya, decent again with the new ball without being that lethal, when he was on 46 and then again by MS Dhoni when the batsman was on 59, even if the second catch was difficult, considering the edge was healthy off the left-arm spinner Axar Patel.
Williamson started to cramp when he got to the 90s, and while he completed the hundred without too many problems, it was obvious that the skipper was not going to last too long as the tiredness crept in.
When Williamson fell, a couple of overs after Corey Anderson (21, 32b, 2x4), both to leg-spinner Amit Mishra, New Zealand were in danger of losing their way, with Luke Ronchi's dismissal only heightening that feeling. However, there was still hope for the Kiwis considering Anton Devcich, an opener by trade, had been brought in to beef up the batting.
However, Devcich, after a couple of interesting shots, lost his wicket as well, courtesy a brilliant diving catch from Axar, and from there New Zealand failed to cope – the Kiwis scored one boundary in the final 10 overs – under some brilliant death overs bowling from Jasprit Bumrah.
Score: New Zealand: 242/9 in 50 overs.
India: 236 all out in 49.3 overs.
Result: New Zealand won by six runs.
Bowling: India: Umesh Yadav 9-0-42-1; Hardik Pandya 9-0-45-0; Jasprit Bumrah 10-0-35-3; Axar Patel 10-0-49-1; Amit Mishra 10-0-60-3; Kedar Jadhav 2-0-11-1.
New Zealand: Matt Henry 10-0-51-1; Trent Boult 10-2-25-2; Tim Southee 9.3-0-52-3; Anton Devcich 9-0-48-0; Mitchell Santner 10-0-49-1; Martin Guptill 1-0-6-2.
Fall of wickets: New Zealand: 0/1, Martin Guptill (0.2 overs); 120/2, Tom Latham (20.3 overs); 158/3, Ross Taylor (31 overs); 204/4, Corey Anderson (40.5 overs); 213/5, Kane Williamson (42.4 overs); 216/6, Luke Ronchi (43.3 overs); 224/7, Anton Devcich (45.1 overs); 255/8, Tim Southee (45.5 overs); 237/9, Matt Henry (49.2 overs).
India: 21/1, Rohit Sharma (7.1 overs); 40/2, Virat Kohli (11.4 overs); 72/3, Ajinkya Rahane (18.4 overs); 73/4, Manish Pandey (19.2 overs); 139/5, Kedar Jadhav (31.1 overs); 172/6, MS Dhoni (39.3 overs); 180/7, Axar Patel (40.1 overs); 183/8, Amit Mishra (40.5 overs); 232/9, Hardik Pandya (48.5 overs); 236/10, Jasprit Bumrah (49.3 overs).