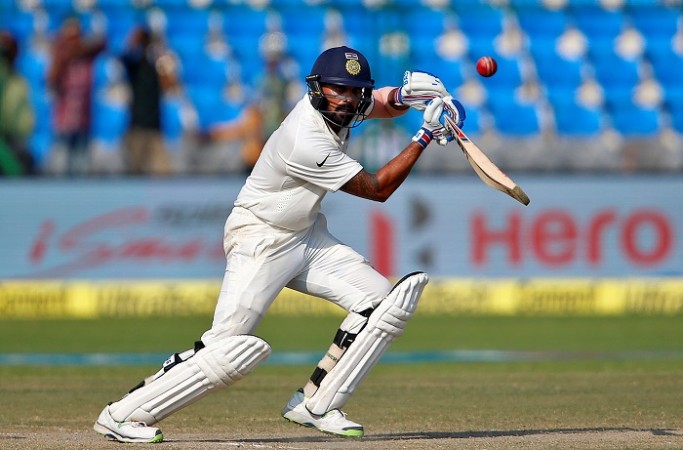 The intention, after taking a healthy first innings lead, from the India batsmen was pretty clear – take the attack, don't let the New Zealand bowlers settle and try and put them into panic mode as the lead increases with every run, every boundary.
With R Ashwin and Ravindra Jadeja doing their bits with the ball by bowling New Zealand out for 262, which gave India a 56-run first innings led, Rahul and Murali Vijay walked in with a purpose.
Trent Boult did plenty of damage the last time he had a new ball in his hand, but up against the India openers, the left-arm swing bowler could do little. Kane Williamson's decision to open the bowling with left-arm orthodox Mitchell Santner did not have much effect either with Rahul in take-on-the-bowlers-mood.
Rahul attacked Santner whenever he could, playing a couple of nice lofted shots over mid-on and mid-off, while also bringing the paddle sweep into play. When the off-spinner Mark Craig came in, Rahul brought out the reverse-sweep as well, with the control factor remaining in the high levels throughout.
There were a few hairy moments, bound to happen when you attack on a wearing Day 3 wicket, but for the most part, it was Rahul in control and in wonderful-to-watch attack mode.
Vijay was happy to play second fiddle, knowing his job was to hold the one end up, and what Rahul's aggression did was quickly take India's lead past the 100-mark. Rahul's aggression eventually cost him, when he tried to guide an Ish Sodhi ball to the third man boundary, but only managed to give a catch to Ross Taylor at first slip, in what proved to be the last act before Lunch.
India went into the break on 52/1 in 18.1 overs, for an overall lead of 108 and what Rahul's innings of 38 (50b, 8x4) did was give India further momentum.
That momentum just got better and better in the final session, with Vijay and Cheteshwar Pujara hitting seven fours in the first three overs after the break to just purr India along.
It was quite outstanding the manner in which Vijay and Pujara controlled the New Zealand bowling, putting the bad balls away when they came – and there were a fair few of those, more than Williamson would have liked – while also bringing their wonderful skills against spin into play.
Pujara (50, 80b, 8x4) has had his confidence restored after shining in the Duleep Trophy and was outstanding, while Vijay (64, 152b, 7x4, 1x6) picked up where he left off in the first innings. The duo went on to complete their second hundred partnership of the match, eventually adding 107 runs together as India went into stumps on 159/1 in 47 overs, for an overall lead of 215.
Bowling: New Zealand: Trent Boult 5-0-11-0; Mitchell Santner 13-5-33-0; Mark Craig 11-1-48-0; Neil Wagner 8-3-17-0; Ish Sodhi 7-2-29-1; Martin Guptill 3-0-14-0.

Fall of wicket: India: 52/1, KL Rahul (18.1 overs).