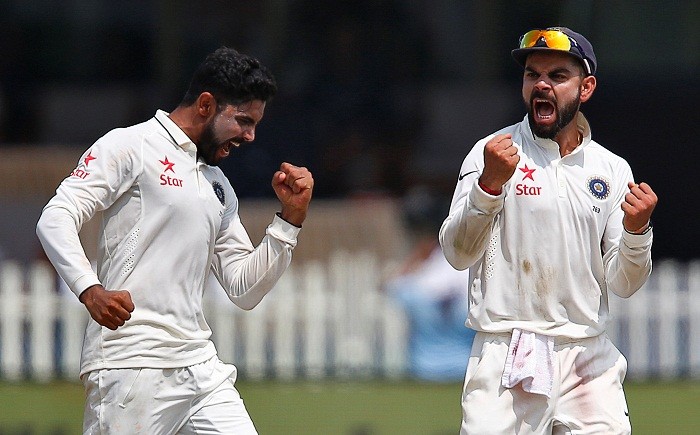 The ongoing Test series between India and New Zealand has been full of special occasions. The first Test in Nagpur was India's 500th Test match. The second one in Kolkata was India's 250th Test at home, and the upcoming third Test, starting Saturday, is going to be first Test match, which is going to be played in Indore.
Cricket fans in Indore might have watched ODIs in crowded stands, but they can now witness India's players in white uniform as well. Irrespective of where a cricket match is played, fans turn up in good numbers, and the same is expected in Indore. The fans have already showed some massive support, coming to watch the practice session in huge numbers.
Virat Kohli believes it is great moment for Indore to host a Test match, and the skipper has already liked the 22 yards surface, where both the batsmen and bowlers can be rewarded for their hard work.
"I think it's a proud moment for Indore to be staging a Test match - for the people, the fans, the association. I want to congratulate them," Kohli said.
"It's a very good stadium and the pitch is also a good one. I've seen the pitch and it's a good one. It is like a normal Indore wicket. The wicket seems like a hard surface and I think batsmen and bowlers will both get good help. If you bowl well, you should get wickets and if you bat well, you should get runs."
Kohli has not been able to shine with the bat in the series, but is not perturbed with it as India has already won the series with other players contributing with the bat when needed. There is a certain level of expectation, which one has from Kohli nowadays, but the right-hander says he cannot control other people's expectations.
"I'm not (concerned). I think this is just a way to write in the public, to manufacture stuff to write. I don't think about those things. I just want to do my best whenever I enter the field. And score as many as possible. Basically, the team should benefit from it. I don't think about these things. I used to, earlier but when I can't control somebody's expectation, I look to control what I do on the field," said Kohli.