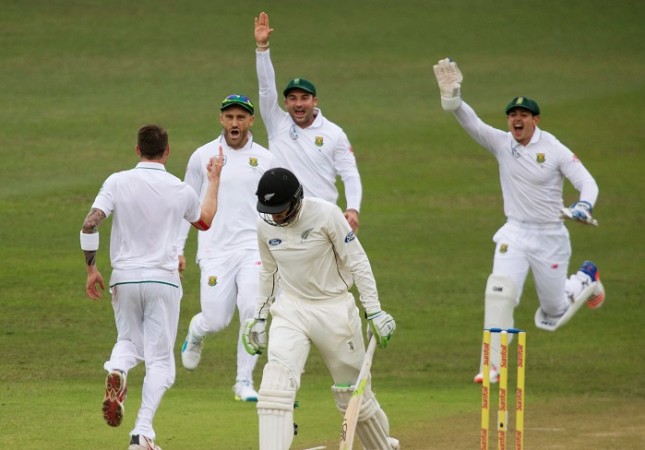 In any New Zealand team of coloured clothing, Martin Guptill will be one of the first names to be confirmed in the playing XI. But that certainty goes down quite a few notches when it comes to the Test matches. While New Zealand have given Guptill a decent number of chances to establish himself as their Test match opener, the limited-overs phenom has not quite been able to take full advantage.
Now, before the first Test match of the series against India has even started, Guptill finds himself in trouble, struggling to justify his place at the top of the order, with a blistering century from Luke Ronchi putting further pressure on the soon-to-be 30-year-old.
Ronchi was impressive in his knock of 107 (112b, 15x4, 3x6) on the final day of the only tour match against Mumbai on Sunday in Delhi, before the real Test begins from Thursday. That century would have been fine from Guptill's perspective, had he been able to make a score of note in the practice match, but all the opener could manage were scores of 15 and 0, putting his place in the team up for debate again.
As good as Ronchi's knock was, though, it will take a brave man to pick the limited-overs wicketkeeper for the first Test match against India, considering the 35-year-old has played just three innings as an opener in first-class cricket. The fact that Ronchi, as experienced as he might be, has played just one Test also suggests Guptill will be favoured for the opening Test match against India in Kanpur.
"It's just the position I was given in the second innings, to go out and open," Ronchi said. "Just wanted to sort of have a hit and do as best as I possibly could. If it comes up I certainly won't say no, but you never know what Hess [New Zealand coach Mike Hesson] and (captain) Kane [Williamson] are thinking. So I will just go about my business and do the best I can for my team whenever given the chance, I guess.
"I have no idea [what role they have in mind]. It's up to them. Whatever they say, I will try to do my best. If given a chance, that is. If I am not playing, I am not playing. If I am playing and batting at 11, I am more than happy. Whatever role they ask me to perform, I certainly won't say no."
There have been calls for Guptill, who averages just 29.59 in 44 Test matches, to be given a role in the middle order in Test matches, so if Hesson and Williamson feel Ronchi is the man to go and give it a tonk in the opening overs and open up an opportunity for Guptill to shine down the order, it might just turn out to be a masterstroke.
However, despite Ronchi's success, Guptill is likely to stay at the top for the first Test match, and depending on how that goes, maybe a decision will be taken when the second match comes calling at the Eden Gardens.