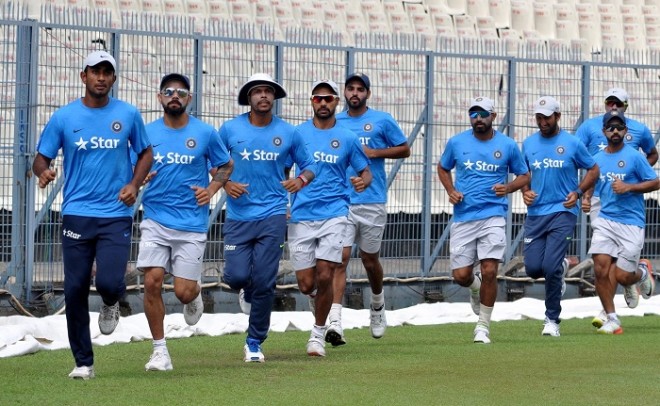 Here we are then, just a couple of days after Virat Kohli's team's brilliant win over New Zealand, getting ready for another big Test match – India's 250th at home. After an outstanding performance from both teams in an engrossing Test in Kanpur, which was also India's 500th overall, Kolkata will host the second match of the series.
Eden Gardens, of course, is the most iconic ground in India, a ground where India have tasted many a memorable win, and having handled their business well in the 500th Test, Kohli and co. will want to do the same for this one as well.
Get the score and report of Day 1 HERE
The Kanpur wicket was perfect in every regard, with the pitch providing something for everyone involved. At the end of the day, India, with their familiarity of the conditions, took better advantage and, as a result, ended up on the winning side. New Zealand, though, on more than a couple of occasions, showed just how good a team they are, and India will know if they take their eyes off the ball, they will be punished by the Kiwis.
Get the story on Williamson's injury HERE
So, playing at the right levels will be essential if India are to make it 2-0 and with it clinch the three-match series.
The pitch at the Eden Gardens is not expected to be similar to the one at Green Park, with the wicket having a bit of grass on it and looking a little damp. While the strip will eventually break up as the match wears on, it does look like this Test match will be decided in the first innings. Taking the lead will be crucial and, no doubt, both teams will want to bat first if they win the toss, even if the early moisture might give the fast bowlers a bit of nip with the new ball.
It is still not clear if India will go with five bowlers or play the extra batsman again, but, with the pitch expected to be a decent one for the batters, Kohli might be better off playing the extra bowler.
New Zealand were sweating on the fitness of their captain Kane Williamson a day before the start of the Test match, but Tom Latham was convinced the skipper would recover in time for the match from an apparent illness.
Williamson is essential to this New Zealand side, not only for his captaincy capabilities, but also because he is their best batsman by far. He is the kind of player who can take the game away from the opposition by playing for time or/and by scoring runs, and without Williamson, India will fancy their chances to clinch the series even more.
Hopefully, New Zealand are able to put up as strong a side as they can, because this Test match has all the makings of another classic.
Where to Watch Live
India vs New Zealand is scheduled for a 9.30am IST (5pm IST, 5am BST, 12amET) start. TV and live streaming information is below.
India: TV: Star Sports 1/HD1 and Star Sports 3/HD3. Live Streaming: Hotstar.
New Zealand: TV: Sky Sport 3. Live Streaming: Sky Go NZ.
UK: TV: Sky Sports 3. Live Streaming: Watch Sky Sports.
US and Canada: TV: Willow TV. Live Streaming: Willow TV Online.
Middle East: TV: OSN Cricket. Live Streaming: OSN Cricket Live.