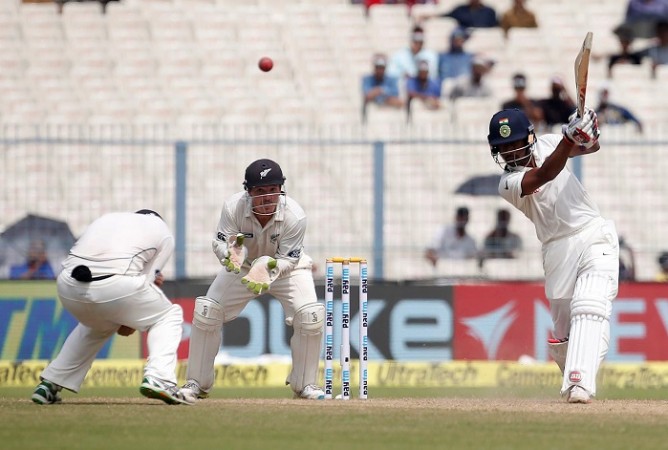 New Zealand battered and bruised the India batsmen on Day 2 morning of the second Test match at the Eden Gardens, but Wriddhiman Saha, with a bit of help from Ravindra Jadeja, stood up to the test admirably to push that first innings score beyond 300, the psychological oh-that's-a-strong-one total that could make all the difference in this match. New Zealand were then rocked by the seamers and Jadeja, before rain threatened to ruin play, only for Bhuvneshwar Kumar to make his presence felt when play resumed.
With a ball that was only six years old in hand, Trent Boult and Matt Henry made it talk again, peppering the India batsmen with short deliveries. They were really good short balls too, and with the wicket still misbehaving a little, both Saha and Jadeja had to take quite a few blows on the body.
But then, that is what Test cricket is all about, and to Saha and Jadeja's credit, they resisted that early pressure really well, ensuring that the No.10 and No.11 would not have to come in as a result, and once the spinners and the second change bowlers had to be brought in, the runs started to come, allowing India to get to 316 in their first innings.
New Zealand were on 85/4 in 24.4 overs when rain stopped play in Kolkata, 40 minutes before the scheduled Tea break. After a near two-and-a-half-hour delay, the players came back in fading light and under the floodlights, Bhuvneshwar tore through the Kiwi middle and lower order to push them to 128 for seven in 34 overs at stumps, leaving New Zealand trailing by 188 runs, with just three wickets in hand.
Earlier, there was decent scoring from India while Henry and Boult were bowling as well, but what really stood out was the manner in which the two Indian batsmen weathered the short pitch storm.
After putting on 41 runs together for the eighth wicket, Jadeja (14, 31b, 1x4) was finally removed, with the left-hander pulling a short ball from Neil Wagner straight down the throat of Henry at fine-leg.
Saha, though, was unmoved and went up a gear following the departure of his partner, with the right-hander spanking some wonderful boundaries, while there were a few that went over the ropes as well.
The wicketkeeper-batsman, playing at his home ground, got off the mark in this innings with a six and he reached his half-century, after Bhuvneshwar Kumar was dismissed by Mitchell Santner, with a big slap over extra cover off the left-arm spinner.
Saha (54 n.o., 85b, 7x4, 2x6) and Mohammed Shami (14, 14b, 3x4) added a valuable 35 for the final wicket, before a stunning catch in the deep from Henry ended the innings at 316 in 104.5 overs.
When New Zealand came out to bat, India would have known that they need to strike early, considering this pitch in Kolkata has looked like a new ball wicket, and they did just that with Shami and Bhuvneshwar dismissing the openers.
Shami first trapped Tom Latham (1, 2b) in front with an in-swinger around the wicket, before Bhuvneshwar, who was moving the ball both ways, got a little lucky when the ball cannoned of Martin Guptill's (13, 13b, 3x4) elbow and onto the stumps. New Zealand went into Lunch on 21 for two in 5 overs.
Henry Nicholls (1, 11b), the man who replaced the injured Kane Williamson, was then sent back early after Lunch, with the left-hander chopping one on to give Bhuvneshwar his second wicket.
Ross Taylor (30 n.o., 70b, 4x4) and Luke Ronchi then put on a decent partnership of 62 runs for the fourth wicket, with both players finding the boundaries often enough and in some style. However, once Jadeja came on, the pressure increased again and after Ronchi (35, 52b, 5x4, 1x6) survived a close lbw appeal, a similar one soon after had Rod Tucker raise his finger, with rain then stopping play.
On resumption, Bhuvneshwar was the man of the moment for India, picking up three wickets in the 53 minutes of play that was possible. The right-arm medium pacer first picked up Taylor (36, 80b, 5x4), who hung his bat out to a delivery outside off and only found the outside edge.
Bhuvneshwar then picked up two wickets in two balls, first trapping Mitchell Santner (11, 20b, 2x4) plumb in front, before ruining the off stump of Matt Henry to complete a brilliant five-for.
An over later, the umpires ended the day's play owing to bad light, but the India team will be happy with their day's work.
Bowling: New Zealand: Trent Boult 20.5-9-46-2. Matt Henry 20-6-46-3. Neil Wagner 20-5-57-2. Mitchell Santner 23-5-83-1. Jeetan Patel 21-3-66-2.
India: Bhuvneshwar Kumar 10-0-33-5. Mohammed Shami 11-0-46-1. Ravindra Jadeja 8-3-17-1. R Ashwin 5-2-23-0.
Fall of wickets: India: 1/1, Shikhar Dhawan (1.4 overs); 28/2, Murali Vijay (11.2 overs); 46/3, Virat Kohli (21.4 overs); 187/4, Cheteshwar Pujara (69.1 overs); 193/5, Rohit Sharma (73.1 overs); 200/6, Ajinkya Rahane (77.4 overs); 231/7, R Ashwin (84 overs); 272/8, Ravindra Jadeja (96.2 overs); 281/9, Bhuvneshwar Kumar (99.4 overs); 316/10, Mohammed Shami (104.5 overs).
New Zealand: 10/1, Tom Latham (1.5 overs); 18/2, Martin Guptill (2.4 overs); 23/3, Henry Nicholls (6.4 overs); 85/4, Luke Ronchi (24.4 overs); 104/5, Ross Taylor (28.1 overs); 122/6, Mitchell Santner (32.1 overs); 122/7, Matt Henry (32.2 overs).