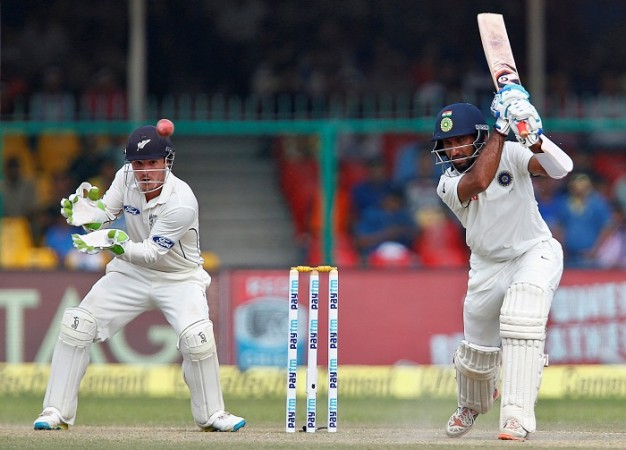 India might have lost three important wickets of Murali Vijay, Cheteshwar Pujara and Virat Kohli in the first session of Day 4, but the home team are in the drivers' seat with a healthy lead of 308 runs.
Kohli's team started their day on 159/1 with Vijay and Pujara, who had both completed good half centuries on Saturday. The duo looked in good control as they were playing the ball on the merit. New Zealand were in the lookout for early wickets on Day 4, and started the proceedings with spinners Ish Sodhi and Mitchell Santner.
The spinners were trying to get as much help from the pitch, and Vijay, after a good start, lost his wicket to Santner. After which, all eyes were on Kohli, who did not impress much in the first innings. The skipper looked good as he hit some boundaries, but once again faltered as he top-edged the ball for a simple catch.
That wicket gave New Zealand spinners an air of confidence as Sodhi managed to dismiss in-form batsmen Pujara for 78 runs as well. Pujara has a habit of scoring big runs after getting his eye in, but he should be pleased with his performance in the second innings.
With two new batsmen on the crease, the visitors were looking to create further in roads, but Ajinkya Rahane and Rohit Sharma played some solid cricket to take the team to lunch (252/4)without losing further wickets.
Now, it will be interesting to note how India will play during the second session. They have a lead of 308, and a solid performance by the batsmen in the second session of Day 4 can help them cross 420 runs and more without a hitch.
If they manage to do so, and may be even 450 or more with some aggressive batting, Kohli might want to have a crack at the NZ batsmen from the start of the final session.