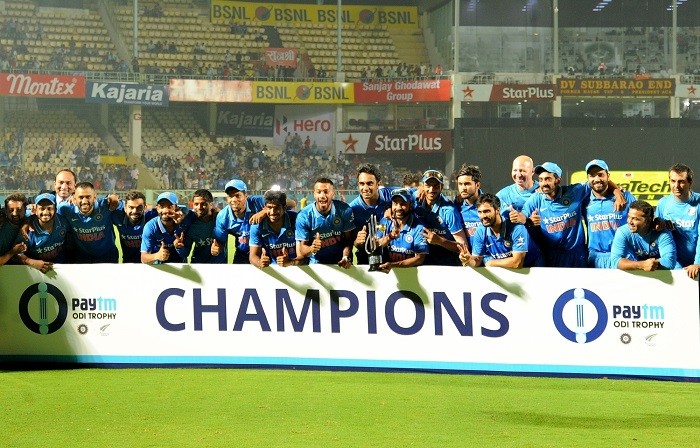 New Zealand fought really hard on this tour, giving it their all in the Test matches, only to fall short against a Virat Kohli and R Ashwin-inspired team and it was a real pity to see the Kiwis fall apart in the manner that they did in the 5th and final ODI on Saturday. Chasing a makeable-but-difficult score on a slow, turning pitch to try and clinch their first ever bilateral series win in India, New Zealand crumbled under the spin of Amit Mishra and co. to hand the hosts a comprehensive 190-run victory and the series 3-2.
The crowd in Visakhapatnam might have come in to watch a few pre-Diwali fireworks from the India batting lineup, but once it became clear just how slow this wicket was, it was all about just posting a decent total on the board, so that India's three spinners – Jayant Yadav was given a debut – could work their magic.
Virat Saroj Kohli and Rohit Purnima Sharma struck half-centuries, and with MS Devaki Dhoni chipping in nicely as well, India, with the players displaying the names of their mothers on their backs, finished their innings on 269 for six in 50 overs.
New Zealand barely put up a fight in the chase, getting bowled out for 79 in 23.1 overs.
What New Zealand would have hoped for in the chase of 270 would have been a strong start from Martin Guptill and Tom Latham, because the best time to bat was while facing the new ball. Unfortunately, Guptill got one of those corkers from Umesh Yadav, the one that comes in, pitches and moves just enough to knock out the stumps.
Latham (19, 17b, 3x4) and Kane Williamson hung around together for a while, and once the former got out to Jasprit Bumrah, the captain tried to build a partnership with Ross Taylor, but it all went awry once Dhoni brought the spinners on.
Axar Patel got the crucial wicket of Williamson (27, 40b, 4x4), inducing the Black Caps captain to a false shot, before Mishra took over. The leg-spinner was in his elements, bowling the loopy, leg-spinners, the googlys, the flippers and whatever he felt like and executing it to absolute perfection.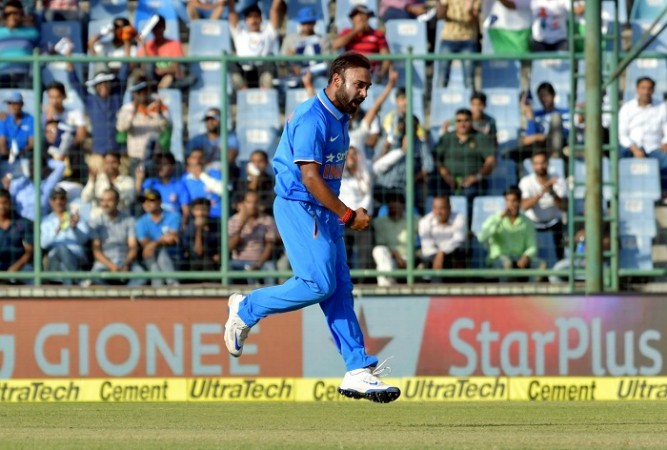 Once Taylor (19, 32b, 1x4) edged one to Dhoni, Watling was bamboozled by a googly, before Jayant Yadav got his moment under the lights, picking up his first ever ODI wicket, when he trapped Corey Anderson in front of the wicket.
Mishra would then beguile Jimmy Neesham, Tim Southee and Ish Sodhi to complete his five-for and push New Zealand to the brink, before Axar would wrap the match up.
Earlier, India got off to a solid but far from spectacular start, with Ajinkya Rahane and Rohit playing a couple of nice shots but also failing to move the score along quickly enough. With only 39 runs coming from the first nine overs, Rahane (20, 39b, 3x4) would fall in the final over of Powerplay One, as the right-hander chipped one to short midwicket off Jimmy Neesham.
That Rahane wicket actually worked a little in India's favour, because it brought Kohli to the crease early and the India superstar combined well with Rohit in building a strong second-wicket partnership. Rohit, who had been starved of the strike by Rahane, got into his rhythm and once Kohli was given a lifeline by Sodhi, who dropped a return catch when the batsman was on just 8, India's best batsman also found his range.
The two put on 79 runs together at better than run a ball, with Rohit (70, 65b, 5x4, 3x6) increasing his strike rate considerably after suffering an injury. Knowing that he would not last too long due to that problem, the opener started to look for the smash at everything, and while that gave him a fair few boundaries it also led to his dismissal, with Trent Boult the man picking up the wicket with a short ball.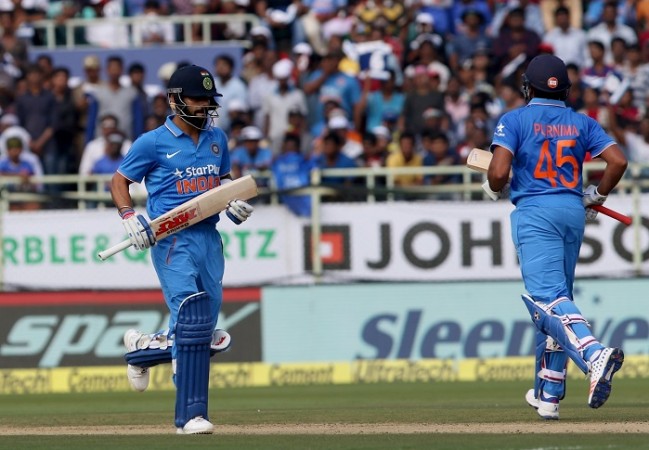 There was a bit of a calm in the proceedings following the Rohit Sharma wicket – Dhoni came in, took his time to settle in and while there were a few hefty strokes, for the most part it was just about occupying the crease. Kohli went about his business with precision, like he always does, and you got the feeling the New Zealand bowlers were just waiting for something to happen.
As a result the partnership went for over 15 overs, adding 71 runs, but just as the innings neared the 40-over mark, New Zealand got the wicket they were looking for. Dhoni (41, 59b, 4x4, 1x6), playing the sweep shot, a shot he practiced quite a bit in the nets before this match and attempted often in this innings, was trapped in front by Mitchell Santner.
The captain was given out lbw by umpire Nandan, and that meant India's soft middle order was now going to be exposed.
Manish Pandey (0, 5b) showed why there are so many doubts about this India batting order by playing one of the mot daft shots you could imagine. Without a single run on the board, Pandey went for a slow sweep off the leg-spinner Ish Sodhi and only managed to find the man in the deep. That is the kind of shot that will make any captain and coach's blood boil and there can be no explanation for someone to be doing that, right after a key wicket has fallen.
Kedar Jadhav came in and showed a lot more maturity, taking the singles and giving himself a chance to gauge the pitch, and with Kohli looking good at the other end, India were in a decent position on 199/4 in 40 overs.
Kohli (65, 76b, 2x4, 1x6), though, is just not that cannot-get-him-out-no-matter-what-batsman when India bat first, and a mistimed shot off Sodhi's final over, led to the vice-captain picking out the man at long-off, and again, India lost their innings momentum.
Jadhav (39 n.o., 37b, 2x4, 1x6) and Axar (24, 18b, 1x4, 1x6) did decently in the final overs, making sure there would be no collapse, and while there weren't many boundaries, enough runs were scored to make sure New Zealand would feel the pressure of the chase.
Scores: India: 269/6 in 50 overs.
New Zealand: 79 all out in 23.1 overs.
Result: India won by 190 runs.
India win five-match series 3-2.
Bowling: New Zealand: Tim Southee 10-0-56-0; Trent Boult 10-0-52-2; Jimmy Neesham 6-0-30-1; Mitchell Santner 10-0-36-1; Ish Sodhi 10-0-66-2; Corey Anderson 4-0-27-0.
India: Umesh Yadav 4-0-28-1; Jasprit Bumrah 5-0-16-1; Axar Patel 4.1-0-9-2; Amit Mishra 6-2-18-5; Jayant Yadav 4-0-8-1.
Fall of wickets: India: 40/1, Ajinkya Rahane (9.2 overs); 119/2, Rohit Sharma (22 overs); 190/3, MS Dhoni (37.3 overs); 195/4, Manish Pandey (38.4 overs); 220/5, Virat Kohli (43.1 overs); 266/6, Axar Patel (49.4 overs).
New Zealand: 0/1, Martin Guptill (0.4 overs); 28/2, Tom Latham (6 overs); 63/3, Kane Williamson (14.4 overs); 66/4, Ross Taylor (15.4 overs); 66/5, BJ Watling (16 overs); 74/6, Corey Anderson (19 overs); 74/7, Jimmy Neesham (19.1 overs); 74/8, Tim Southee (19.5 overs); 76/9, Ish Sodhi (21.4 overs); 79/10, Mitchell Santner (23.1 overs).