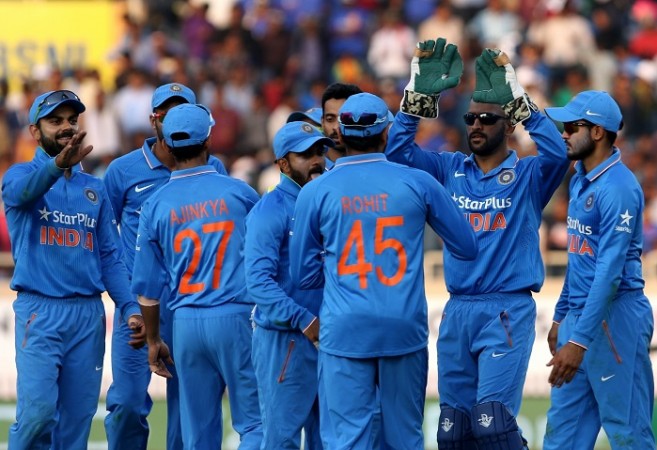 The India vs New Zealand ODI series reached its conclusion with the fifth one-day international in Visakhapatnam. With the series tied at 2-2, this last match has become a winner-take-all encounter, which means there should be some quality cricket coming everyone's way on Saturday.
India will look back at the four matches that have been played so far and realise they really should have wrapped this series up comfortably by now and should be heading into the 5th ODI, 4-0 up. As well as New Zealand bowled to win their two matches in Delhi and Ranchi, India really should have chased better.
Every time a certain Virat Kohli fails to take his team home, India seem to falter in a chase and that is a cause for worry, mainly because only four ODIs, counting this one in Visakhapatnam as well, remain before the Champions Trophy.
India need to find a few reliable batsmen in the middle order, or their hold on the Champions Trophy title could end in a hurry.
Of course, a little more help from the top order would also come in handy, with Rohit Sharma quite poor in this series, while Ajinkya Rahane has not been able to make full use of his starts. The onus will be on them to kick on early and put the pressure on the New Zealand bowlers to see how they react.
While there are worries in the batting department for India, the bowling looks pretty good at the moment, and that is without their three key bowlers – Mohammed Shami, R Ashwin and Ravindra Jadeja – in the lineup. That shows India have good strength in numbers in the bowling department and that bodes well for the Champions Trophy.
A bit of mental strength is what has got New Zealand through in their two victories so far in this series; quite impressive considering the hammering they took in the Test matches and the considerable time they have spent away from home, with the Zimbabwe and South Africa tours preceding this India sojourn.
That mental strength will be needed for the Kiwis in this 5th ODI as well. New Zealand, though, also have problems in their middle order, with none of the batsmen, who have been given an opportunity, able to really make an impact.
Once Martin Guptill, Tom Latham, Kane Williamson and, to a certain extent, Ross Taylor fall, the Black Caps, looking to beat the Indians in a bilateral series for the first time in India, seem to lose their way, and that is a problem they need to sort out going into this do-or-die match.
When it comes to a deciding match like this it is usually all about holding your nerve in the pressure situation. However, with the series on the line, that will be far from an easy task.
India vs New Zealand schedule: 5th ODI.
Date: Saturday, October 29.
Time: 1.30pm IST, 9pm NZT, 9am BST, 4am ET.
Venue: ACA-VDCA Stadium in Visakhapatnam.
TV guide:
India: DD National, Star Sports 1, Star Sports HD1, Star Sports 3 and Star Sports HD3.
New Zealand: Sky Sport3.
UK: Sky Sports 3.
Australia: Fox Sports2.
USA and Canada: Willow TV.
Middle East: OSN Sports Cricket.