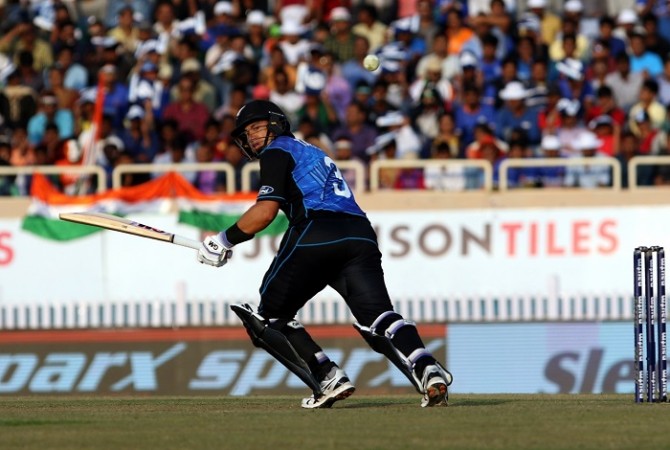 Ross Taylor is one of the New Zealand batsmen who hasn't had a memorable time of it on this India tour – the right-hander struggled in the Test matches and while the one-day form has been better, it still has been far from the vintage stuff we expect to see from the former captain. All that could change, however, if Taylor ends up playing a match-winning knock to help the Kiwis top India in the ODI series.
After victory for the Black Caps in the Ranchi match, the series is tied 2-2 going into the final ODI in Visakhapatnam. New Zealand have the momentum with them having bowled so well to stop India from chasing down their decent-but-makeable score, and Taylor believes the chance of winning their first ever bilateral series against the Men in Blue in India will be the driving force when the 5th ODI comes into play on Saturday.
"Going into a decider, it's pretty easy to get up for," Taylor said. "We have not won a series here. We are looking forward to it. We know what we need to do to win here.
"You don't often win series away from home especially in the sub-continent. It's a pretty exciting time. Hopefully we can get better than what we have in the past.
What New Zealand have done well in this series is assess the conditions and play to their strengths accordingly. While India have largely stuck to the same playing XI, the Kiwis have chopped and changed to the change in conditions and pitches and that has helped them pick up two wins in four.
Kane Williamson decided to play three spinners in the Ranchi match after seeing the dry nature of the wicket and his decision to bat first after winning the toss for the first time on this tour was pretty gutsy too, considering how the dew can come into play. That decision though paid dividends with the dew staying away and the spinners bowling effectively to stifle India's chase.
Taylor is confident his team can make the right decisions, both before and once the match begins, yet again.
"We were fortunate that there was no dew out there (in Ranchi)," Taylor added. "It shows a lot of character, not only from the side but the team management. We have been on the road for a long period of time but three more days to get ourselves up for a very crucial match.
"Hopefully we can continue the progress we have made in the last couple of games. Hopefully we can replicate our performance in (the final ODI)."