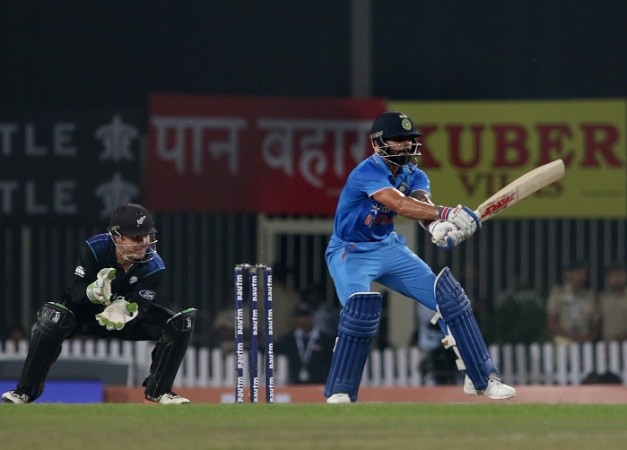 Virat Kohli's performance over the last couple of years has been astounding, with him scoring runs all over the world and helping India win matches home and away in all formats. But the present crop of India squad seems to be dependent on Kohli. Former India captain Sunil Gavaskar also feels that other players need to stand up to the task.
For example, if one looks at the ongoing series between India and New Zealand, which is delicately poised at 2-2 and the deciding game set to be played on Saturday, the home team have only won the matches in which Kohli has scored significantly.
The right-handed batsman scored 85 and 154 runs to help India win the first and third ODI, respectively, while his innings of 9 runs and 45 runs in the second and fourth ODI led to the team's defeat.
Such facts clearly point on the team's overdependence on Kohli, which India cannot afford. India have good players in the limited overs format like Rohit Sharma, Ajinkya Rahane, MS Dhoni and Manish Pandey, and these players need to step it up in the fifth and final ODI of the series, irrespective of whether Kohli manages to turn on the screws against New Zealand or not.
"Virat Kohli can't always win you a match. When Dhoni has to bat at No. 4 and there is no faith in No. 5 and 6, then India need to worry considerably. You can't depend on Virat Kohli bailing you out every time. It looks like if Virat fails the others are not being able to handle the pressure," NDTV quoted Gavaskar as saying.
It is understood that the current team taking on New Zealand might not be their full strength, but it is under such circumstances other players need to latch onto the opportunity to impress. While top order players like Rohit Sharma and Ajinkya Rahane have not being able to provide a solid base for the rest of the batsmen to follow, the lower middle order comprising Kedar Jadhav and Pandey have not flourished either.
If the India team are to win the fifth and final ODI in Vizag, all their batsmen, along with the bowlers, need to contribute for a series win.