If Virat Kohli does not strike a hundred in a chase and if MS Dhoni fails to stay till the end, India invariably fumble in a chase. The fact that this India team still rely a little too much on these two stalwarts was emphasised yet again as New Zealand levelled the series by picking up a brilliantly-scripted win in the fourth one-day international in Ranchi.
Chasing 261 after the Kiwis ended up with 260 for seven in their 50 overs, India failed to get over the line once Kohli and Dhoni failed to do what they do best. In the last match, both scored the bulk of the runs in the chase, but this time, when the two were dismissed, none of the batsmen put their hands up, and while the lower order battled, it did not stop New Zealand from completing a 19-run victory.
While the score of 260 was far from daunting, it still needed a strong start from the openers on a pitch that was bound to help the slower bowlers, with changes of pace from the pacers also set to come into effect. Unfortunately, Rohit Sharma failed with the bat, falling for 11 (19b, 2x4) in the first ball of the fifth over, with Tim Southee inducing an outside edge off a cracking delivery that just moved away after pitching.
India recovered from that early blow quite well, though, with Ajinkya Rahane and Kohli putting on a 79-run partnership for the second wicket. As long as one of the two carried on till the end, India would cruise to the target, but it was not to be.
Kohli (45, 51b, 2x4, 1x6) was the first to fall, edging a wide ball from the leg-spinner Ish Sodhi, before Rahane (57, 70b, 5x4, 1x6), after a brief partnership with Dhoni, also lost his wicket at an inopportune time. Jimmy Neesham, who trapped Rahane in front, would then go one better by picking up the skipper as well.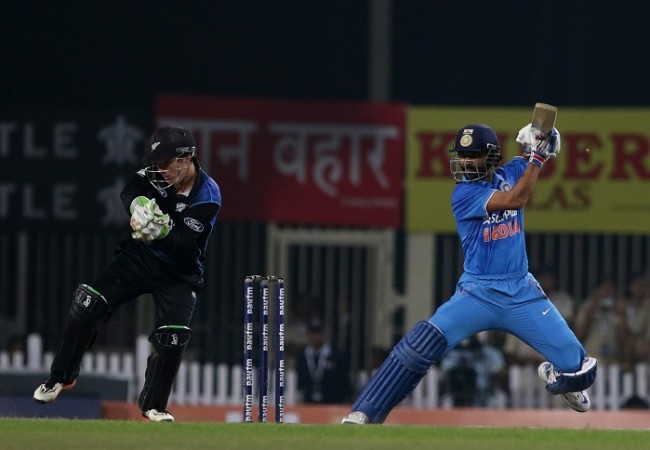 Dhoni looked like he had turned a batting corner with his brilliant innings of 80 in the last match, but his recent woes, which led to him going up to No.4, came back to haunt him again. Try as he might, Dhoni, with his hometown crowd behind him, cheering every run, could not get off strike, with left-arm orthodox spinner Mitchell Santner bowling brilliantly to the India captain. And after a tortuous battle in the middle, Dhoni (11, 31b) was castled by Neesham.
With Dhoni's wicket there was an opportunity for the likes of Manish Pandey, Kedar Jadhav, Axar Patel, sent in at No.5 to negate the threat of the left-arm spinner, and Hardik Pandya to make a name for themselves and get that I-belong-in-this-team feeling, but for Pandey, who has not quite kicked on from that outstanding hundred against Australia earlier this year, and Jadhav, that innings would have to wait.
Two balls in the 33rd over from Tim Southee saw both of the batsmen walking back, with Pandey (12, 12b, 2x4) caught quite brilliantly by Tom Latham on the jump at mid-on, while Jadhav (0, 1b) was trapped lbw.
The last recognised batting pair of Axar and Pandya didn't last together too long either, as the latter holed out to Santner and India looked dead and buried at that point.
However, much like the match in Delhi, when Pandya and Umesh Yadav put on a partnership together, Axar and Amit Mishra added a few valuable runs, with their alliance of 38 from just a shade over six overs giving the home team hope again.
But then Mishra (14, 17b, 1x4) was run out after an awful mix-up and Trent Boult produced a brilliant yorker to dismiss Axar (38, 40b, 3x4, 1x6) and those hopes faded, only for it to be reignited as Dhawal Kulkarni refused to give in.
While India's middle order needs to take up more responsibility, the lower middle and lower order certainly don't give in without a fight anymore and that was the case again as Kulkarni (25 n.o., 26b, 2x4, 1x6) took on the Kiwi bowlers to put the pressure back on New Zealand.
It went right down to the final three overs, with India needing 27 runs, and then after a solid Southee over the equation read 23 from 12 balls. Four balls into the penultimate over, however, Boult finally got the final wicket when Yadav (7, 12b) bunted a catch to Taylor at mid-off.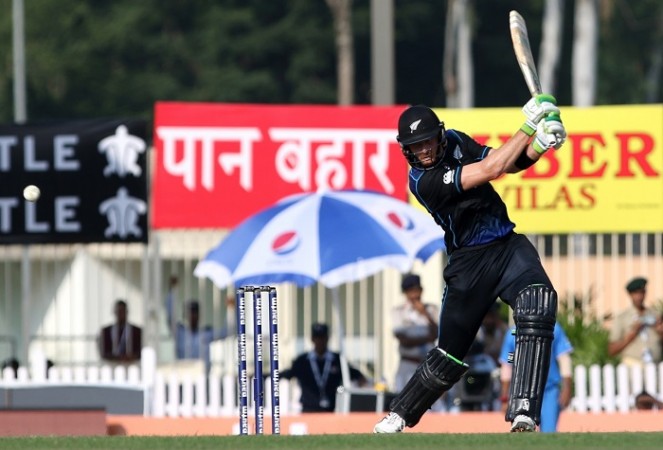 Earlier, New Zealand batted first for the fourth consecutive match in this series, but this time it was out of choice. A little surprisingly, although it is clear now it was the right choice, Kane Williamson chose to bat first, seeing the slow and dry nature of the wicket.
In the early part of the innings, that slowness wasn't that prevalent, with the new ball coming on nicely to the bat of both Martin Guptill and Tom Latham. Both the Kiwi openers enjoyed that pace from the bowlers, with the scoreboard, as a result, moving along nicely.
New Zealand scored 80 runs in the first Powerplay, even if that might have been 80/1 had Amit Mishra latched onto a catch at mind-on, which would have sent Guptill back on 29.
That momentum quelled a little once Dhoni brought the spinners on, with Amit Mishra and Axar Patel, bowling in tandem, putting the brakes on. Kedar Jadhav would also come in and do his bit really well again, even if there would be no wicket this time.
New Zealand lost their openers in that spell as well, with Latham (39, 40b, 4x4) top-edging a sweep attempt off Axar, while Guptill (72, 84b, 12x4) was out caught behind off Hardik Pandya, the medium pacer, who was a little too erratic for Dhoni's liking in this match, bowling eight wides in his five overs.
At 161/2 in 30 overs, though, with two of their most experienced batsmen – Kane Williamson (41, 59b, 4x4) and Ross Taylor (34, 58b, 1x4) – settled at the crease, New Zealand were still in a position to hit a score near 300, but India, yet again, pulled things back in the back-end of the innings, even without the yorkers and changes of pace of Jasprit Bumrah, who missed this match through illness.
From 184/2 in 35 overs, New Zealand crashed to 223/6 in 45.3 overs, with all that momentum, all that hard work from the top order coming to nought again. In the end, though, with the pitch slowing up with every passing over, even that total proved to be more than enough.
Scores: New Zealand: 260/7 in 50 overs.
India: 241 all out in 48.4 overs.
Result: New Zealand won by 19 runs.
Series tied 2-2 with one match to play.
Bowling: India: Umesh Yadav 10-1-60-1; Dhawal Kulkarni 7-0-59-1; Hardik Pandya 5-0-31-1; Amit Mishra 10-0-41-2; Axar Patel 10-0-38-1; Kedar Jadhav 8-0-27-0.
New Zealand: Tim Southee 9-0-40-3; Trent Boult 9.4-1-48-2; Jimmy Neesham 6-0-38-2; Mitchell Santner 10-0-38-1; Ish Sodhi 10-1-52-1; Anton Devcich 4-0-22-0.
Fall of wickets: New Zealand: 96/1, Tom Latham (15.3 overs); 138/2, Martin Guptill (25.1 overs); 184/3, Kane Williamson (35.2 overs); 192/4m Jimmy Neesham (38 overs); 217/5, BJ Watling (44.3 overs); 223/6, Ross Taylor (45.3 overs); 242/7, Anton Devcich (48 overs).
India: 19/1, Rohit Sharma (4.1 overs); 98/2, Virat Kohli (19.5 overs); 128/3, Ajinkya Rahane (27.2 overs); 135/4, MS Dhoni (29.2 overs); 154/5, Manish Pandey (32.2 overs); 154/6, Kedar Jadhav (32.3 overs); 167/7, Hardik Pandya (36 overs); 205/8, Amit Mishra (42.1 overs); 207/9, Axar Patel (42.3 overs); 241/10, Umesh Yadav (48.4 overs).