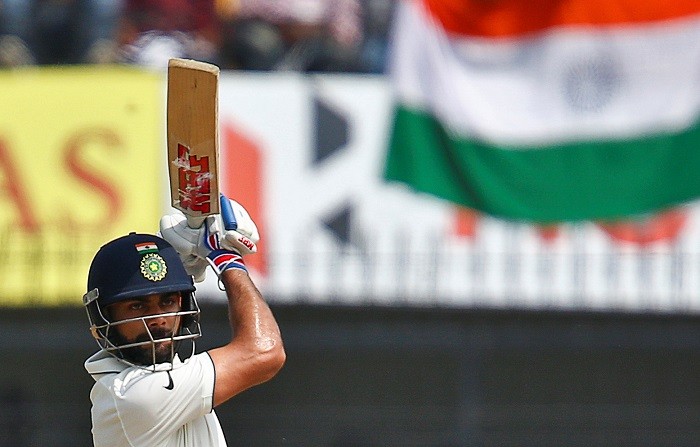 Virat Kohli became the first Indian to score two double centuries as captain, Ajinkya Rahane notched his highest Test match score and India gave the brilliant crowd at the Holkar Stadium in Indore a Sunday run-feast to remember. New Zealand toiled and toiled and then toiled some more, but try as they might they could not stop Kohli and Rahane from putting on a batting masterclass.
Starting the day on 267/3, Kohli and Rahane picked up the singles and twos, hit the bad balls for boundaries and weathered a bit of a short ball storm to take India to 358 for three in 117 overs at Lunch, before that score went all the way up to 456/3 in 147 overs at Tea.
It finally ended on 557 for six declared, after Kohli (211, 366b, 20x4) and Rahane (188, 381b, 18x4, 4x6) had put on a partnership of 365 – the highest ever for the fourth wicket for India. New Zealand, who began their innings with five runs already on the board owing to Ravindra Jadeja's indiscretion, went into stumps on 28 for no loss in nine overs, trailing India by 529 runs, after Martin Guptill and Tom Latham coped with the pressure really well.
While Rahane had a bit of trouble with the short ball again – there was a moment when he was hit on the side of the helmet off a ball from Matt Henry which caused a bit of concern – Kohli was supreme, not putting a foot wrong and not giving the New Zealand bowlers even a sliver of a chance.
When Kohli is in this kind of control – and it is not the aggressive kind, just the I-am-not-going-to-get-out kind – there is very little the bowlers can do, particularly when the pitch isn't offering too much assistance.
If the wicket was expected to cause a few problems to the batsmen today, it was certainly not on show in the first session, with Kohli and Rahane going their merry way.
While Kohli was happy to take the singles and use his delectable wrists to hit a few boundaries, Rahane was in a more aggressive mood, particularly to the spinners, who were smashed for a couple of wonderful sixes after dancing down the track.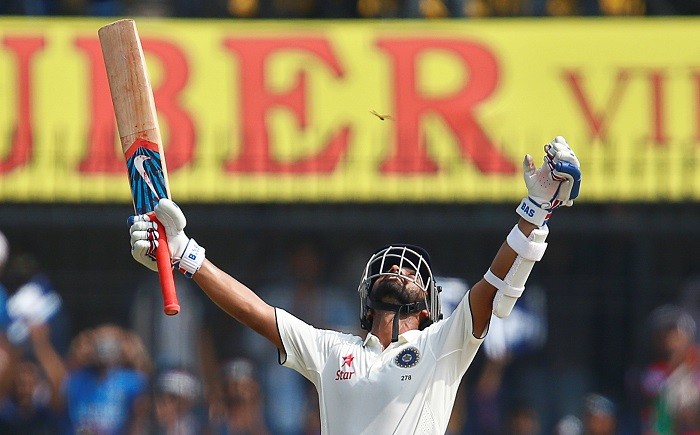 One of those sixes brought the 250 partnership up between the two batsmen, long after Rahane had reached his century mark with a flick to fine-leg. That was due reward for gutsing it out when the going had gotten a little tough with the short-ball.
The second session questions were: If Kohli would complete his 150? Which he duly did right at the start. If Rahane would cross his previous highest of 147? Yup, check that. If Rahane would cross 150? Yes, absolutely. And if Kohli would make it two double centuries in two consecutive Test series? Was there ever any doubt?
The great man finally fell early in the second session, when a bit of cramp led to a loss of concentration, allowing Jeetan Patel to catch him in front of the stumps. Rahane lasted a little while longer with Rohit Sharma, but fell short of his maiden double hundred, with Trent Boult inducing an outside edge.
Rohit (51, 63b, 3x4, 2x6) and Jadeja (17, 27b, 1x4) added a few more quick runs together, and lost five as well, owing to Jadeja running on the pitch, before the inevitable declaration came.
Fall of wickets: India: 26/1, Murali Vijay (4.5 overs); 60/2, Gautam Gambhir (19.5 overs); 100/3, Cheteshwar Pujara (36 overs); 465/4, Virat Kohli (148 overs); 504/5, Ajinkya Rahane (159.1 overs).
Bowling: New Zealand: Trent Boult 32-2-113-2; Matt Henry 35-3-127-0; Jeetan Patel 40-5-120-2; Mitchell Santner 44-4-137-1; Jimmy Neesham 18-1-53-0.
India: Mohammed Shami 2-0-5-0; Umesh Yadav 2-0-7-0; R Ashwin 3-1-9-0; Ravindra Jadeja 2-1-2-0.