Ross Taylor will look back at the moment, in the fourth ball of the fifth over of the second innings of this third ODI match between India and New Zealand, over and over again, replaying it in his mind and wondering just how he let that white thing made of leather pop out of his hands. There aren't too many sure things in this world, but one of them is: if you drop Virat Kohli in a chase, you are likely to pay for it.
Kohli heaved a huge sigh of relief when he guided one straight to Taylor at wide slip when he was on just six and saw the ball drop out. Matt Henry the bowler and the rest of the New Zealand players looked on disbelief, while also knowing that this could end up costing them the game.
It did too, boy did it ever.
Because from there, Kohli (154 n.o., 134b, 16x4, 1x6) barely put a foot wrong and with MS Dhoni (80, 91b, 6x4, 3x6) showing his own brilliance with the bat, India cantered home in a chase of 286 in Mohali to clinch the third one-day international and take a series lead of 2-1.
Put aside that drop, this was vintage Kohli, the man who has made the chase, one of the most difficult arts in cricket, seem like a Sunday morning stroll. The chaser extraordinaire walked in when Ajinkya Rahane chipped one to Mitchell Santner at cover off Henry in the third over and from there it was a marvel to watch the absolute ease with which the India vice-captain mastered the chase.
There was plenty of help for Kohli from his captain too, with the two stalwarts of India cricket, and two of the best finishers the game has ever seen, putting on 151 runs for the third wicket. Dhoni's decision to push himself up to No.4 worked wonders and Kohli and the captain, after India found themselves in a tricky position at 41/2 following Rohit Sharma's wicket, went about chasing down the target with near-surgical precision.
New Zealand tried everything, particularly at Dhoni, with short ball after short ball coming out, but the skipper was up to the task, smashing a fair few of them to the boundary – it must be said the Kiwis could not get enough of those short balls to the between-the-shoulders-and-head area – while ensuring anything that was pitched up landed in the hands of someone in the crowd at the PCA Stadium.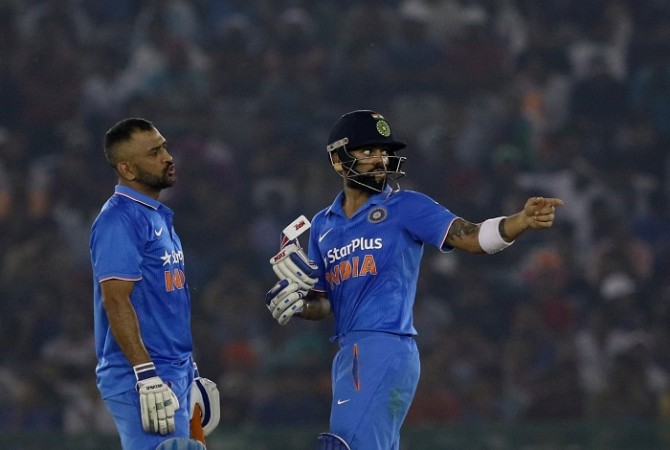 It looked like the two would ease to the target without losing anymore wickets, but Dhoni, who went past 9000 runs during his innings while also crossing Sachin Tendulkar for the most sixes by an Indian in ODIs, surprisingly, played a Henry delivery too early and chipped the ball to Ross Taylor, who hung on this time, in the covers.
India needed a further 91 runs from 14.1 overs at that point and there was no doubt, not even the slightest that they wouldn't knock those down, not with Kohli in the mood that he was in, even if Manish Pandey (28 n.o., 34b, 3x4) deserves a lot of credit for playing his role to a T at the other end.
Earlier, New Zealand blew hot, then cold and then hot again in a crazy innings, which saw a brilliant partnership from Jimmy Neesham and Henry for the ninth wicket.
After Martin Guptill (27, 21b, 2x4, 2x6) got the Kiwis off to a fast start, Tom Latham (61, 72b, 3x4, 1x6) and Ross Taylor (44, 57b, 4x4, 1x6) set about building a solid base with a partnership of 73. However, from a comfortable 153/2 in the 29th over, it all went pear-shaped for the Black Caps, thanks to some outstanding bowling from Amit Mishra and the golden arm of Kedar Jadhav, who continues to befuddle the New Zealand batsmen.
Mishra ended the partnership by bamboozling Taylor with a gorgeous leg-spinner, before Jadhav picked up Corey Anderson. Another brilliant leg-spinner saw Luke Ronchi walking back and after Tom Latham fell victim to Jadhav, who had also earlier picked up the wicket of Kane Williamson, Jasprit Bumrah sent Mitchell Santner packing.
New Zealand found themselves on 180/7 and then 199/8 when Tim Southee fell to Umesh Yadav, before Neesham (57, 47b, 7x4) and Henry (39 n.o., 37b, 4x4, 1x6) put on a quite brilliant 84-run partnership at just a shade over 11 overs.
Thanks to that partnership, the New Zealand bowlers had a solid target to defend, but no total would have been enough, not with Kohli in this kind of form.
Scores: New Zealand: 285 all out in 49.4 overs.
India: 289/3 in 48.2 overs.
Result: India won by seven wickets with ten balls to spare.
Bowling: India: Umesh Yadav 10-0-75-3; Hardik Pandya 5-0-34-0; Jasprit Bumrah 9.4-0-52-2; Kedar Jadhav 5-0-29-3; Axar Patel 10-0-49-0; Amit Mishra 10-0-46-2.
New Zealand: Matt Henry 9.2-0-56-2; Trent Boult 10-0-73-0; Tim Southee 10-0-55-1; Mitchell Santner 10-0-43-0; Jimmy Neesham 9-0-60-0.
Fall of wickets: New Zealand: 46/1, Martin Guptill (6.4 overs); 80/2, Kane Williamson (13 overs); 153/3, Ross Taylor (28.3 overs); 160/4, Corey Anderson (29.4 overs); 161/5, Luke Ronchi (30.2 overs); 169/6, Tom Latham (31.5 overs); 180/7, Mitchell Santner (34.2 overs); 199/8, Tim Southee (37.5 overs); 283/9, Jimmy Neesham (49 overs); 285/10, Trent Boult (49.4 overs).
India: 13/1, Ajinkya Rahane (2.5 overs); 41/2, Rohit Sharma (8.4 overs); 192/3, MS Dhoni (35.5 overs).