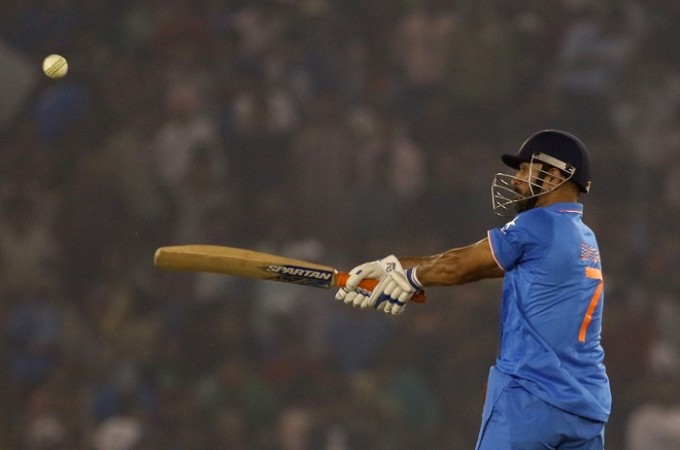 For a while now, MS Dhoni has looked to bat up the order, with the only questions being: If that particular move has been motivate for the good of the team or for the sake of his own career? Dhoni's performance in the third ODI against New Zealand showed there really shouldn't be too many arguments anymore – yes, he is the greatest finisher the game has ever seen, but in this moment, Dhoni is most useful batting at No.4, as he showed in India's win in Mohali on Sunday.
With India in a tricky position, Dhoni came in to bat with Virat Kohli and the two best limited-overs batsmen in the team put on a marvellous partnership to take the game away from New Zealand. Kane Williamson, the Black Caps captain, admitted that 151-run alliance was what made the difference in the end as India eased past the Kiwi score of 285 with ten balls to spare.
Dhoni revealed an interesting thought after his brilliant 80 in the match – the decision to go up to No.4 at the expense of Manish Pandey was made in order to get him hitting the big shots and finding his batting rhythm again.
The skipper is not someone who seems to find his singles range that easily anymore – indeed, that was evident in this innings as well, where there were plenty of moments when he would hit a four or a six and then struggle to get off strike immediately.
And when you are in that kind of position, it does become difficult to come in the 35th over and finish games – because Dhoni is not someone who can hit the sixes and fours from ball one either.
The wheel of time waits for no man and the one thing any international player cannot do is stand still. And while Dhoni's fitness shows no signs of diminishing, the 35-year-old's batting skills have changed and how he responds to that and in what manner he adapts will decide how much longer he can go on.
The decision to go up the order – No.4 is as high up as Dhoni can go, considering nobody is displacing Kohli from No.3 and there is way too much competition for one opener's slot alongside Rohit Sharma already – seems like being one that could work.
In his innings of 80 (91b, 6x4, 3x6), time and again, Dhoni would take on the New Zealand bowlers, find that pressure-releasing boundary, which in turn would ease the pressure off his partner Kohli as well. As Dhoni took a little while to settle – his timing was outstanding from the off, but the runs started to flow after a little time – Kohli made sure the scoreboard kept ticking along, but once the skipper found his range, the India vice-captain took a backseat as Dhoni took control.
That control was pretty impressive too – a few massive sixes straight down the ground off the spinner Mitchell Santner and a fair few pull shots to the midwicket boundary. There were even a couple of fours square through the offside, and you feel Dhoni's ability to find the fours and sixes will only get better and better as he bats more at No.4.
Pandey showed he can do what is required at No.5, with the right-hander batting really well once Dhoni got out to take India home alongside Kohli. So, there should be no more debate, even when Rahane is forced to drop down the order once Shikhar Dhawan/KL Rahul gets fit.
If Rahane has to stay on the bench – and as great as the right-hander is in Test match cricket, his one-day skills still need a lot of polishing and that is a worry considering he has played 70 ODIs – so be it. There is no way that Kohli should move down to No.4 to accommodate Rahane, as was the case a while back and No.4 should now be Dhoni's, at least until the Champions Trophy in England next year.
Pandey or Suresh Raina is the better option at No.5 and if Rahane cannot cement his place in the top, then stay on the bench he must. Because, as the third one-day international showed, Dhoni batting at No.4 should be the norm, not the exception.