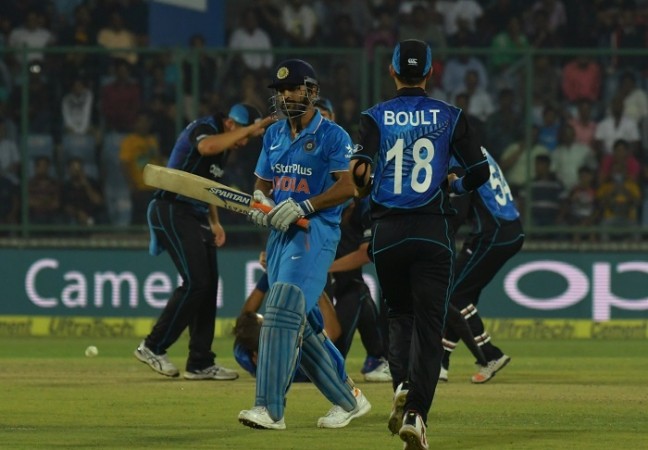 India captain MS Dhoni will know the second one-day international in Delhi against New Zealand was a match that his team should have won, comfortably too. But, make a hash of the chase India did and the skipper will want to look back on the positives from that match, rather than dwell on the negatives too much.
There were quite a few of those positives too, with the India bowlers showing their death bowling skills to great effect, particularly Jasprit Bumrah, whose ability to zone in those yorkers is a talent to marvel at.
"Right from the time he began his international career he has always been someone who can bowl yorkers at will, and that's why he has been someone I can always bank upon," Dhoni said of Bumrah.
There was also the positive of seeing someone like a Hardik Pandya, playing only his second ODI, showing the fight and ability to bat under pressure in a chase.
While Pandya eventually ended up getting out just before the final over, Dhoni and Anil Kumble will know if the youngster continues to show such composure in big pressure situations, India might finally have a finisher to take the pressure off Dhoni and Virat Kohli.
Dhoni believes Pandya will learn from his mistakes the next time he is put under such a situation.
"In these situations, even the last ball counts," Dhoni told reporters. "It's always a good exposure when you are put under the pump. It always teaches you a lot.
"Maybe the shot (which got him out) (if it) had gone over point, it would have been different. He will learn whether to finish early or keep it till last over as he will either have a batsman or a tail ender with him."
Dhoni, though, will also know that India should have never found themselves in a position where they needed the ninth-wicket partnership of Pandya and Umesh Yadav to even get them close to the score, even if the pitch, according to the captain, slowed considerably as the match wore on, making it a lot more difficult to bat on, particularly when trying to hit the big shots.
"What happened was as the game progressed, the wicket got slightly slower," Dhoni added. "It was best to bat during day time. There was variable bounce.
"Also, if you lose one or two wickets that slows you down to an extent, and then if you have that partnership and still lose a wicket again, again you have to start from scratch."
As much as the entire batting unit is to blame for failing to chase down a chaseable score, Dhoni will also wonder a little over his own finishing abilities, which does seem to be diminishing a little as time catches up with the greatest finisher of the game.
Dhoni's wicket in the 40th over, which was followed by a double blow in the 41st, was perhaps the turning point in the chase, and the captain will know he should have stayed there till the end, because had he been at the crease, India would have cruised home.