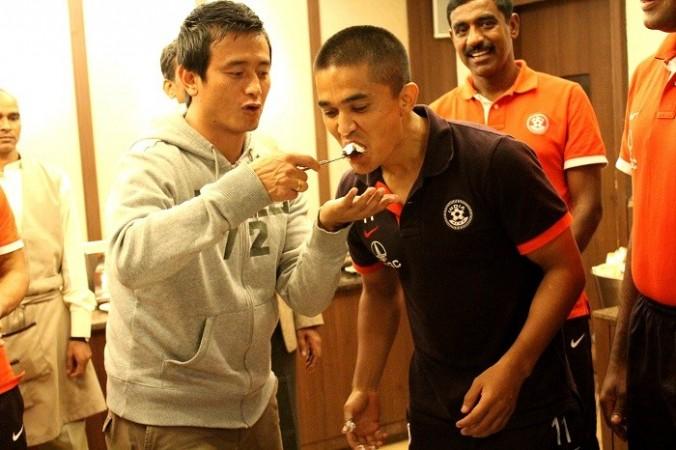 India coasted past Nepal in an international friendly in Siliguri, on a day which saw Sunil Chhetri become the country's all-time leading goalscorer, going past the great Bhaichung Bhutia.
Chhetri opened the scoring for India in the 21st minute, latching onto a rebound to fire past the Nepal goalkeeper. That strike was his 43rd goal for India, surpassing Bhutia's record of 42, which he had equaled in the previous friendly against the Philippines.
"I congratulate him," India coach Wim Koevermans said. "He deserves it. He scored it in front of his home crowd. It's a historic moment for Indian Football."
Chhetri scored his 43rd international goal in just his 80th match for India, while Bhutia has 42 from 107 games. The Bengaluru FC striker, who idolizes Bhutia, was thankful to the Indian legend for all the help he has received from him over the years.
"Bhaichung-bhai congratulated me urging me score more," he said. "I stay thankful to him. He has guided me to become what I am today.
"In fact, I am very much grateful to Renedy Singh, Deepak Mondal, Samir Naik, Climax Lawrence, Mahesh Gawli and all for helping me during the initial phase of my career.
"When you reproduce all what you have done in the practice session, it feels all the more good."
Chhetri was also thankful to the coaching staff and his current teammates, saying: "Without you all, this wouldn't have been possible. It's yours more than mine," during a speech in the dressing room after the match.
Meanwhile, Koevermans, whose side drew 1-1 with the Philippines last week at the same venue despite dominating the match, was delighted to see his boys pick up a much-needed win and end 2013 on a high.
"We saw an outstanding performance by the Indian national team," he said. "We were top of Nepal for the entire 90 minutes and the boys deserve every bit of the applause.
"We created a lot of chances all throughout. Two even hit the post. The brand of football was for all to see," Koevermans pronounced. "It feels nice to end the year on a high. There were some new faces who have been drafted into the squad and all of them rose to the occasion."