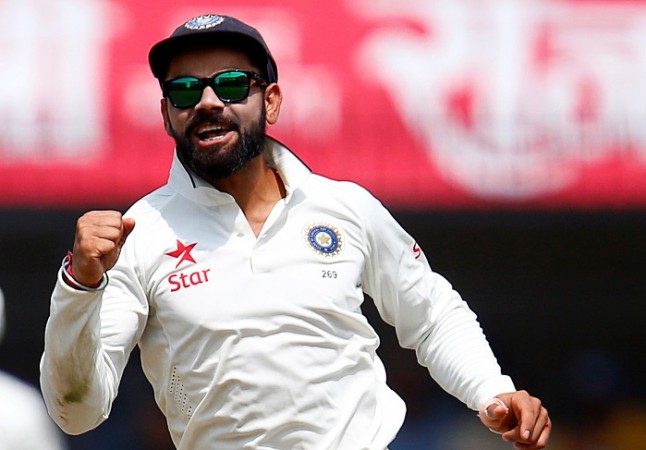 Virat Kohli is the kind of player, in any format, that excites, the kind who makes you sit up and watch, while all the time playing proper cricketing strokes. Alastair Cook is the kind of batsman who is conventional to a fault and while he scores bucketloads of runs, when was the last time the left-hander made you stand up, with your mouth open, appreciating a true wonder in full flow?
Cook will go down as a batting great, but not quite one who made people talk; not someone who set the proverbial pulses racing, who would thump a team into submission. The England man's captaincy is also in a similar vein – tried and tested, very little risks, while making sure the mistakes are kept to a minimum.
Kohli, on the other hand, likes to be aggressive. While that aggression, in more ways than one, has tempered down a little as he learns his trade, the India skipper is someone who always tries to make things happen, which, like his batting, makes him interesting to watch.
So, when India play England in a five-Test match series, it will also be a clash between two completely different captains in two different moments of their careers.
The pressure will be on Cook in this series after England suffered a defeat at the hands of Bangladesh on Sunday, but what is definitely on Cook's side is the recent record against India. No matter how flawed Cook's captaincy might be, the veteran has overseen two fantastic series wins over India as skipper.
In 2012, England upset India in India, thanks to some outstanding batting from Cook, whose run-scoring ability in Test match cricket is quite remarkable and up there with the greatest. Then in 2014, after losing the second Test at Lord's and going 1-0 down in the series, Cook found a way to inspire England to three successive victories to take the series 3-1, even if that victory might have been helped by India's inadequacy away from home.
Kohli was a part of the India team during both defeats, so there will be a sense of "we need to gain some revenge on England" when the batting maestro walks out. Wanting revenge and actually being able to get it are two completely different things, of course.
What does work in India's favour this time, though, is their recent record – India have beaten both South Africa and New Zealand at home comprehensively, while topping Sri Lanka and West Indies away from home, all with Kohli as captain.
The soon-to-be 28 year old is the kind of captain who likes to be proactive – he might make plans and try and stick to them, but he will also realise when it is not working and have no hesitation in moving onto Plan B or Plan C. That is something Cook struggles at sometimes. Too many times, Cook has been found wanting for being too passive, and that has ended up hurting England as well.
Also, while you know Kohli naturally inspires the rest of his teammates, not just with his batting, but just with his presence, you feel Cook does not quite have that effect. None of his teammates will agree, obviously, but Cook is not someone who naturally inspires – he might lead by example by scoring runs, but he won't, at least from the outside looking in, inspire by sheer presence and force of will; something that Kohli does.
If Cook ends up scoring runs, runs and more runs in this series – quite possible considering he has a tremendous record in the sub-continent – to inspire England to victory in that manner, that will matter little, but, you feel, in a series of five Test matches, that aura of Kohli's might come into play, and when it does, it could prove to be the difference between victory and defeat.