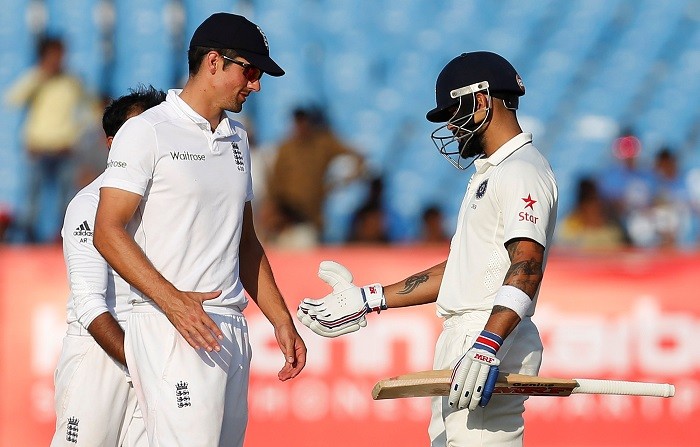 Grass, no grass, too much grass, hard pitch that did not change enough, a wicket that did not play to the home team's strengths – however, you look at it, the fact of the matter is, India did not play to their potential in the first Test match against England in Rajkot. That cannot happen again when the two sides meet in Visakhapatnam.
Virat Kohli will know that as well as everyone, and, while in public, he might have put up a "we did really well to draw the Test match" face and even criticised the nature of the wicket in Rajkot – there was merit for that critique – the India captain will realise, at the end of the day, his team did not come to the party.
The catching was abysmal, something that should be unpardonable in modern-day cricket, and the bowling was below par, particularly from the spinner. You cannot expect R Ashwin to be picking up five-fors and seven-fors every time he takes the ball in Indian conditions, so the onus was on the other bowlers to step up, if their main man was a little out of form.
While the fast bowlers did exactly that, they were not helped by the catching, but Ravindra Jadeja, playing in his home ground, and Amit Mishra disappointed.
Jadeja is a momentum bowler – give him a wicket or put him in when things are looking up and he will help you run through a batting lineup. However, when Jadeja needed to just apply the pressure on the England batsmen, frustrate them and prevent them from taking singles and twos, the left-arm spinner could not quite produce the goods.
This was an opportunity for Jadeja to take the lead, and the same could be said of Amit Mishra as well. The leg-spinner coming off a match-winning performance against New Zealand failed to hit the right lines and lengths and even if the Visakhapatnam pitch ends up being a turner, his place in the playing XI will be under threat.
Indeed, after such a poor performance – his inability to play out one over after coming in as nightwatchman was also particularly disappointing – Kohli and Anil Kumble need to show a bit of ruthlessness, let it be known that standards are much higher and maybe give Jayant Yadav a debut in the second Test.
Ashwin might enjoy having a fellow off-spinner in the lineup, because it will take away bit of that "there are so many left-handers so Ashwin should be taking bucketloads of wickets" pressure.
Whatever India do with their team, with their strategy, with their plans, executing it correctly will be essential.
England are too good a team not to take advantage when the opposition is below par, and India cannot afford to be that again in the 2nd Test in Vizag.
India vs England second Test match schedule:
Date: Thursday, November 16 to Monday, November 20.
Time: 9.30am IST (4am GMT, 11pm ET previous day).
Venue: ACA-VDCA Stadium in Visakhapatnam.
TV guide: India: Star Sports 1, Star Sports HD1, Star Sports 3 (Hindi commentary), Star Sports HD3 (Hindi commentary).
UK: Sky Sports 2.
Middle East: OSN Sports Cricket HD.
USA, Canada: Willow TV.
Singapore: Star Cricket.
New Zealand: Sky Sport 3.
Australia: Fox Sports1.