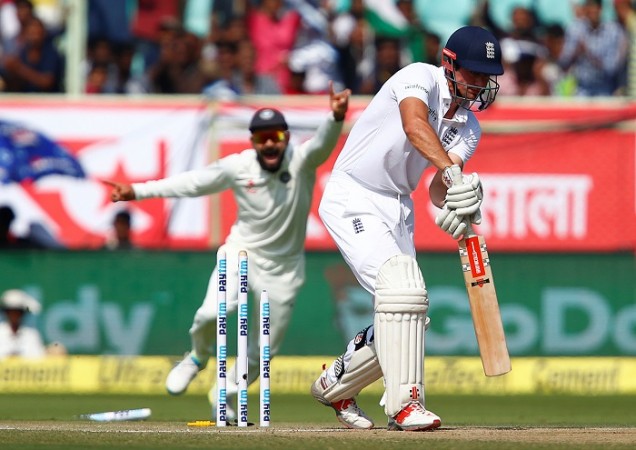 Mohammed Shami produced one of the best deliveries you will see in this series to dismiss Alastair Cook, the England captain, and while Haseeb Hameed and Joe Root threatened a revival for a brief time, India's spinners, eventually, took control to put the hosts in a great position after day two of the second Test match in Visakhapatnam.
An hour or so into the second session, India ended their first innings on 455, with Virat Kohli and Cheteshwar Pujara striking hundreds and R Ashwin notching a half-century. While 455 might not seem that daunting, considering England went well past 500 in the first Test match in Rajkot, on a wicket that is getting lower and slower, where scoring runs is far from easy, it is a pretty imposing score.
England would have wanted their main man in these conditions – Cook – to bat for a long time on this pitch and wear the India bowlers out, but he could do nothing as Shami produced a moment of magic.
After bowling plenty of balls that went away from Cook, Shami got one, upright seam and all, to just move in after pitching at well over 140kms. Cook (2, 11b), stuck in the crease, could not quite adjust quickly enough and the ball flew through the gate between bat and pad to not just knock off the off-stump but break it in half.
Wild celebrations ensued, but they were tempered soon enough by Root and Hameed, who batted really well until Tea. Everyone would have expected India to attack with the spinners from the off in the final session and while Jadeja and Ashwin bowled from the start, the attack bit went missing.
For some strange reason, only known to Virat Kohli and the spinners, India went in with a terribly defensive field, allowing, indeed inviting, Root and Hameed to just take the singles and calmly rotate the strike.
There was no second slip, no short leg; there was a man out at deep point from ball number one and a long-on for reasons unknown and Root and Hameed said "thank you very much", picked up the singles at will and moved the score along without too many problems.
It took until the wicket of Hameed (13, 50b) for Kohli, Ashwin and Jadeja to wake up and understand the need for an attacking field and building the pressure, even if it came after Joe Root had edged, not once, but twice past where a second slip would have been.
Hameed's wicket came via some outstanding fielding from India, with Jayant Yadav putting in a brilliant dive and quick throw and Wriddhiman Saha doing a Dhoni and flicking the ball onto the stumps with great effect.
From there, India started to take control. With pressure being built, the England frustration grew, and once Ben Duckett (5, 19b) was clean bowled by R Ashwin, Root (53, 98b, 6x4) seemed to lose his concentration.
After getting to his half-century, with Ashwin sneaking a few past him, inside and out, Root decided dominating the off-spinner was the way to go. The way Ashwin was finding drift and the occasional spin, though, that was never a good idea and after going down the track and failing to get to the pitch of the ball, his lofted shot only landed in the lap of Umesh Yadav at deep mid-off.
That was as big a dismissal as India could have asked for, with the home team picking another key wicket, that of last match centurion Moeen Ali (1, 21b), picked up after an lbw review by the debut man Jayant Yadav – his first wicket in Test match cricket, thanks to an impressive bowling performance.
Ben Stokes (12, 49b, 1x4) and Jonny Bairstow (12, 46b, 1x4) weathered the final storm from India, but India will know the match is theirs for the taking.
Scores: First innings: India: 455 all out in 129.4 overs.
Overnight score: 317/4 in 90 overs.
England: 103/5 in 49 overs, trail by 352 runs.
Bowling: England: James Anderson 20-3-62-3; Stuart Broad 16-2-49-1; Ben Stokes 20-4-73-1; Zafar Ansari 12-1-45-0; Adil Rashid 34.4 -2-110-2; Moeen Ali 25-1-98-3; Joe Root 2-0-9-0.
India: Mohammed Shami 8-2-15-1; Umesh Yadav 6-1-14-0; Ravindra Jadeja 15-3-38-0; R Ashwin 13-5-20-2; Jayant Yadav 7-3-11-1.
Fall of wickets: India: 6/1, KL Rahul (1.5 overs); 22/2, Murali Vijay (5 overs); 248/3, Cheteshwar Pujara (66.4 overs); 316/4, Ajinkya Rahane (88.3 overs); 351/5, Virat Kohli (100.3 overs); 363/6, Wriddhiman Saha (104.2 overs); 363/7, Ravindra Jadeja (104.4 overs); 427/8, R Ashwin (123.5 overs); 440/9, Jayant Yadav (128 overs); 455/10, Umesh Yadav (129.4 overs).
England: 4/1, Alastair Cook (2.3 overs); 51/2, Haseeb Hameed (21 overs); 72/3, Ben Duckett (27.3 overs); 79/4, Joe Root (31.5 overs); 80/5, Moeen Ali (34.2 overs).