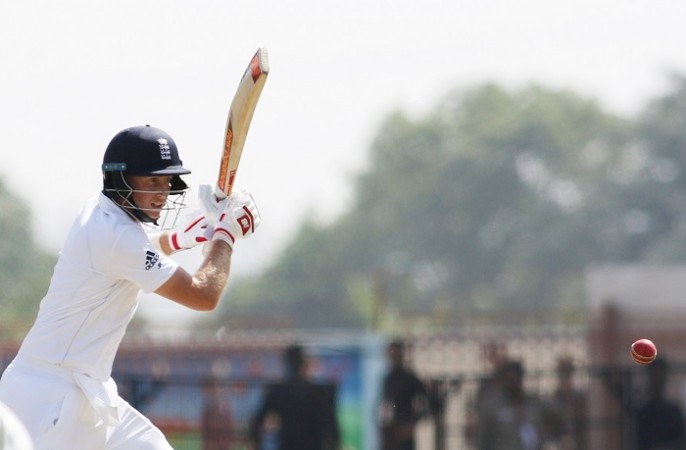 Dropped catches, beautiful bowling from the pacers, a man who has played over a 100 Test matches looking like a debutant and a debutant playing like a seasoned veteran, the India spinners showing their quality and then Joe Root stamping his class, in his inimitable, fluid style, with Moeen Ali causing quite a few problems as well – day one of the first Test match between India and England, in Rajkot, had it all.
While the first six overs of the innings were all about India's catching, or the lack of it, the rest was about how Haseeb Hameed looked in his first match of Test cricket, Cook failing to take full advantage of the lives that were handed to him by the slip catchers, the India spinners – of course it was R Ashwin and Ravindra Jadeja – bringing India back into the match, before Root took it away from them with consummate ease.
Thanks to Root (124, 180b, 11x4, 1x6) and Moeen Ali's (99, 192b, 9x4) big fourth-wicket partnership of 179, England find themselves in a real position of strength at stumps after the first day with the score reading 311 for four in 93 overs.
Mohammed Shami and Umesh Yadav, after India lost the toss, bowled quite brilliantly with the new ball, making full use of whatever little assistance was there on the pitch – with a bit of grass, quite a lot of cracks, but otherwise flat. There wasn't much movement off the pitch, not much swing either, but there was just enough to trouble the England openers, Cook in particular.
The left-hander looked tentative from the beginning and with the pacers hitting the perfect lengths from ball one, the pressure was on him right from the off. After getting beaten off the first ball of the match, Cook edged one through to Ajinkya Rahane at gully off the third, but luckily for the England captain, the India man was not quick enough with his reflexes, grassing what should have been a simple catch.
Kohli would also drop Cook in the next over, albeit a much more difficult chance low down to his left, and with Hameed given a life in the sixth over – Umesh Yadav the unlucky bowler on both occasions – England looked primed for a big opening partnership.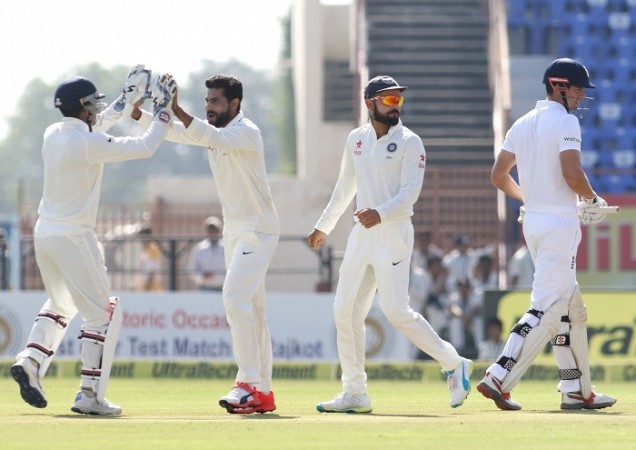 That feeling only grew when the batsmen looked comfortable against the spinners, when they came on from the 11th over, with Hameed impressing with his footwork and ability to pick the balls that he could drive to the boundary.
Cook (21, 47b, 2x4) , though, would eventually fall, to Ravindra Jadeja, with the umpire Chris Gaffney giving the left-hander out lbw off a ball that came in sharply from Ravindra Jadeja. Had Cook reviewed it, he would have stayed in the middle, because the ball tracking technology showed the ball would have missed leg-stump.
The India, bowlers, though, were due a bit of luck and they took it, even if it looked like the momentum from the Cook wicket had been quelled immediately with Hameed and Root putting on a 29-run partnership for the second wicket.
Root hit some glorious shots to the boundary and seems in the mood for a big score, while Hameed also looked right at home in Test match cricket, much to the delight of his family, from Gujarat and watching from the stands.
However, about 20 minutes before Lunch, just when it looked like England would go to the break only one down, especially with R Ashwin struggling to find his rhythm, like he usually does at the start of an innings, India's strike bowler struck. After a couple of balls that caused some consternation to the batsman, Ashwin, bowling from around the wicket to the right-hander, got one to pitch on middle-leg, and just move enough with the angle to miss the batsman's bat and hit Hameed (31, 82b, 6x4) on the back leg.
Umpire Kumar Dharmasena, who had a torrid time of it in the Bangladesh vs England series, raised his finger, and while Hameed reviewed it immediately, it was always going to be out, with the ball smashing into off-stump. Nevertheless, it was an encouraging debut innings for Hameed and at just 19, he already looks made for Test cricket.
Ben Duckett (13, 17b, 3x4) would come in and as is his style hit a few balls to the boundary, but Ashwin, who faced the brunt of most of those fours, would get his man, right on the stroke of Lunch. Ashwin got one to drift in and turn enough to take the outside edge, with Rahane, an infinitely better catcher to the spinners, taking a nice catch low down.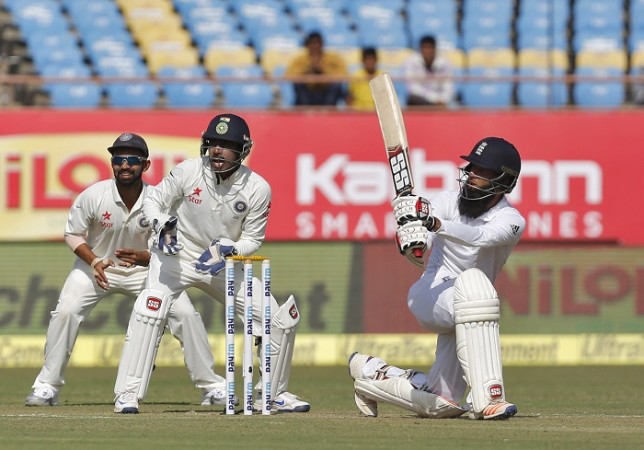 India would have come into the second session in confident mood, what with Ashwin bowling so well and the off-spinner having another left-hander in Ali to bowl to. However, things did not pan out as they would have planned, with Ali batting exceptionally, while Root, at the other end, was unflappable, barely putting a foot wrong.
How easy Root makes batting look is quite remarkable – hit the bad balls for four, a few of the good ones too and keep rotating the strike to never allow the bowler to settle.
Root, who had one heart in the mouth moment when he survived a review after being given not out for lbw, and Ali just did not give the India bowlers – one of them Shami struggled in the final two sessions with a hamstring problem while Amit Mishra bowled like a part-timer picking up the ball for the first time in five years – a chance to find their rhythm.
Root finally fell in the last session, after getting his first hundred in Asia, with Umesh Yadav taking a controversial return catch. The England batsman drove one straight back, Umesh caught it with both hands, and when he was about to throw the ball up, he seemed to lose control. The umpires went upstairs and Rod Tucker stayed with the soft signal of out much to the relief of the Indian camp.
With nine overs remaining at that point, there was still a chance for India to even up the day, but with Shami struggling with injury, Kohli did not take the new ball and England, with Ali, on 99, and Ben Stokes (19, 41b, 2x4, 1x6) batting, went into the dressing room in a real position of strength.
Scores: England: First innings: 311/4 in 93 overs.
First session: 102/3 in 32.3 overs after the first session.
Second session: 107/0 in 31.3 overs.
Third session: 102/1 in 29 overs.
Bowling: India: Mohammed Shami 12.1-2-31-0; Umesh Yadav 18.5-1-68-1; R Ashwin 31-3-108-2; Ravindra Jadeja 21-2-59-1; Amit Mishra 10-1-42-0.
Fall of wickets: England: 47/1, Alastair Cook (15.1 overs); 76/2, Haseeb Hameed (26.3 overs); 102/3, Ben Duckett (32.3 overs); 281/4, Joe Root (80.5 overs).