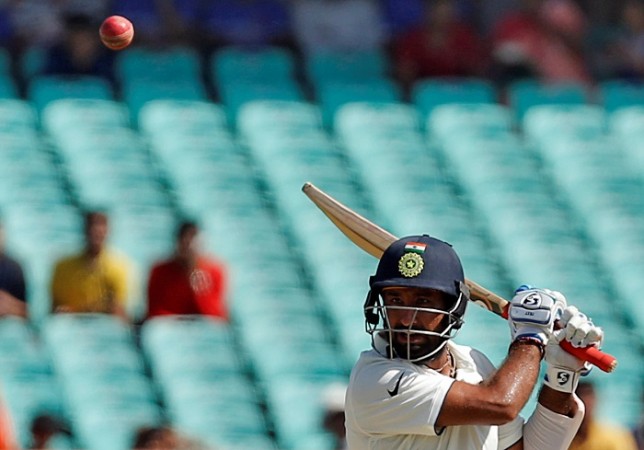 Over number 71 of the India first innings on Day 3 of the first Test against England – the first time in a long time that anyone associated with India have smiled at the DRS. After making the decision to use the Decision Review System for this five-match Test series, Cheteshwar Pujara was the man who made the right call of going for a review after being given out lbw, with that wonderful ball tracking technology nodding in approval.
With India in a good position on 208 for one in the 71st over, Zafar Ansari, brought into bowl for the first time in the second session of day three in Rajkot, got a ball to sneak through Pujara's defences. The ball hit the back leg of the India batsman, on 86 at the time, and England, expectedly, went up as a unit in appeal.
Umpire Chris Gaffney took a little while before raising his finger and as the England players celebrated a much-needed wicket, Pujara, after a brief look over to his partner Murali Vijay, decided to ask for the review.
Now, the review process is nice and long, just adding to the tension/excitement, depending on what camp you are on.
First the front-on angle was shown to see if there was an inside edge, before the third umpire went to the ultra edge, also to see if the ball had hit Pujara's bat. After both those options showed there was no bat, the ball tracking technology was brought in.
The ball pitched fine, hit Pujara in line so the only thing that was going to save him was if it missed the stumps. Even if it was clipping anywhere on the stumps, the decision would be in favour of the on ground umpire.
It moved, moved and much to the delight of the entire crowd here in Rajkot, it went over the stumps, comfortably too.
Pujara's wife Puja did a little jig in delight at the decision, while the batsman's father and coach smiled on in appreciation as a couple of friends/family around him shook hands in celebration.
More such decisions and the DRS will be here to stay as far as India matches are concerned.
Watch the highlight of the DRS decision HERE