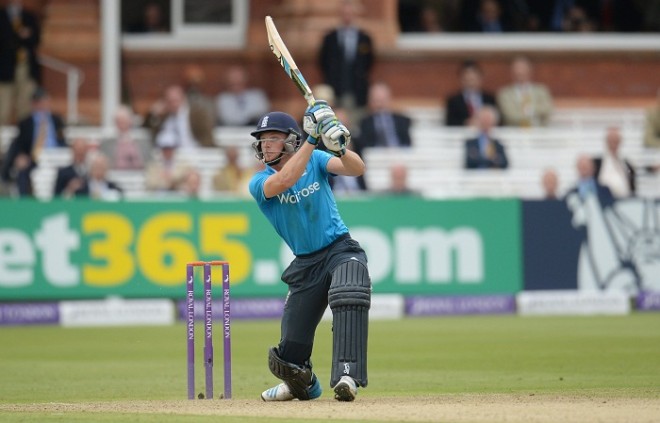 Jos Buttler has been drafted into the England squad, ahead of the first Test against India that starts on Wednesday.
The 23-year-old was included after wicket-keeper Matt Prior experienced mild tightness in his right thigh.
Buttler has been producing good performances for England, whenever he was provided the opportunity. So far, England berths have come for him in One Day Internationals and T20Is. Buttler's effective and aggressive style of batting has been keeping Prior on his toes.
Prior had earned a recall during the two Test series against Sri Lanka. He batted well at Lord's scoring 86 runs in the first innings but thereafter had a difficult time keeping in the second Test at Headingley.
Prior, a more than useful batsman and a fine keeper, spent the beginning of the season trying to rid himself of an Achilles injury. The injury meant he was not a certainty for the first Test against Sri Lanka. And it was only after he completed a game for Sussex before the first Test that he found a place in the side, reported ESPNCricinfo.
Meanwhile, Buttler hammered 121 off 74 deliveries against Sri Lanka in an ODI at Lord's, after coming in at number seven. England lost the match by the narrow margin of seven runs, chasing more than 300 runs after they were down and out. But the Somerset batsman made many take notice of his obvious talent with that blistering knock.
Many felt that Buttler should have been selected ahead of Prior against Sri Lanka.
"I find it really surprising they have gone back to Matt Prior. When you are restructuring the team why pick Prior and not Jos Buttler? He has just shown how dangerous he is with the bat with a brilliant one-day hundred so stick with him while he is on a roll," Wisden India had quoted Shane Warne as saying.
However, Buttler believes he needs that more time in first class cricket.
"My glovework needs to improve too to be a Test cricketer. I am 23, I have plenty of time to work on those things. I am not ready for Test match cricket. It is my hope and ambition to turn into something who is talked about as a Test cricketer as quickly as I can," The Mirror had quoted Buttler.