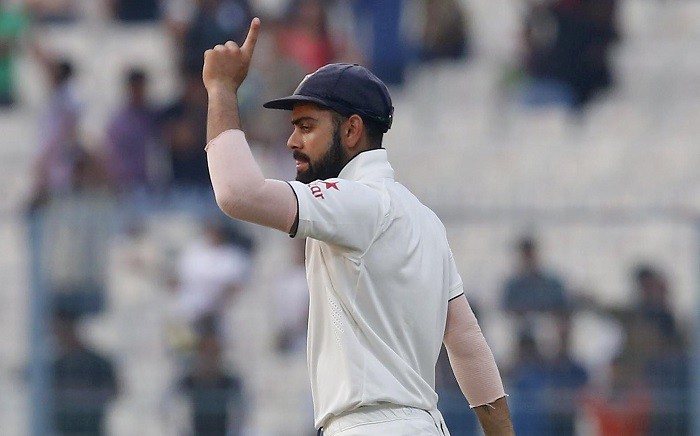 Virat Kohli took over India's Test captaincy from MS Dhoni after his sudden resignation during the Australia tour from the longer format of the game in 2014. As a result, Kohli was also in charge of the fourth Test of the series in Australia and led the team in Bangladesh for a one-off Test match as well.
However, it was India's tour of Sri Lanka in 2015 which was his first major test in a full-fledged Test series. Here is a look at all the series, one by one, where Kohli has led so far.
India vs Sri Lanka in 2015 (3 Test matches)
This series was of utmost importance to not only Kohli but also for India, who were looking to defeat Sri Lanka in the island nation after 22 years. The series was always going to be challenging with Sri Lanka being a strong team at home. Kohli's team did not start the series well, losing the first Test match after crumbling in the fourth innings.
After Sri Lanka's first Test win by 63 runs, India looked a determined team and played some solid cricket led by Kohli, who looked aggressive in his captaincy to help India win the second and third Test match by 278 runs and 117, respectively. Kohli should be applauded the way he gave his bowlers an aggressive field to help them take wickets. Kohli's five-bowler theory also worked in Sri Lanka, which also showed that he did not mind dropping a batsman to strengthen his bowling unit.
India won 2-1
India vs South Africa (4 Test matches)
After defeating Sri Lanka, their next opponent in the longer format of the game was South Africa, who are always a strong team. It was always going to be a tough test, though India were playing on their home turf.
India, right from the first Test, looked a solid team, by winning the first Test by 108 runs after spinners Ravichandran Ashwin and Ravindra Jadeja demolished the South Africa batsmen. Though South Africa played better cricket in the second Test, managing a draw, India won the third and fourth Test by 124 and 337 runs to win the series in a comfortable manner.
The series turned out to be favourable for the spinners, who played an integral part, with Ashwin and Jadeja scalping 31 and 23 wickets, respectively. Ajinkya Rahane and Murali Vijay looked good with the bat, scoring 266 and 210 runs, respectively.
India won 3-0
India vs West Indies (4 Test matches)
India continued their winning ways against the West Indies as well. Despite playing away, they were a dominant team, registering an impressive win in the first Test by an innings and 92 runs, which set the tone for the rest of the series. West Indies were again outplayed in the second Test, but the home team managed a draw with their batsmen showing some determination in the second innings. India won the third Test by a massive 237 runs to take 2-0 lead, and the final Test resulted in a draw with rain only allowing 22 overs of play.
Ravichandran Aswhin, who won the man of the match award for his all-round contribution, as usual, shone brightly with the ball, taking 17 wickets, but it was his 235 runs in the series, which helped him establish as a quality all-rounder.
India won 2-0
India vs New Zealand (3 Test matches)
India were always going to be favourites against the Black Caps at home, as teams in the past have found it difficult to defeat the home team, and the same was witnessed as Kohli's team won the series 3-0 after some terrific display.
India were never really troubled in any of the Test match against New Zealand, who, despite some spirited performance, could not produce a positive result. India won all the Test matches by more than 150 runs, which explains their domination in the series. Cheteshwar Pujara was the best batsmen for India, scoring 373 runs while Ashwin once again sprayed his magic, taking 27 wickets.
India won 3-0
Overall Conclusion
Kohli has been a dominant force in the world cricket today, helping India attain the world number one rankings as well. We should not read too much into the victories so far. All the positive results have come under conditions, where India are strong with spinners ruling the roost. Barring Sri Lanka, all the opponents India have come up against are weak in slow conditions, so this is not the right time to judge Kohli and his captaincy. Despite all these factors favouring India, one should not take anything away from Kohli's team, who played good cricket.
Though India will face England in the upcoming series, and Australia next, both the series will be played at home, so there too, the home team will be favourite. India's real test will lie in foreign conditions like Australia, South Africa, England, which assists the seamers, and they have found problems in such conditions. Captains in the past have not been able to produce many positive results abroad -- consistently -- which Kohli would like to improve.
When a team is winning, like the way India are doing now, the captain does not come under pressure, but their real test will lie when they are in difficult situations. How will the captain and his players respond to it? India have had it easy under Kohli, but the Delhi batsman's leadership skills will surely be tested when he goes abroad.
As of now, Kohli has been brilliant, but he needs to replicate these results on foreign soil. So unless he proves himself in all conditions, it is too early to make any call on his captaincy.