Gautam Gambhir fell in the seventh ball of Day 3 of the first Test, but from there India's two best defensive batsmen showed what Test match batting under scoreboard pressure is all about to steer India closer to England's massive first innings score. There is still a long way to go for India to feel safe in this Test match, but Murali Vijay and Cheteshwar Pujara certainly took the right steps towards that target with a fabulous partnership.
After Stuart Broad gave England an early wicket, it was all about Pujara (124, 206b, 17x4) and Murali Vijay (126, 301b, 9x4, 4x6), who were quite brilliant on a still flat pitch in Rajkot, putting on 209 runs together to help India to 319 for four in 108.3 overs at the end of day three. The momentum was lost a little bit, though, as India, after losing Pujara midway through the final session, suffered the dismissals of both Vijay and nightwatchman Amit Mishra in the last four balls of the day.
Virat Kohli (26, 70b, 3x4) is still at the crease and the captain will need to put on a big partnership with Ajinkya Rahane to prevent England from finding a way towards victory in this Test match.
Earlier, India would have wanted their openers to bat out the entire first session, before taking stock during Lunch, but, unfortunately, Gautam Gambhir (29, 72b, 4x4) fell early.
After seeing off the spin of Moeen Ali in the first over, Gambhir made a complete mess of Stuart Broad's first delivery that was angled in from around the wicket. The front foot came right across, Gambhir lost a little of his balance as well and with the bat stuck behind, when the ball hit him on the pads, it was one of the easiest decisions the umpires will have to make today.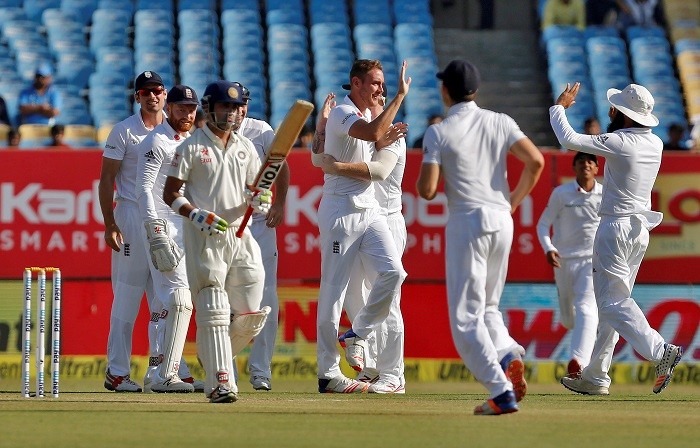 India, though, recovered from that early blow quite well, with Vijay and Pujara, the perfect men to bat in such a situation, bringing out their Test match batting chops.
Pujara was quite impressive early on, making his intent clear to the off-spinner Moeen Ali, who has got him twice in the past. The India No.3 used his feet quite brilliantly to Ali, never allowing the off-spinner to settle, while scoring quite a few boundaries as well.
As a result, Alastair Cook was forced to take Ali off and bring Zafar Ansari in, with the left-armer providing more control and quelling the run flow, even if he rarely threatened to pick up a wicket.
While Pujara was outstanding to the spinners, he did not look quite as comfortable to the fast bowlers, with the batsman struck on the helmet on three occasions, as Chris Woakes' short balls caused a lot of problems. Pujara, however, is made of stern stuff and he shook off those blows to continue batting impressively, with Vijay, at the other end, looking smooth as silk, be that with his defence, drives, flicks or shots over the top.
The second session was a lot more difficult, in terms of scoring runs – only 66 were scored in 29 overs -- with Adil Rashid bowling quite well from one end, while Broad, with four fielders catching in front of the wicket, using whatever little help that is there from the pitch.
As a result of some good bowling from England – Broad gave away just a single run in a five-over spell – both Pujara and Vijay failed to break free, but while the runs dried up, their patience did not. It is a dying art in cricket – being patient – but both these batsmen have that in spades.
Yes, there were a couple of close calls for both – Vijay was dropped on 66 by Haseeb Hameed, when the youngster failed to hang on to a catch diving to his right, while Pujara brought the DRS into play, winning a review after he was initially given out lbw to Zafar Ansari when he was on 86.
But apart from that, the two batsmen were solid, giving very little away and not getting bothered by the fact that the runs were not coming along too easily.
With less than five minutes to go to Tea, Pujara had the chance to complete his hundred, but he played out a maiden off Moeen Ali, before seeing off the final two balls of Ben Stokes' over to stay on 99 at Tea.
The hundred would come soon after, much to the delight of his hometown crowd, and soon enough, Vijay would join him in the three-figure club, courtesy two boundaries off Broad.
With both past their centuries, it looked like they would take India to the close of play as well, but, from nowhere, Pujara fell, guiding a ball straight to Alastair Cook at wide slip off the bowling of Ben Stokes.
That brought Kohli to the crease and it took the India captain a while to get going – he needed 11 balls to get off the mark – with England keeping that ball outside off, considering the troubles he had with that line in the UK in 2014.
However, Kohli stayed patient and once he got a few off the bat, the runs came much easier, even if he would have loved to have batted the next day with Vijay.
That hope ended in the penultimate over before the close of play, when Adil Rashid, who bowled well throughout the day, got a googly to bounce, take the shoulder of Vijay's bat and lob up to Hameed at short leg. Nightwatchman Mishra (0, 2b), who had a torrid time with the ball, could not contribute with the bat either, giving a bat-pad catch to Hameed and Ansari a wicket off what ended up being the last ball of the day.
Scores: England: First innings: 537 all out in 159.3 overs.
India: First innings: 319/4 in 108.3 overs, trail by 218 runs.
Overnight score: 63/0 in 23 overs, trail by 474 runs.
England: Stuart Broad 20-7-54-1; Chris Woakes 23-5-39-0; Moeen Ali 22-6-70-0; Zafar Ansari 17.3-1-57-1; Adil Rashid 16-1-47-1; Ben Stokes 10-1-39-1.
Fall of wickets: India: 68/1, Gautam Gambhir (24.1 overs); 277/2, Cheteshwar Pujara (91.1 overs); 318/3, Murali Vijay (108 overs); 319/4, Amit Mishra (108.3 overs).