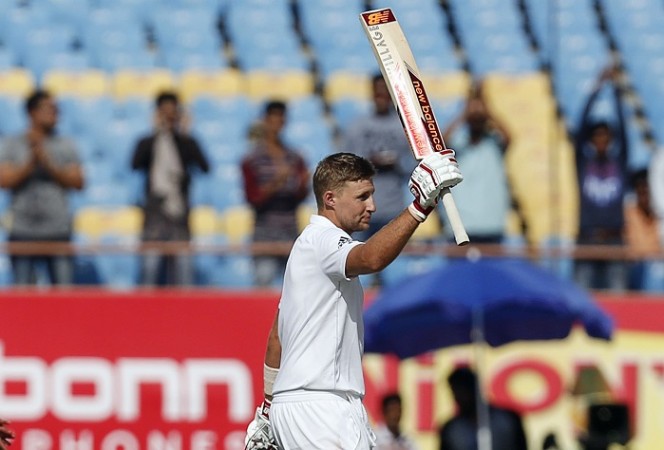 When Joe Root walked out into the middle, there was immediately a feeling of "OK, we are going to see something special here." From ball one, Root looked as comfortable as a batsman can look on day one of a first Test match of a series, dominating the India bowlers in his own languid, fluent style and with it, giving confidence to his partners at the other end as well.
In the end Root went on to score a magnificent 124 (180b, 11x4, 1x6), his first century in Asia and the first by a foreign batsman in India in nearly four years. It was not just that he scored a hundred, but the manner in which he did that really stood out.
There were no hiccups, no real scary moments – he did survive a review from India, when he was given not out thanks to the umpire's call rule – no jumping around the crease, wondering what had just happened, no nervousness, no doubts. It was confident batting of the highest order.
"I am really happy with the way we played throughout the day, especially the middle session was great really," Root told Star Sports after day one. "We always thought that the seam bowlers might get something early on, with a bit of moisture around and the early start. But we held on well and got us in a position to be strong at the end of the day."
Root's partnership of 179 with Moeen Ali, still batting on 99, was what really hurt India, and the England vice-captain was all praise for his partner.
"I thought Moeen played extremely well and I am looking forward to watching him bat tomorrow," Root added. "It's nice to do what we practice out in the middle."
Before Ali and Root came together for the big fourth-wicket partnership, Root added 29 runs together with debutant Haseeb Hameed, who showed great temperament and technique in his 82-ball stay at the crease.
"I thought Haseeb Hameed played extremely well," Root said "He looked comfortable in an environment he had never played before."
When Root finally was dismissed, in the 81st over by Umesh Yadav, there was a bit of controversy, because the bowler, while taking the return catch, seemed to lose control as he was about to throw the ball up in celebration. After an umpire's review, though, Root was given out and the right-hander does not have too many problems with that decision.
"It was out isn't it, no point in arguing about it," the talented right-hander said. "I was walking out anyways, so let's leave it at that."
With England on a dominant 311/4 after day one, the visitors will eye a first innings score of over 500, and Root believes that will prove to be really useful on a pitch likely to wear as the game moves forward.
"The wicket might have variable bounce, so i think it is important to put on a big first innings score and put the pressure on that way," the 25-year-old added.