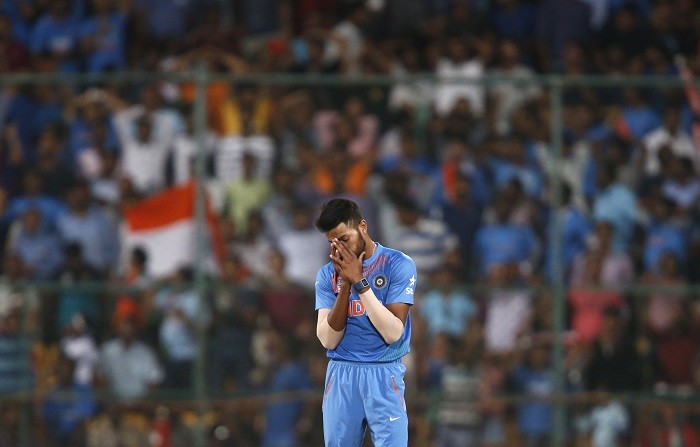 All the debate, all the talk after Hardik Pandya was picked for the India vs England Test series has come to nought after the all-rounder picked up a shoulder injury. Pandya was a surprise pick for the series against England, but will now have to wait to make his debut after failing to get a look-in in the previous matches.
Despite not having the greatest of first-class records, be that in bowling or batting, Pandya was picked as an all-rounder option by the selectors, but after missing out in the first two Tests, the 23-year-old suffered an injury while training for the third match.
That meant he would not be a part of the third Test as well, and while the statement did not categorically rule him out for the entire series, it is thought to be serious enough to keep him out for the remaining Test matches.
"The BCCI medical team confirms that India all-rounder Hardik Pandya sustained a blow on his right shoulder during a training session in Mohali," BCCI said in a statement. "He has been released from the Indian Test team and will consult a specialist to decide the future course of action."
KL Rahul has also been released from the squad, after the opener suffered an arm injury, which kept him out of the third Test match against England. Rahul was replaced by Karun Nair, making his debut, but the statement released by the BCCI said the Karnataka man should be fine for the fourth Test match in Mumbai next month.
"Batsman KL Rahul is also released from the squad to recover from his left forearm injury," the statement added. "He is expected to regain his fitness for the fourth Test match of the Paytm Test series against England to be held in Mumbai from December 8, 2016."
India currently lead the series 1-0, with the third Test underway in Mohali.