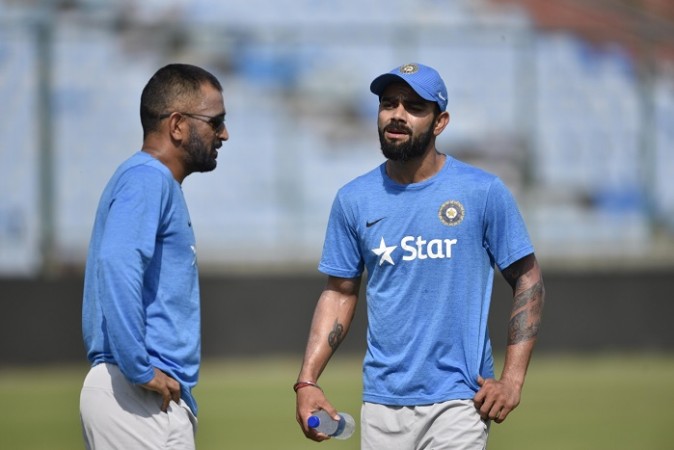 India have been blessed with some great captains in the recent past, and two names -- Sourav Ganguly and MS Dhoni -- immediately crop up in our minds. They have played an important role in making India a stronger team in all formats of the game. Now, Test captain Virat Kohli is following their footsteps, and has produced some amazing results in Test cricket.
Despite Dhoni being successful in all formats with India, the team could not deliver against England in their last two Test series at home (2012) and away (2014). Kohli will hope to turn things around as his team gets ready to host England for the ODI series. Here is a comparison of the two captains:
Emotions and approach
Dhoni and Kohli's approach towards any game is polar opposite. Dhoni is known for his cool and calm approach, and Kohli, on the other hand, takes the aggressive route. However, both the captains have been successful in their unique styles.
Dhoni, even after an important wicket goes down, does not celebrate wildly, but he has his own way. He understands the importance of the wicket, and is normally seen congratulating the bowler and giving him additional tips. Kohli is on a league of his own when it comes to celebrating wickets, there is a sense of delight on his face, and makes his emotions known and sometimes, even to the opponents.
However, there have been instances when Kohli has crossed the line, while Dhoni was never in anyone's bad books.
Five bowlers strategy
MS Dhoni retired from Test captaincy during the India vs Australia series in December 2014, after which it has been Kohli all the way. One of the major changes one has seen in India cricket has been the use of five specialist bowlers. Kohli believes that his bowlers have to take 20 wickets if they are to emerge victorious.
The India skipper does not mind dropping a batsmen to accommodate the fifth bowler if the pitch requires so as was witnessed in Sri Lanka (2015) and West Indies (2016). But this is quite different from the former Test skipper Dhoni, who most of the times played with four regular bowlers, and seven batsmen. However, there were a few instances when Dhoni also played with five bowlers.
Bowling attacks under their leadership
It goes without saying that Test cricket is won by bowlers, as mentioned earlier that Test matches are won after taking 20 wickets. But we are also aware of the importance of the batsmen in scoring mammoth runs, after which the bowlers come more into play.
Dhoni, during his days, was highly dependent on Zaheer Khan, Ishant Sharma and Harbhajan Singh in the early part of his captaincy days for wickets, and they delivered most of the times. But injuries were always a problem for the pacers, and the trend has not changed much at present as well.
The scenario in the bowling unit is much more competitive in India at present. R Ashwin is the trump card for Kohli, who banks on him in home conditions to shine and take important wickets at will. Amit Mishra and Ravindra Jadeja have also been brilliant under Kohli. The pace battery options include Ishant Sharma, Shami, Umesh Yadav (if fit), who have all the much needed experience to allow Kohli more choices.
Captaincy record
Though it may not be right to compare the two captains at this juncture, where Kohli has been the skipper of the Test side for not more than two years, here is a look at their records.
Dhoni is regarded as one of the best India captains, and former players, who played under him like Sachin Tendulkar praised him for his captaincy. Not only was he unique in his own way, his methods helped India win many series. The man from Jharkhand captained India in 60 Test matches, winning 27 of them, while Kohli has a terrific start to his role as India skipper, with 10 wins from 17 matches. Kohli's real test will lie when India travel to countries like Australia, England, South Africa and New Zealand, where the pitches suit seamers more.