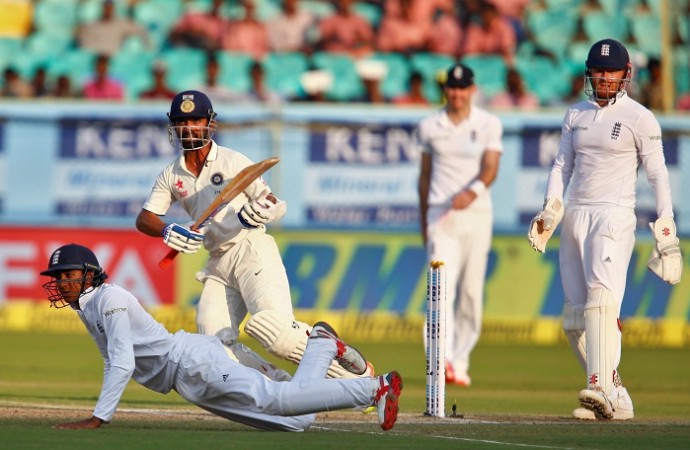 It might not have been as one-sided as predicted at the start of the series, largely due to the benign tracks that have been on show in the first three matches, but India still take a 2-0 lead into the fourth Test match of the series against England. For Virat Kohli, the Mumbai Test will be about consolidating his team's position, sealing the series and ending any hopes England might have of producing a stirring comeback.
To do that, they need to continue winning the mini-battles, so important in Test matches.
Here are a few things to look forward to as we move into the fourth and penultimate Test match of the series.
The toss: Alastair Cook, after losing the second Test match in Visakhapatnam, made it sound like the only reason England went down to India was because they lost the toss and the home team got first use of the pitch with the bat. That theory was debunked in Mohali, with India picking up a comprehensive victory even after losing the toss. The flip of the coin, though, will be important, again from an England perspective – India will back themselves either way – especially with the pitch predicted to start turning from day three (Not that any of the pitch predictions have gone right so far).
Mumbai inspiration for England again? Cook has been a part of two England teams that have won in Mumbai in Test matches against India. Cook, even if he was not in the playing XI due to injury, was a part of the England squad that beat India in 2006 and then he captained the famous win in 2012, when the left-hander and Kevin Pietersen lit up the Wankhede. India will want to nip that particular winning streak in the bud, but England will draw some inspiration from those wins; they must to stand any chance of coming back into this series.
The unstoppable version of R Ashwin: So far in this series, Ashwin has not been at his unplayable best. He has bowled beautifully, with his mastery, control and ability to drip and loop the ball a sight to behold, but that beautiful bowling hasn't resulted in bucketloads of wickets, like he is so used to in Indian conditions. Ashwin, Kohli or coach Anil Kumble will not be too worried, considering he is still comfortably India's leading wicket-taker at 15, but maybe Mumbai is the match that the Ashwin-he-takes-wickets-for-fun version stands up, before the off-spinner does it again in his hometown of Chennai.
Ajinkya Rahane's time in Mumbai: Rahane has had a torrid time in this series, with his vulnerabilities against spin coming to the fore. Maybe a game on his home turf is what is required to get his groove back. India need Rahane to score runs, because they cannot keep relying on Cheteshwar Pujara, Kohli and the lower order all the time.
Virat Kohli vs Ben Stokes part II: We had Ravindra Jadeja and James Anderson getting into a fracas in the 2014 series, and this time it is Kohli and Stokes playing mind games with each other. There was plenty of drama and "fun" in the third Test match and knowing the way these two players play on the field, with their hearts firmly on their sleeves, expect a bit more of the same in Mumbai.