Keaton Jennings was the latest England opener to look right at home in Test cricket, knocking about the India bowlers at will in the first two sessions of this fourth Test in Mumbai. However, after this series finally witnessed a proper turning wicket, one that spun from day one, India got back into the game in the final session, to keep this Test match nice poised after day one, even if it is slightly leaning towards the England side.
England are making a habit of giving debuts to excellent openers against India. After Haseeb Hameed impressed in the opening three Test matches of this series, not to mention a certain Alastair Cook making a big impact the first time he landed on these shores, Jennings was the next to get his teeth into Test cricket and get those runs flowing off his bat.
Thrust into the England opening slot after Hameed's finger injury ruled him out of the series, Jennings, watched from the stands by the man he replaced, showed composure, timing and talent to complete a superlative hundred on debut at the Wankhede Stadium.
R Ashwin, though, brought his considerable skills into play on a wicket that was turning and bouncing, picking up four wickets, including three in the final session, to give India hope of making a real game of this Test match, when at one point, they were staring at an England first innings total of 450-500.
Jennings and Cook, after winning the toss and choosing to bat, got off to a bit of a problematic start, with both players lucky to see outside edges either go beyond the fielder or just far enough not to be able to pouch it safely. While Cook could have been out right at the beginning, when he found a leading edge off Bhuvneshwar Kumar, which flew wide of gully, Jennings was lucky to not get out for a duck on debut.
A nice short ball from Umesh Yadav had Jennings fending away, with the outside edge flying towards the gully region. Karun Nair got his left hand to the ball, but couldn't hang on. The fielder's footwork was wrong, because it felt like he was almost going down when he made contact with the red cherry, giving Jennings, who also survived a review for an lbw with only the umpire's call on impact saving him, a life he made full use of.
Cook and Jennings were tied down a little by R Ashwin at the beginning, but with Virat Kohli insisting on bowling the fast bowlers from one end – Bhuvneshwar bowled eight overs in a row – owing to one side of the pitch having more grass, runs, slowly but surely, came at a fair pace.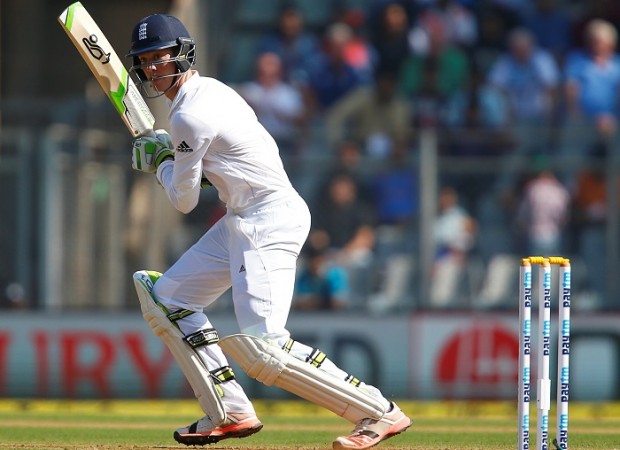 The longer the two left-handers stayed at the crease, the better they started to look, coming to terms with the pitch, that did not provide much for the bowlers, even if there was the odd that bounced for the spinners. Ashwin used his dip and control to cause a couple of alarms, but not enough to induce the wicket India so needed in this opening session.
As Jennings grew in confidence, Cook, who got to 2000 runs in Test cricket against India with a nice straight drive, stepped up a gear as well, finding the boundaries often enough to push the scoring rate along at a nice clip.
When Kohli finally brought spin on from both ends, the two England openers were in their groove, and while Jayant Yadav brought a little control again, the two batsmen looked comfortable, with Jennings completing his first half-century in Test match cricket. Then came Kohli's last hope for a wicket in the first session, with Ravindra Jadeja obliging by producing that one delivery to get the big wicket of Cook (46, 60b, 5x4).
It was a similar one that got Ben Stokes out in the first innings of the last match. Cook came out of his crease to try and take the attack to Jadeja in his first over, but the ball just flew past him and Parthiv Patel was on hand to whip off the bails with the England skipper out of his crease.
Jadeja continued to threaten, getting plenty of bounce and enough turn to make the batsmen ponder, and that trend continued in the early part of the second session as Ashwin joined in with a really nice spell as well.
It is a joy to watch Ashwin go to work, with that loop, changes of pace and guile that only a world-class bowler, at the peak of his powers, has and it is to Jennings' great credit that he did not succumb to the off-spinner, even if there were times you felt fortune was firmly planted in his camp.
Instead, it was the much more experienced Joe Root (21, 41b, 1x4) who fell to Ashwin, pushing away from his body and finding the outside edge through to first slip, with Virat Kohli taking a smart catch, despite initially moving the wrong way.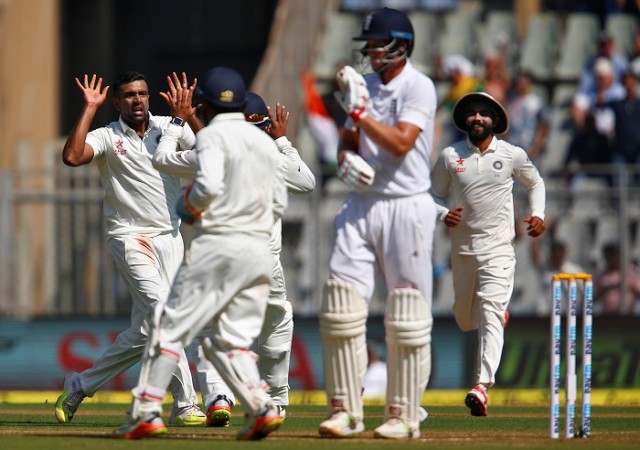 England, though, consolidated again, as Jennings continued to impress, while Moeen Ali looked determined not to give his wicket away, be that to the spinners or via the short ball from Umesh Yadav. As the ball got older, the spin and bounce just came down a little and Jennings marched to his debut hundred – the 19th man to do that for England – one that he deserved for the kind of shots he produced, with a reverse-sweep to the boundary a few minutes before tea.
Jennings and Moeen came in with a positive intent in the third session, not allowing Jadeja or Jayant Yadav to settle into a rhythm. It was working too, with runs and boundaries coming at will – Moeen, for instance, went from 25 off 75 at tea to 50 off a 102 balls.
Needing a wicket desperately, Kohli brought Ashwin on and the talisman delivered, with the off-spinner picking up the wicket of Moeen (50, 104b, 4x4, 1x6), who top-edged a sweep shot, with the extra bounce on this Mumbai wicket coming into play.
Two balls later Jennings' (112, 219b, 13x4) brilliant innings ended as an outside edge carried to Cheteshwar Pujara in the slips and India suddenly saw a way back into this match. Jonny Bairstow and Ben Stokes stuck around together for a while, but another sweep shot, this time from Bairstow, gave one more wicket to Ashwin, leaving England half down.
Jos Buttler struggled to put bat to ball after coming in with the ball turning a fair bit and Stokes, who somehow survived the Ashwin assault, was struggling to get runs away as well. However, the two refused to give away their wickets, which meant England went into stumps on day one in a decent position.
A total of 350 and over on this wicket will be quite handy, something England will know quite well, although they would wish they had selected an extra spinner instead of going with three specialist fast bowlers.
Scores: First innings: England: 288/5 in 94 overs.
First session: 117/1 in 31 overs.
Second session: 79/1 in 31 overs.
Third session: 92/3 in 32 overs.
Batting: Ben Stokes (25, 84b, 2x4) and Jos Buttler (18, 37b, 2x4).
Bowling: First innings: India: Bhuvneshwar Kumar 11-0-38-0; Umesh Yadav 10-2-36-0; R Ashwin 30-3-75-4; Jayant Yadav 22-3-78-0; Ravindra Jadeja 21-3-60-1.
Fall of wickets: First innings: England: 99/1, Alastair Cook (25.3 overs); 136/2, Joe Root (38.2 overs); 230/3, Moeen Ali (70.2 overs); 230/4, Keaton Jennings (70.4 overs); 249/5, Jonny Bairstow (80.2 overs).
Watch the highlights of the first day HERE