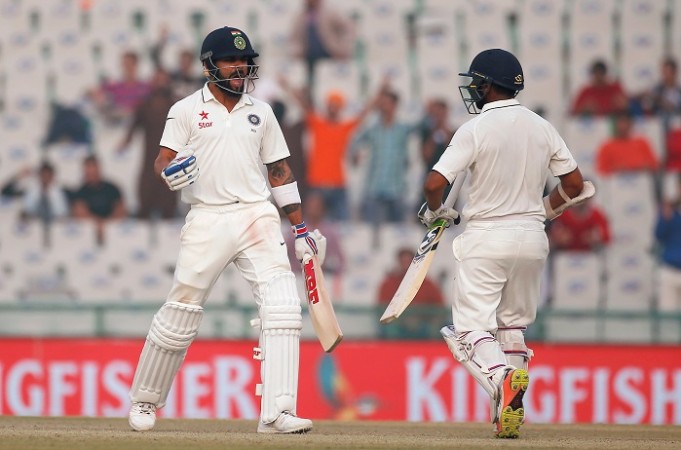 A glorious cover drive from Joe Root gave England the lead in this third Test match, and hope sprang eternal as England envisaged the great escape and eventually putting India under pressure with a difficult target. However, Root's resistance came to an end just before lunch and England's after, despite Haseeb Hameed showing some tremendous ticker, leaving India with a small target to chase, which they duly did for a 2-0 series lead.
After England were bowled out for 236 in their second innings, India had a target of 103 to chase down. Murali Vijay (0, 8b) was dismissed early by Chris Woakes for a duck off a short delivery, but Parthiv Patel and Cheteshwar Pujara steadied the ship to take the hosts to 33/1 in 6 overs at tea.
After tea, Parthiv went on the attack, powering boundaries around the ground, while Pujara (25, 50b, 4x4) would have been disappointed to fall a little before the end. Parthiv (67 n.o., 54b, 11x4, 2x6), though, stayed on and saw India to victory with his captain Virat Kohli (6 n.o., 11b).
England started the day with their backs firmly planted to the wall, after the India spinners picked up four big wickets and the only hope was Root. The England vice-captain had kept that hope alive for nearly the entire session, with an outstanding innings, an innings where he has largely been untroubled, before the brilliance of Rahane changed it all.
After the nightwatchman Gareth Batty (0, 7b) was dismissed in the second over of the day – lbw to Ravindra Jadeja – Jos Buttler came in and went into one-day mode. He hit a nice six straight back off Jadeja, hit a nice four off the fast bowler Umesh Yadav as well and the strike was being rotated freely.
Virat Kohli, though, did not panic. He brought Jayant Yadav into the attack, Buttler (18, 18b, 1x4, 1x6) tried to take him on, went down the track, but completely miscued his shot, with Jadeja taking a comfortable catch at wide long-on.
India would have hoped Haseeb Hameed was not fit enough to bat, considering he hadn't come in so far, but the England youngster did walk in, finally, and much to the home side's frustration, he showed, once more, why he has been named "Baby Boycott."
Hameed (13, 88b), with heavy padding on his left little finger, weathered the inevitable short ball storm from Mohammed Shami, while showing his brilliant defences against the slow bowlers as well – he was a little lucky when on 6, with an outside edge off Ashwin not pouched by Parthiv Patel, but it was luck he deserved.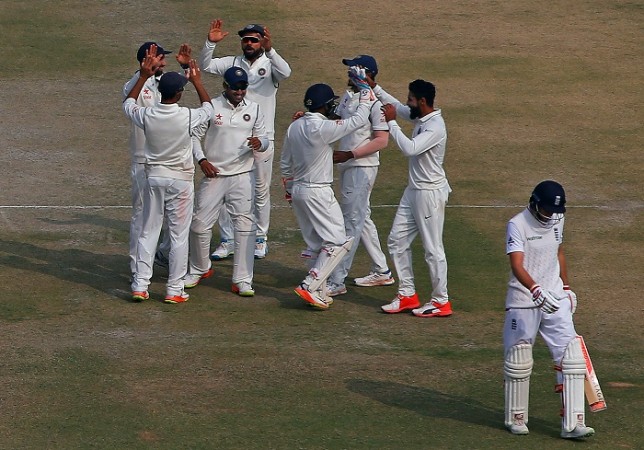 With Root (78, 179b, 6x4) looking really good at the other end, the two stitched together a 45-run partnership, in 19.5 overs, and seemed to be taking England to lunch six down, before an absolute stunner from Rahane, one-handed to his left with the ball flying off the outside edge off the bowling of Jadeja, ended Root's stay at the crease.
Chris Woakes and Hameed began the second session well, scoring fairly quickly and forcing Kohli to go a little defensive with his fields. However, once the second new ball was due, the dynamic changed again. India took it in the 82nd over, and after a nothing-much-happening over from Umesh, Mohammed Shami brought out his short ball skills to end a 43-run partnership.
The India fast bowler first hit Woakes on the helmet with a screamer, before, another short ball had the England all-rounder fending and top-edging an easy catch to Parthiv. After a full and straight one next ball, another short ball saw Adil Rashid play a hook shot with his eyes closed, and another top edge fall into the lap of an Indian fielder, this time Umesh Yadav at fine-leg.
Hameed (59 n.o., 156b, 6x4, 1x6) changed gears with only James Anderson for company, and he did that really well, bashing quite a few slog sweeps for boundaries and adding 41 runs in 6.4 overs with the No.11. India finally broke the partnership and ended England's innings when Anderson was run out trying to scamper for a double, with the target, then, comfortably chased down.
Scores: First innings: England: 283 all out in 93.5 overs.
India: 417 all out in 138.2 overs.
First innings lead: India by 134 runs.
Second innings: England: 236 all out in 90.2 overs.
Overnight score: 78/4 in 38 overs.
Target: 103.
India: 104/2 in 20.2 overs, won by eight wickets.
Bowling: Second innings: India: Mohammed Shami 14-3-37-2; Umesh Yadav 8-3-26-0; R Ashwin 26.2-4-81-3; Ravindra Jadeja 20-12-62-2; Jayant Yadav 12-2-21-2.
England: James Anderson 3-2-8-0; Chris Woakes 2-0-16-1; Adil Rashid 5-0-28-1; Ben Stokes 4-0-16-0; Moeen Ali 3-0-13-0; Gareth Batty 3.2-0-18-0.
Fall of wickets: Second innings: England: 27/1, Alastair Cook (14 overs); 39/2, Moeen Ali (19.5 overs); 78/4, Ben Stokes (37.1 overs); 78/5, Gareth Batty (39.2 overs); 107/6, Jos Buttler (46.4 overs); 152/7, Joe Root (66.3 overs); 195/8, Chris Woakes (83.2 overs); 195/9, Adil Rashid (83.4 overs); 236/10, James Anderson (90.2 overs).
India: 7/1, Murali Vijay (1.5 overs); 88/2, Cheteshwar Pujara (17.2 overs).
Watch the highlights of Day 4 HERE