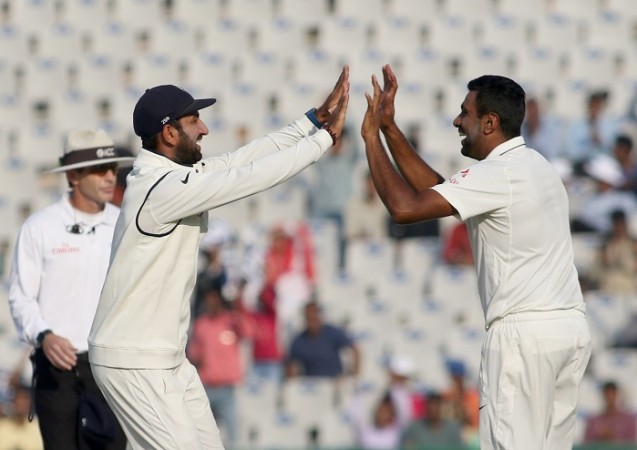 Ravindra Jadeja played his best ever Test match innings, R Ashwin showed his worth with the bat again and Jayant Yadav continued to put a price on his wicket, as India's lower order batted to brilliant effect to take the first innings lead to 134. The England bowlers were a tired and frustrated unit, and that not-working-for-us feeling permeated to the batsmen as well, with Ashwin bringing his guile to the fore on day three of the third Test match in Mohali.
After India finished their first innings on 417, in reply to England's 283, the away side's second innings did not get off to a great start. Alastair Cook had to open the innings with a new partner in Joe Root, owing to an injury to Haseeb Hameed, and from the moment the spinners came on, which was in the fourth over of the innings, the England captain looked uncomfortable.
He had two reviews go his way – one when India went for an lbw review and then when Cook (12, 49b, 1x4) himself asked for the DRS after he was given out – but eventually the luck gave away, with Ashwin, with a beautifully flighted, drifting delivery, finding the gap between bat and pad to hit the stumps.
That flight and dip was on view again, as Moeen Ali (5, 20b) was beaten in the flight after coming down the track, with the left-hander only able to chip the ball to mid-on.
Jonny Bairstow, who made 89 in the first innings, stayed with Root for a while, but Jayant showed his bowling prowess as well by getting the dangerous right-hander for the second time in this Test match. Bowling from around the wicket, Bairstow (15, 34b, 1x4) played at a ball that kept low and went with the angle, and a slight outside edge was brilliantly taken by Parthiv Patel about a foot above the ground.
England would have hoped Joe Root and Ben Stokes would take them to stumps with at least seven wickets in hand going into day four, but Ashwin, in the last over of the day, produced a little more magic – the ball that drifted in and turned to beat the bat, with Stokes (5, 19b, 1x4) getting hit on his back pad. Umpire Chris Gaffney gave it not out, but India asked for the review and got the decision overturned – Virat Kohli, this time, deciding not to celebrate in reply to Stokes' antics when he got the India captain out on day two.
The India bowlers certainly made the ball talk a lot more than the England bowlers, who were left shaking their heads in frustration thanks to the India lower order, led by Ashwin and Jadeja.
With the two India spinners starting the day with the bat after a nice partnership of 67 on the previous day, England would have hoped to get one, if not both, the batsmen out quickly. England did get Ashwin out, relatively early, but not after the two batsmen had added 30 more runs to the total.
After runs came fairly easily in the morning, England went to their holding tactics, packing the offside field again, hoping to get the batsman to make a mistake on this still-very-flat pitch. That mistake did come, from Ashwin (72, 113b, 11x4), who went for a drive outside off, but only managed to slice the ball to Jos Buttler at backward point with Ben Stokes taking the wicket.
England, though, could not break through the India batting after the Ashwin wicket, with Jayant, who showed he can hold his own on his debut Test in Visakhapatnam, and Jadeja, who got to his half-century and brought out the sword celebration, putting on another wonderful partnership.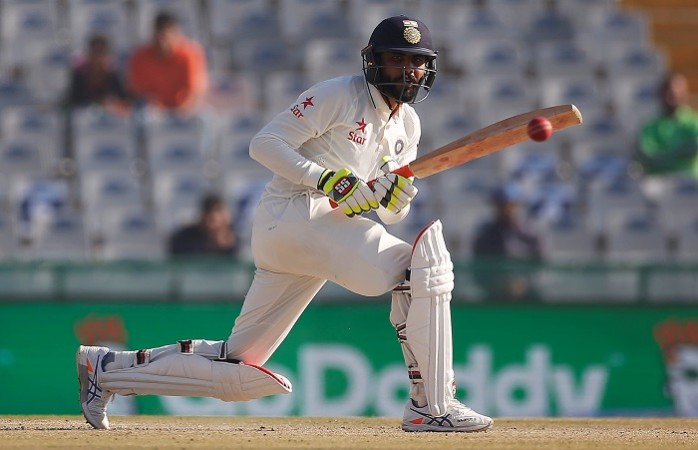 Jadeja (70, 142b, 6x4, 1x6), who went past his previous highest Test score of 68, also against England at Lord's in 2014, and Jayant (26, 66b, 3x4) allied for 53 runs together, which took the lead at lunch to 71 runs.
England need to break this partnership and bowl India out as quickly as possible on day three, not just to keep the first innings lead at a minimum, but also to bat as much as possible on day three.
While the wicket is yet to show signs of wear and tear, day four and five might prove to be more difficult for the batsmen, so England will want to get as much time in the middle as possible on this flat pitch on the third day.
The post-lunch session was a bit dull to start with, with nothing happening as the two batsmen continued to block and leave, while England were happy to play some defence. However, from nowhere, that pattern changed, with Jadeja deciding to take the attack to the bowlers after about 20-25 minutes.
Tired of that outside off-stump line, Jadeja moved around the crease to belt Chris Woakes for four boundaries in one over. Those fours, and a single after that, off the next over, took him to 90, and Jadeja knew a maiden Test match 100 was in sight. However, his decision to try and smash Adil Rashid first ball for a six over long-on did not quite go according to plan, with Woakes taking a good catch near the ropes to end a brilliant innings.
India continued to stay patient after Jadeja's wicket, just taking the odd singles as the lead inched past 100 and then over 130, before Jayant (55, 141b, 5x4) finally fell, following his maiden half-century and a partnership of 33 with the other Yadav – Umesh. Stokes was the man to break Jayant's resolve and it was no surprise when he wrapped up the innings and his five-for by finding the outside edge of Umesh (12, 42b, 1x6).
Scores: First innings: England: 283 all out in 93.5 overs.
India: 417 all out in 138.2 overs.
Overnight score: 271/6 in 84 overs.
First innings lead: India by 134 runs.
Second innings: England: 78/4 in 38 overs, trail by 56 runs.
Batting: Joe Root (36, 101b, 2x4) and Gareth Batty (0, 5b).
Bowling: First innings: England: James Anderson 21-4-48-0; Chris Woakes 24-7-86-0; Moeen Ali 13-1-33-0; Adil Rashid 38-6-118-4; Ben Stokes 26.2-5-73-5; Gareth Batty 16-0-47-0.
Second innings: India: Mohammed Shami 7-2-17-0; Umesh Yadav 1-0-7-0; R Ashwin 12-3-19-3; Ravindra Jadeja 12-4-18-0; Jayant Yadav 6-1-12-1.
Fall of wickets: First innings: India: 39/1, Murali Vijay (14.4 overs); 73/2, Parthiv Patel (26 overs); 148/3, Cheteshwar Pujara (51.2 overs); 152/4, Ajinkya Rahane (53.2 overs); 156/5, Karun Nair (54.2 overs); 204/6, Virat Kohli (64.3 overs); 301/7, R Ashwin (94.5 overs); 381/8, Ravindra Jadeja (123.1 overs); 414/9, Jayant Yadav (137 overs); 417/10, Umesh Yadav (138.2 overs).
Second innings: England: 27/1, Alastair Cook (14 overs); 39/2, Moeen Ali (19.5 overs); 78/4, Ben Stokes (37.1 overs).
Watch the highlights of day three HERE