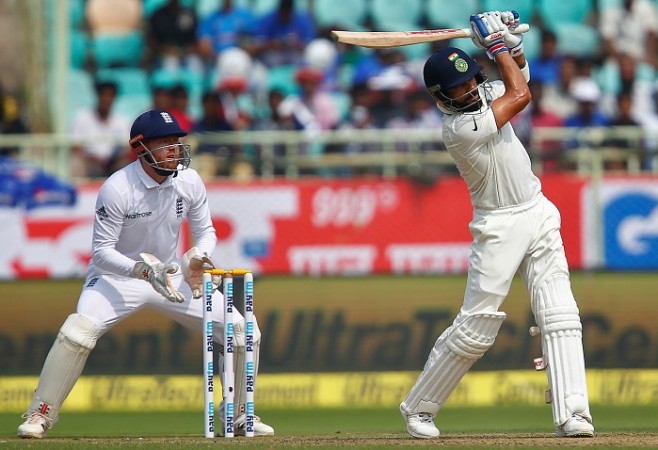 Bare pitch, win the toss and bat first – India got what they wanted in this second Test match against England. And after losing their openers early, Virat Kohli and Cheteshwar Pujara settled the home team down, before changing gears wonderfully to put the home team in a real position of strength after the opening day of the first ever Test in Visakhapatnam.
With Sunil Gavaskar predicting the pitch would turn big after the first session on day one – it didn't quite do that – it was no surprise when Kohli, after winning the toss, decided to give England the ball. The plan, as it always is, would have been to bat England out of the game, but that plan faltered a little when KL Rahul, back in the playing XI at the expense of Gautam Gambhir, and Murali Vijay fell to England's two best bowlers – Stuart Broad and James Anderson, back in the team after recovering from a shoulder injury.
Broad first picked up Rahul (0, 5b), out for a duck after hanging out his bat to a widish delivery and finding an edge through to Ben Stokes in the slips.
A few overs later, Murali Vijay (20, 21b, 4x4), looking untroubled and in brilliant form until then, was surprised by a short delivery from Anderson. All the opener could do was try and fend it off, but unfortunately for the batsmen, the ball hit his gloves and looped to Stokes, who took the simplest catch he will ever take.
At 22/2 in 5 overs, India, who gave Jayant Yadav a Test match debut, were in a spot of bother, but Pujara (119, 204b, 12x4, 2x6) and Kohli (151 n.o., 241b, 15x4) calmed the innings down, quelled England's momentum, before slowly swinging it in their favour with some excellent batting against the spinners and pacers – the duo adding 226 runs together.
The slow bowlers came on fairly quickly, from the 11th over, but there are, for now, little signs of the ball turning square. It is still too early, of course, even on this bare, could-crumble-anytime pitch.
With the ball not doing too much, Kohli and Pujara showed their spin-batting chops, using their feet to great effect to take India out of trouble.
There were a couple of hairy moments in the running between wickets – Kohli is about twice as quick as Pujara, so that is no surprise -- but apart from that, none of the England bowlers really threatened the two right-handers, with Alastair Cook already employing defensive tactics by asking Broad to ball well outside off stump in a bid to tempt Kohli into a false shot.
England kept at it in the second session, trying to frustrate Kohli into making a mistake and it worked as well, when the India captain top-edged a pull shot off Ben Stokes while on 56. The ball carried to Adil Rashid at fine-leg, but the England fielder failed to hang on, diving forward. The reaction of the rest of the team said it all, they knew Kohli was going to make them pay.
And boy did he.
From there, the skipper and Cheteshwar Pujara upped the ante, and when the runs started coming, the England bowlers ran out of ideas. Boundaries flowed, the Indian batsmen roared and the sweat poured off the England captain Alastair Cook's brow, as he wondered what was needed to break this partnership – there was a moment in the second session, with Broad bowling, when England had eight fielders on the offside and Pujara still found the boundary through all those men, which pretty much summed up how the session went for the bowling side.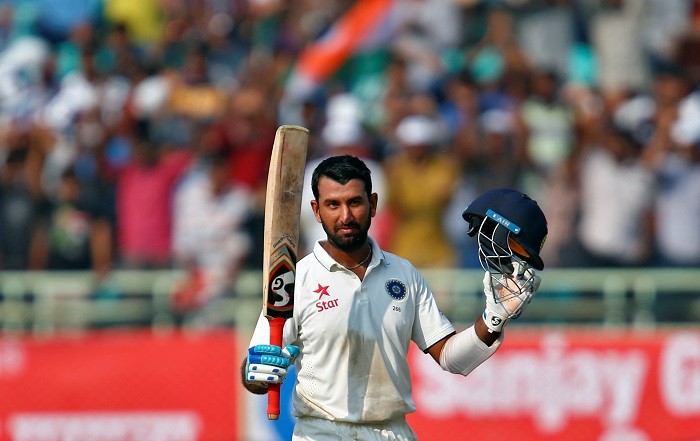 There really wasn't much wrong the English bowlers did, the wicket was just nice and flat on day one, and while there were a couple of deliveries that spun or kept a little low off a back-of-a-good length, there weren't enough of those to really alarm the India batsmen, with the second session brought to an end by a stray dog.
Once the dog went and the players came back after tea, it was as you were as Pujara got to his hundred with a six over midwicket and Kohli completed his century with a couple. England, with their heads dropping, were looking for some inspiration from somewhere, and they got that from their all-time leading wicket-taker.
After being hit for a boundary straight back, Anderson got Pujara, with the India batsman edging one to the wicketkeeper while going for a cut shot off a ball that was outside off, but maybe not wide enough.
Kohli, though, at the other end was unmoved, with that determination to go to stumps still batting written clearly on his face. Ajinkya Rahane came in and again showed his susceptibility against spin, but he survived a couple of close moments to stick with Kohli, before the second new ball, only taken in the 89th over, with Anderson and Broad struggling for fitness after such a long day, did the trick.
Rahane did not look comfortable throughout his innings, but it looked like he would survive the day, only for a really, really poor shot, played in the penultimate over of the day, to send him back. Anderson got the ball to swing away, Rahane (23, 61b, 2x4) hung out his bat for absolutely no reason, found the edge and Bairstow did the rest.
That put a bit of a dampener right at the end, even if it still was completely India's day, thanks to Kohli and Pujara.
Scores: India: First innings: 317/4 in 90 overs.
First session: 92/2 in 28 overs
Second session: 118/0 in 28.2 overs.
Third session: 107/2 in 33.4 overs.
Bowling: James Anderson 16-3-44-3; Stuart Broad 12-2-39-1; Ben Stokes 13-3-52-0; Zafar Ansari 12-1-45-0; Adil Rashid 26-1-85-0; Moeen Ali 11-0-50-0.
Fall of wickets: India: 6/1, KL Rahul (1.5 overs); 22/2, Murali Vijay (5 overs); 248/3, Cheteshwar Pujara (66.4 overs); 316/4, Ajinkya Rahane (88.3 overs).