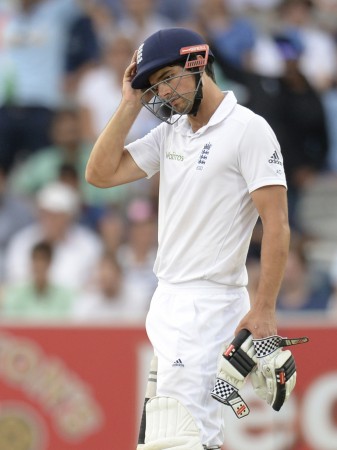 Alastair Cook insisted he would not resign as the captain of England, after his side crashed to a 95-run defeat against India at Lord's - their seventh loss in nine Tests.
Cook did admit that these are trying times for him but stressed he would not step down as the leader as he hoped his team would find a way to win again.
"I'm desperate to carry on. There might be a time when I'm not desperate to carry on but now I want to be at the front when we're winning. I still want to throw it all in to be captain of England," The Guardian quoted the English skipper.
Cook feels quitting would not be the right thing at this juncture, however, he did confess that this period was the hardest since the time he began to represent England.
"I haven't had any tougher times in my career than at the moment. But I don't think walking away from it would be the way to go," said the left-hander.
The 29-year-old conceded he would think of quitting if he were to be left on more shaky ground than he is on now. He admitted no more runs with the bat and more losses make it harder for him to continue as skipper.
"I'll stay until my position becomes untenable. If I'm not scoring runs by the end of the series and we're losing more games, then it becomes tougher and tougher, doesn't it? I'm clearly maybe not the man to turn it round," he pointed out.
Cook was also hopeful of a change in fortunes for himself and his men.
"Maybe things can change very quickly, who knows? Things can change the other way. If we win and I score runs, things do change. When I was made England captain I said to my wife that I was going to give it my all."
The England management has also been on Cook's side. Peter Moores, the coach, was all for him continuing as the leader.
"I think he is the right man for the job," ESPNCricinfo quoted the coach.
Despite Cook expressing a desire to remain as captain and Moores offering his support to him, calls for him to quit as the England skipper have become louder after Lord's. Furthermore, a spell away from the game may help Cook, according to Ian Botham.
"I think the captaincy has become too much of a burden on Cook and he needs to stop and have a break," Botham told Sky Sports.
Former captain Michael Vaughan also held a similar opinion.
"It is probably the right thing for him, the person, to be taken away from the England captaincy," BBC Sport quoted him.