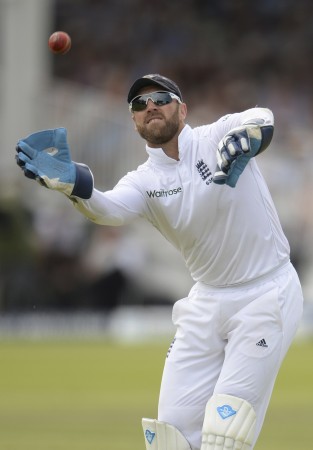 England wicketkeeper Matt Prior has made himself unavailable for the remaining matches in the summer due to injury and fitness problems.
An Achilles injury is said to be the reason for Prior intimating the management that he should not be considered for selection. The 32-year-old will undergo surgery in a bid to be fit again. Prior has other injury concerns as well; he had complained of a niggle in his thigh before the first Test.
Prior has looked out of sorts this season, both behind the stumps and with the bat. He dropped a crucial chance in the Lord's Test and has only a solitary half-century to his name in from the four Tests this summer so far. Furthermore, at Lord's Prior created a record he would rather forget - he equalled the most number of byes given away by an English keeper in an innings.
"I'm not doing justice to myself and more importantly the team and that is what matters first and foremost," Prior told The Mirror.
Prior's injury issues have hampered his performances as well. He complained of severe problems in his quadriceps and added that his right hand has taken a pounding. But the Achilles injury has bothered him the most, he stated.
"I tore my quad before the first Test and my right hand has been beaten to a pulp, but the main issue is the Achilles," the wicketkeeper pointed out.
Prior, who was dropped for the Ashes in Australia, now wants to rid himself of the fitness problems as quickly as possible. And to ensure this, surgery seems the best way.
"Now we have the time, I want to be pro-active about how we deal with it so I imagine that I'll have an operation," he said.
Prior had tried to play through the pain barrier, however, the injury had got to such an extent that it was not possible for him to be near his best on the field, he said.
"It is a huge decision and not one I've taken lightly obviously because I could have played my last game," the kepper stressed.
Jos Buttler will most likely be the replacement for Prior in the third Test against India at Southampton starting on 27 July.